A Denim Exhibit: Connotations of Texican Culture
November 7, 2018 6:30pm - 8:30pm
A denim exhibit connecting two cultures. Connect with two Texican artists sharing their perceptive and experience of the American Dream through use of denim and iconic Mexican figures that have cultivated their identities.
Native Hostel
807 E 4th St
Austin, TX 78702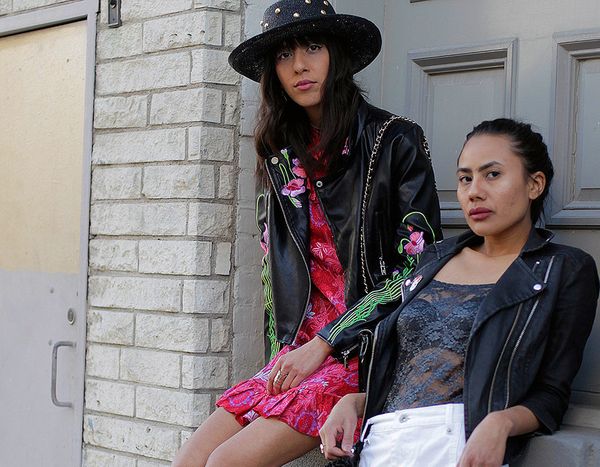 The mission of this exhibit is to use fashion and storytelling as a means of promoting the merging of two cultures. Clothing is one form of culture that brings us all together and allows us to express self identity and that of individual culture. Utilizing denim to represent the working class and through design techniques, hand-painted symbols and storytelling is used to represent the merging of Mexican and American cultures to emphasize the emotions and issues in modern day America through the eyes of two Texican artists. It is through fashion that we are able to express how politics and social elements have directly impacted the American way of life. It is through fashion that we are able to inspire and unstitch difficult topics that directly affect us.
Network, dance, and grab a drink!
Music by Claudia G. Aparicio Gamundi (pinche Juan), an illustrator and designer (and dj, and artist, and gallerist) based mostly in Austin, Tejas
Screen-printing by Gerardo Silguero, Latinx Artist and Graphic Designer
Panel
Moderator: Michael Henderson, Co-Founder of A Tribe Called Brunch, Summit Co-Creator at Chad Innovation, and Board of Directors Member at Leadership Austin.
Panelists:
Leslie Barrientos
Leslie Barrientos is a UX Strategist for the Austin Convention Center. She spends her spare time writing philosophically and painting with words. She is the co-owner of Theory Garden, a story told through fashion and photography specializing in hand-printed vintage blazers. Texas born and raised, she earned her BBA in Marketing from the University of Texas at Brownsville.
Azalia Martinez
Born and raised in Brownsville, Texas, Azalia Martinez creates art that illustrates the beauty of her Mexican - American culture. Her passion for the arts has fostered creativity through painting, jewelry design, and fashion. Fashion has always been a vessel of self-expression were she channels her idealisms on Latina empowerment. She is currently involved in event production as a contributing floral designer at Tres Events. Through her work, she aims to inspire others to pay tribute to their heritage by finding a creative outlet.
Maria Oliveira
Maria Oliveira is the co-founder of Austin based vintage shop Passport Vintage, she is also a co-founder of Laissez Fair, Austin's Premier Vintage Market. Oliveira is a member of Jolt Texas and organization focused on Latinx voter turnout and serves on the board of Our Revolution Texas.
Jocelyn Rojas
Latinx Designer & Illustrator, Creative Resistance Activist, and an artist in residence at @jolttexas.
LOCATION
807 E 4th St
Austin, TX 78702
ORGANIZED BY
Leslie Barrientos & Azalia Martinez
PARKING/TRANSIT

Parking lot | FREE B-cycle | Public transportation | Rideshare
807 E 4th St, Austin, TX 78702