Design Workshop Studio Tour
November 8, 2018 2pm - 4pm
Join the Design Workshop team for happy hour where we discuss ways that Landscape Architects and Planners can solve key problems facing our community through a collaborative design process.
Design Workshop
812 San Antonio St., Suite 401
Austin, TX 78701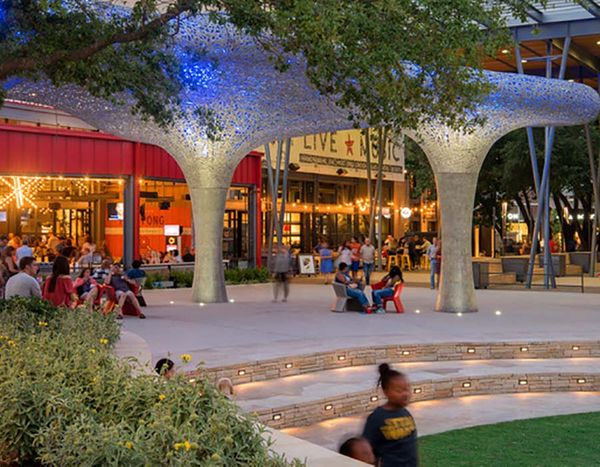 Design Workshop Studio Tour
Design Workshop is a landscape architecture, planning and urban design firm committed to creating special places that meet today's needs and that offer sustainable solutions. Our office space functions as a large studio, encouraging collaboration and open communication of ideas. We have a broad spectrum of projects that include but are not limited to parks, streetscapes, campuses, gardens, arboretums and private residences.
During Austin Design Week we invite guests into our studio to learn about our design methodology (DW Legacy Design®), current and past projects, and participate in a design review of a current project. Design reviews are typically an hour-long, and act as a forum for objective input on a specific project or topic. We will present the background on the project and introduce the design challenge. With drawings on the wall and markers and colored pencils on the table, visitors are encouraged to contribute ideas and draw solutions. Snacks and refreshments will be provided.
Studio Tour Schedule:
2:00 – 2:25 Arrival and networking (15 mins)
2:25 – 2:45 Studio Tour and Presentation of Design Workshop's local work (20 mins)
2:45 – 3:30 Design Review of a current project (45 mins)
3:30 – 4:00 Questions and mingling (30 mins)
LOCATION
812 San Antonio St., Suite 401 Austin, TX 78701
ORGANIZED BY
Design Workshop Studio
HANDICAP ACCESSIBLE?
Yes, through rooftop garage access
PARKING/TRANSIT
Public Transport/Garage Parking/Street Parking
812 San Antonio St., Suite 401
Austin, TX 78701