Designing for Older Audiences
November 7, 2018 12pm - 1:30pm
Join us for a hands-on experience workshop where you'll learn about visual and mobility impairments that are important to consider when designing for older audiences. Coffee and tacos provided!
The Zebra
98 San Jacinto Blvd #2000
Austin, TX 78701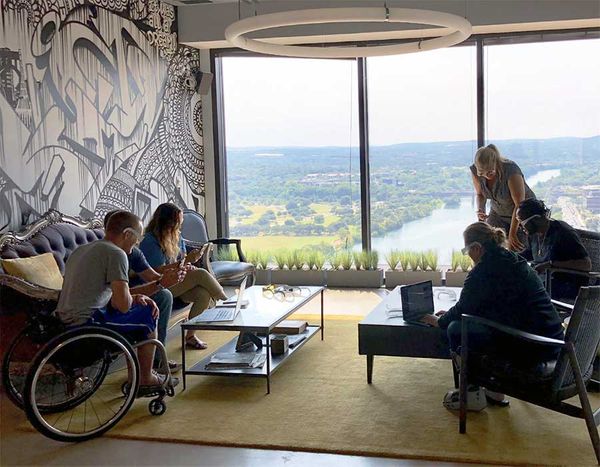 Designing for Older Audiences
According to the U.S. Census Bureau's 2017 National Population Projections, all baby boomers will be older than age 65 by 2030. This means that 1 in every 5 residents will be retirement age.
As the U.S. population ages, it is important for designers to take into account the accessibility requirements of an older generation. At The Zebra, we're focused on creating an online experience that is as friendly and approachable to Generation Z drivers as it is to Baby Boomer drivers. The Zebra's comparison experience aims to educate all consumers in the market for auto insurance, but it's a challenge to make a complicated product both easy to understand and relevant for everyone.
In this workshop, we'll explore how we research and design for a broad age range of users and how we build empathy for users with a variety of ability levels. We'll also discuss the importance of digital accessibility as well as simulate some of the visual impairments that we work hard to address with our web and mobile experiences. Participants will leave with an understanding of basic accessibility principles that we use at The Zebra along with a checklist for creating inclusive, accessible designs.
Facilitators
Matthew Stephens
Matthew is the VP of Design, leading research and design efforts to make buying insurance as enjoyable as possible. Before joining The Zebra, Matthew worked as a designer in the Austin startup scene and co-founded DeviantArt.com, the largest online art community in the world. His passion is focused on the intersection of design, technology, and education. He loves dogs, soccer, and beer.
Sarah Kettles
Sarah is a user experience researcher for The Zebra, focusing on learning about how people buy, learn, and think about auto insurance. Prior to The Zebra, Sarah worked for Airbnb and Facebook, developing teams to streamline research operations, establishing a practice of accessibility research, and building employee resource groups for women. She is an avid triathlete, cat mom, and jumpsuit enthusiast!
Ava DeVoe
Ava is a visual designer for The Zebra who creates cohesive brand systems and works with the marketing team to develop new approaches to car insurance comparison. Before joining The Zebra, Ava honed her skills as a designer for Texas Monthly and The Butler Bros branding studio. As a Colorado native, Ava loves hiking and camping in the Rocky Mountains.
Marivi Carlton
Marivi is a UX/UI designer focusing on creating beautiful and useful experiences within The Zebra's product. She loves developing design systems and always keeps accessibility and efficiency top-of-mind. Marivi's work allows her to incorporate different skill-sets including branding, iconography, and responsive layout design. Marivi enjoys road trips, a good cup of coffee, and her dogs.
Chrissie Brodigan
Chrissie is a UX researcher whose role at The Zebra includes sharing research discoveries with designers and engineers who transform what we learn into awesome user experiences. Long before she was a user researcher, Chrissie was a historian and spent most of her time studying and writing about gender and labor with a special emphasis on women's careers in aviation.
About the Zebra
The Zebra is the nation's leading auto insurance search engine. With its dynamic, real-time quote comparison tool, drivers can identify insurance companies with the coverage, service level, and pricing to suit their unique needs. The Zebra compares more than 200 car insurance companies and provides licensed agent support and educational resources to ensure drivers are equipped to make the most informed decisions about their policies. It's "insurance in black and white."
LOCATION
98 San Jacinto Blvd #2000 Austin, TX 78701
DAY
Wednesday November 7th
PARKING/TRANSIT

Limited parking (paid street and garage parking) | FREE B-cycle | CapMetro downtown | Rideshare
98 San Jacinto Blvd #2000
Austin, TX 78701