Inside Jobs: How In-House Teams Design for Communities + ADW Kickoff
November 5, 2018 6:30pm - 8:30pm
This panel focuses on a library, museum, university, and mass transit. Through a series of case studies, these in-house creative will illustrate how some of the city's most prominent infrastructural design systems are realized.
Austin Central Library Special Events Center
710 W Cesar Chavez St
Austin, TX 78701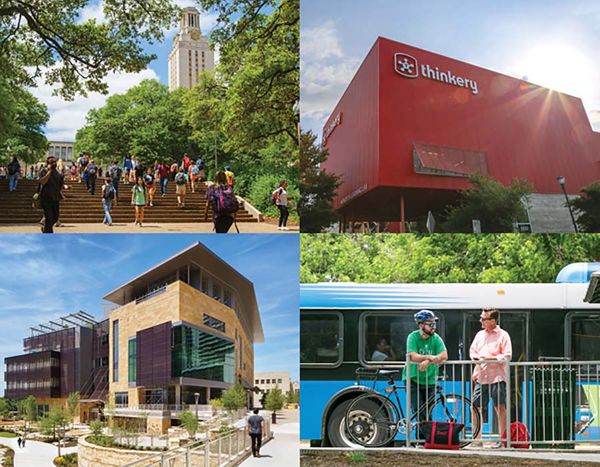 For this team of presenters, opening doors to the community is always integral to the mission. Our everyday audiences are not niche, boutique or targeted; they include everyone. A library, museum, university, and mass transit agency all have unique perspectives on engaging and empowering our city, and we all must find ways every day to scale up our solutions to account for the explosive growth of our region.
Each organization will focus on a particular angle to opening doors. The Austin Public Library will focus on building community through programming. Thinkery will focus on how a small team works on a budget. Capital Metro will focus on conveying complex information to a mass audience. The University of Texas at Austin will focus on building trust and consistency with a strong brand voice. These case studies will feature creative challenges common to all in-house teams when they're in the trenches of the government and non-profit sectors.
Rarely glamorous and almost always scrappy, their creative solutions open doors for all of our neighbors to promote community, mobility and education.
Panelists
Capital Metro: Paul Del Bosque, Brandon Guidry, Jordan Golembeski
Thinkery: Molly Strehl, Michael Malloy, Brenda Lopez
Central Library: Tatiana Gonzalez, Rachel Nguyen, Michael Wheat
UT Austin: Jennifer Singer
Opening Keynote
LOCATION
710 W Cesar Chavez St, Austin, TX 78701
ORGANIZED BY
Paul Del Bosque
PARKING/TRANSIT

Limited parking (paid street and garage parking) | FREE B-cycle | CapMetro downtown | Rideshare

(see Library website for more information)
710 W Cesar Chavez St, Austin, TX 78701