Reimagining Work: Stories from the Women of Innovation
November 7, 2018 10am - 11am
Immerse yourself in the stories of women currently leading the way at Fortune 100 design and technology companies; understand their struggles and strategies as a basis for collaborating on how we best pave a path for the next generation of female leaders.
frog
101 W. 6th St.
Austin, TX 78701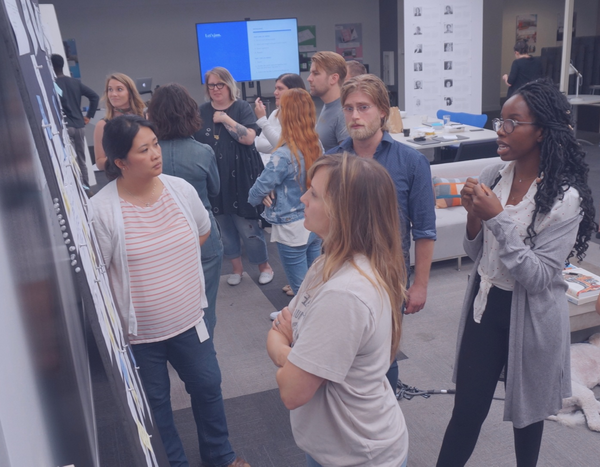 Reimagining Work: Stories from the Women of Innovation
Frog design has the privilege of working alongside Fortune 100 clients to address the most complex and important design challenges that will shape our collective future. Frog's Executive Technology Director, Jona Moore, found herself in boardrooms with some of the most brilliant female leaders in technology and design and gathered a team of frogs to interview these women about their careers and leadership styles.
The insights are synthesized into an immersive experience that honors each woman's story and highlights the struggles and strategies that women face as they ascend in their careers. This work has become the foundation of our ongoing conversations around redesigning outdated workplace structures and environments to better serve a modern, inclusive workforce.
During this event, attendees will experience the landscape of challenges that adversely affect female workers through a series of interactive exhibits. Attendees will uncover strategies that these women used to accelerate their careers and understand the unique ways women lead creative teams. Then, frog docents will lead attendees in a small group activity that will help us challenge assumptions and imagine new paths for the next generation of women leaders.
Facilitators:
Laura Scullin, Sr. Content Strategist, frog design
Jenny Savage, Sr. Visual Designer, frog design
Rachel Moore, Interaction Designer, frog design
Jen Blake, Sr. Program Manager, frog design
Sarah Dunn, Senior Producer, USAA
Elizabeth Wehr, Architectural Designer, frog design
Suzanne O'Connor, Experience Analyst, frog design
Sami Nudelman, Interaction Designer, frog design
Jona Moore, Tech Lead, North America, frog design

Featuring stories from a selection of the following women:
Leslie Witt, Intuit
Ivy Ross, Google
Chris Hall, Adobe
Sarah Alpern, LinkedIn
Suzanne Fletcher, Start X
Sarah Green Carmichael, Harvard Business Review
Lindsey Mosby, Gensler
Kesha Williams, Chick-fil-A
Nancy Steele, Pfizer
Lisa Grimsley, Pharmaceutical Co.
Ashild Larsen, Equinor
Mohamad Ali, Carbonite
Marjorie Gantman, Billie Jean King Leadership Initiative
Tanya Mehta, Transverse Leadership
Elizabeth Gore and Carolyn Rodz, Alice
Colleen Wortham, Albertsons
Rimma Fehling, Pfizer
Meriah Garrett, USAA
Mary Murphy-Hoye, Cognizant Technology Solutions
Karin Lachmi, Bioz
Candace Hsieh, AIVITA
Aniko DeLaney, BNY Mellon
Laila Worrell, Altran
Jona Moore, frog
Oonie Chase, frog
Lucy Swithenby, frog
Lisa Jackson, frog
LOCATION
101 W. 6th St., Austin, TX 78701
DAY
Wednesday, November 7th
PARKING/TRANSIT

Limited parking (paid street and garage parking) | FREE B-cycle | CapMetro downtown | Rideshare
101 W. 6th St.
Austin, TX 78701