Resilience for All: Striving for Equity Through Community-Driven Design
November 5, 2018 12pm - 1:30pm
Join us as we explore the tools and processes to address complex urban problems through collaboration guided by local knowledge and how they apply to your daily design practice.
Capital Factory
701 Brazos St.
Austin, TX 78701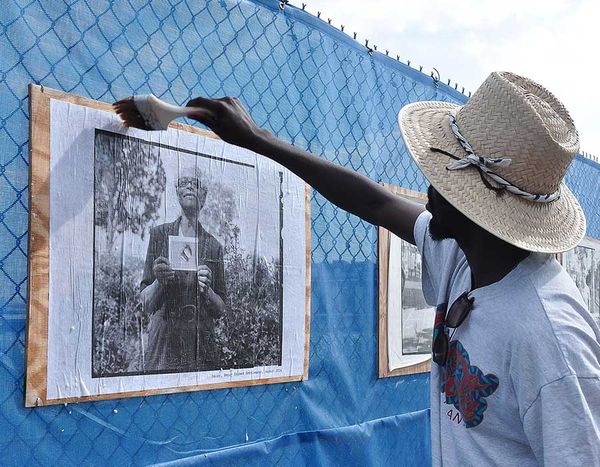 Resilience for All: Striving for Equity Through Community-Driven Design
Our built and social environments are inherently influenced by decisions made by the power holders in our communities often leading to disparate impacts on our most vulnerable neighbors. Socioeconomically vulnerable communities around the country are developing their own, increasingly sophisticated, methods for influencing local decision making, often with designers serving as resource allies. This event explores what it means to be a resilient community, how resilience often means disruption of existing power structures, and how design professionals can be allies in building a more just and resilient environment for all.
Together we will examine local and national examples of community resilience building and place our own design disciplines within these contexts as potential allies. The objective of this event is to further discourse on design tools and processes that address complex urban problems through collaboration guided by local knowledge and how they apply to the daily practice of a variety of design disciplines.
Facilitators
Barbara Brown Wilson, PhD, Assistant Professor, Urban + Environmental Planning, University of Virginia
Barbara Brown Wilson's research and teaching focus on the history, theory, ethics, and practice of sustainable community design and development, and on the role of urban social movements in the built world. Dr. Wilson writes for both academic and mainstream audiences, and is the author of Resilience for All: Striving for Equity through Community-Driven Design (Island Press: 2018), and co-author of Questioning Architectural Judgement: The Problem of Codes in the United States (Routledge: 2013). Her research is often change-oriented, meaning she collaborates with community partners to identify opportunities for engaged and integrated sustainable community development that creates knowledge to serve both local and educational communities.
Nicole Joslin, AIA, LEED AP, Executive Director, Austin Community Design and Development Center
Nicole Joslin has a diverse professional and academic background in architecture, development, disaster recovery, and community engagement. Nicole teaches in the Public Interest Design program at the University of Texas and serves as the Executive Director of the Austin Community Design and Development Center, which works to improve the quality of life for all through community-engaged design. Nicole is also chair of the Austin Housing Coalition and board member of Evolve Austin Partners, two coalitions of affordable housing providers and grassroots organizations supporting the development of an affordable, mobile, and sustainable Austin.
Carrie Waller, AIA Co-Chair, AIA DesignVoice, Associate, Gensler
Carrie Waller, an Associate at Gensler Austin, works as a Project Architect and technical designer at a variety of project scales. Carrie has a passion for community-building and housing affordability: she recently led her office in an exploratory design competition to develop urban-focused permanent supportive housing solutions specific to Austin. Currently serving as co-chair of Austin's AIA DesignVoice committee, she's led events and dialogue related to missing middle housing and density in the state capitol, and has gained experience in qualitative post-occupancy analysis. Carrie completed her M.Arch at UT Austin after transitioning from a career in classical music.
About the Austin Community Design and Development Center
The Austin Community Design and Development Center is a 501(c)3 organization that creates affordable living opportunities through community-engaged design. We envision inclusive and sustainable neighborhoods achieved through an empowered community, a nurturing built environment, and supportive policy and regulation. Our staff of architects and planners collaborate with community members and the organizations that serve them to build inclusive systems of engagement and design sustainable communities.
About DesignVoice
DesignVoice is a committee of the AIA Austin Chapter which facilitates opportunities for design professionals to serve their community through collaborative design focused events and informational programs.
LOCATION
701 Brazos St. Austin, TX 78701
ORGANIZED BY
Austin Community Design and Development Center and Design Voice
PARKING/TRANSIT

Limited parking (paid street and garage parking) | FREE B-cycle | CapMetro downtown | Rideshare
701 Brazos St.
Austin, TX 78701