A Community Coil Pot: Unwinding Assimilation and Remolding Our Spaces
November 5, 2019 6pm - 7:30pm
Join us in a discussion on building authenticity and inclusivity in workplaces, as minority or marginalized groups with an interactive project of creating a coil pot. We will explore the challenges of unlearning, vulnerability, success, and how to build integrated workspaces.
Nepantla USA
1209 East Cesar Chavez St.
Austin, Texas 78702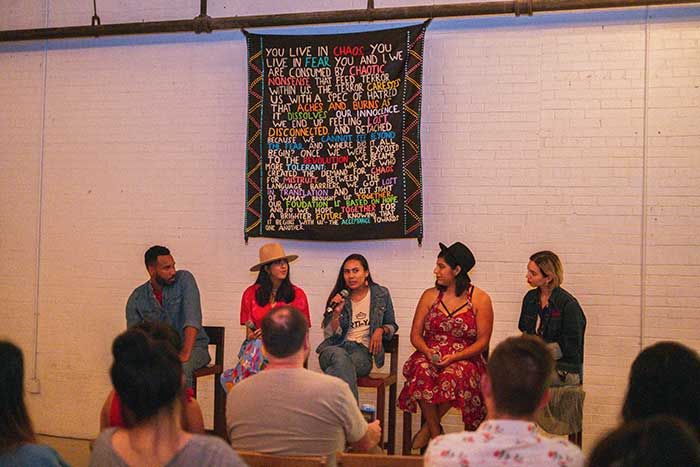 A Community Coil Pot: Unwinding Assimilation and Remolding Our Spaces
This experiential installation will consist of a panel discussion and art for which we will ask the audience to take part. The panel will consist of topics around the intersection of art and the collective vision for multicultural identifying artists to move towards integration and unity, breaking away from the expectation to assimilate. Through art and those who create it, the panel will explore how art has empowered their respective community to live loud and true to who they are and what has stopped them from doing so in the past. We want the space itself to foster a sense of unity by bringing out the creator in the audience. Imagine entering the space and being handed a coil of colored clay. We will lead the audience to create a coil pot representing the acceptance of one another, evoking a sense of unity.
Moderator:
Camille Vargas
Camille leads the B2B marketing strategy at Yonomi, the IoT company building a more connected world. She focuses on building partnerships with mission-driven companies to deliver high impact solutions for aging in place, healthcare, wellness, and much more by leveraging smart home technologies. Prior to Yonomi, Camille managed sales enablement, community building, content development, and distribution campaigns as a Product Communications Specialist at Abracon LLC. As a Digital Strategist at Sonjara, she focused on the impact of information and communication technology in education, health, gender, equality, and international development. In her spare time, Camille is dedicated to building support structures for new tech leaders and mentors in Latinx and LGBTQIA+ communities.
Panelists:
Lisa Ma Bio
Lisa Ma is a software engineer who enjoys supporting startups with well-architected engineering solutions. Her experience ranges from being a one-woman software team at edn, a hardware startup that designed an indoor smart garden, to now being at Yonomi, a smart home integration platform, where she works on cloud-based solutions for consumer IoT devices. Outside of work, Lisa gives back to the community by mentoring, teaching, and volunteering at various tech organizations like Galvanize, Hackerspace Boulder, and Women Who Code. She gives back to herself by doing art, DJing, singing, and guitar-playing.
Hamaila Qureshi
Hamaila Qureshi is a local designer who specializes in hand-fabricated wearable art. As the daughter of immigrants, she understands the importance of storytelling and seeks to capture the stories of the people and communities in her life through the jewelry she creates. Working with sterling silver and gold, she draws inspiration from architecture and simple geometry juxtaposed with abstract forms. Hamaila hopes to one day enrich her communities through other avenues of design including furniture and accessories in addition to jewelry.
LOCATION
1209 East Cesar Chavez St. Austin, Texas 78702
HANDICAP ACCESSIBLE?
The building is handicap accessible, but the restroom is not.
ORGANIZED BY
Leslie Barrienatos, Azalia Martinez, Rene Cardona, Camille Vargas, and Asif Ali
INTENDED AUDIENCE
We intend to make space for those interested in learning and exploring other's perspectives, cultures, and experiences as they concern assimilation versus integration.
1209 East Cesar Chavez St.
Austin, TX 78702