Creative Side Jewelry Academy Tour
November 5, 2019 2pm - 4pm
Visit our state-of-the-art studio to see local jewelers demonstrating metalsmithing techniques with an invitation to ask questions about their process and techniques.
Creative Side Jewelry Academy
321 W. Ben White, Ste. 204
Austin, TX 78704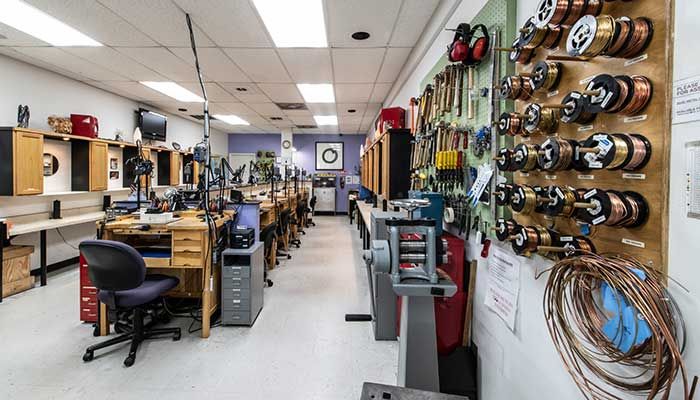 Creative Side Jewelry Academy Tour
Creative Side Jewelry Academy was born in 2006, in a small yellow house in the heart of East Austin, when founder and jeweler Courtney Gray decided to open the doors of her studio for other jewelry artists. It was a space to collaborate, share equipment, learn, and expand on their knowledge of metalsmithing.
"Our current space came to us just at the right time, in 2013, and it has served as the prefect space to grow into and allow our Creative Side community to flourish. Over the years we have hosted courses with local artists and educators, but also invite Master Instructors from all over the world to offer a wide range of techniques for our students. The intention of Creative Side has always been to provide an inspiring, professional and fun studio space where anyone can come learn and develop their skills in the craft of jewelry making. We are grateful for all that have come through our door and worked at our benches. Our business revolves around the artistic community and we are constantly growing and evolving as we need." -Courtney Gray/ owner
Speakers/Facilitators
Courtney Gray, Owner and Founder of Creative Side moved to Austin in 2000 and decided to devote her time working for other artists and working with her hands all the time, while studying welding and art metals at Austin Community College. These experiences included ceramics, glass shops, welding jobs, and fine jewelry. Courtney acquired a certificate in Art Metals and Metal Sculpture. She completed her metal training in Koblenz, Germany at the "HandWerksKammer," training in welding technology and becoming internationally certified as a welder. She creates custom jewelry, sculpture, and teaches and hosts inspiring classes and workshops. Courtney will be demonstrating wax carving and discussing metal casting.
Lindsay Sanchez, Youth Program Director/Instructor. Austin-based jeweler and metalsmith who is leading the Creative Side Young Metalsmiths program. Lindsay received a BFA in Jewelry Design and Metalsmithing from the University of North Texas in 2006. She was selected by the University of Georgia to participate in a Study Abroad Program for the Arts in Cortona, Italy. In Italy, she had the opportunity to develop her skills in the craft of jewelry and methods of casting. Her time in Italy is still a large source of inspiration that exists in her designs today. Lindsay will be demonstrating basic silver soldering.
Hannah Wilson, Director of Studio Operations, Hannah Rose Wilson is a Texas based metalsmith, who received her BFA in Metals and Communication Design at Texas State University in San Marcos, TX. Since graduating in 2013, Hannah has maintained a career in the art field, specifically in metals. In 2014 and 2015, she spent the Summer working at Haystack Mountain School of Crafts in Deer Isle, ME, while working for Austin-based artists, Lisa Crowder, Jodi Rae Brownstein, and Beverly Penn. In 2016, she worked as the Metals Studio Manager at Texas State University, and began teaching at Creative Side Jewelry Academy. Hannah will be demonstrating use of the jewelers saw and other hand tools.
Plus our staff and local instructors, who are all working artists, will be demonstrating specialized jewelry techniques throughout the day.
LOCATION
321 W. Ben White, Ste. 204, Austin, TX 78704
PARKING/TRANSIT
We are between Congress and South First on the south side of Ben White in South Bend Center. We have a large shared parking lot and right next to the South Congress Bus Depot. See our sustainable transportation recommendations
ORGANIZED BY
Creative Side Jewelry Academy
INTENDED AUDIENCE
Everyone is welcome to walk through our doors to see what happens inside a professional jewelry studio. Our demonstrations will happen every 15 minutes and range from beginner to advanced level techniques, but all demos will give you a window into the world of metalsmithing and jewelry design.
321 W. Ben White
Ste. 204
Austin, TX 78704