Design a Tiny Home for "Community First! Village"
November 7, 2019 12pm - 1:30pm
Join us for a design collaboration to participate in designing a conceptual tiny house that will serve the community of Austin.
STG Design
828 West 6th Street, Suite 300,
Austin, TX 78703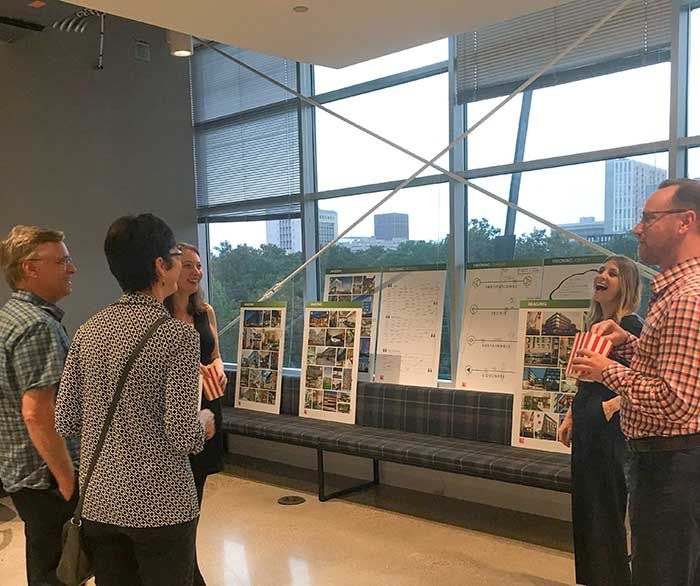 Design a Tiny Home for "Community First! Village"
We'd like to invite the community to participate in 'making space' and designing a conceptual tiny home for Community First! Village, which provides permanent housing and a supportive community for people coming out of chronic homelessness. STG Design has designed three built homes and is in the process of designing several more for the ground-breaking Mobile Loaves and Fishes' 50-acre project in East Austin.
In our hands-on workshop, we will host a 'visioning and imaging' session to gather everyone's ideas on what makes a home and how we can create a space where formerly homeless people can thrive. Using VR technology, we will translate the ideas from the session in an immersive way to show how users would experience the space in a real-life perspective and accurate scale.
Speaker / Facilitator
Jim Susman, FAIA, CEO, STG Design
A Principal at STG Design, Jim has been practicing architecture for over 35 years. Jim oversees firm design, operations and project delivery, working with all studios to ensure design innovation and quality. In addition to numerous professional affiliations and community involvement, such as the Downtown Austin Alliance and the University of Texas, projects under Jim's direction have earned the Texas Society of Architecture Design Impact Awards, AIA Austin Design Awards, AIA Honor Awards, Heritage Society Preservation Awards, John V. Nyfeler FAIA Award for Community Service and the James D. Pfluger Award for Community Service.
STG Design is a dynamic firm with an integrated approach to architecture, interior design and planning. Our staff, networked across the Austin, Houston and Nashville offices, has considerable experience providing successful planning and design solutions through localized expertise complemented by a global perspective. Founded in 1976, STG Design is the result of an evolving and growing company becoming one of the nation's leading firms committed to design in a multitude of disciplines.
LOCATION
828 West 6th Street, Suite 300, Austin, TX 78703
INTENDED AUDIENCE
Our intended audience is community members, potential collaborators and clients, and students interested in design and architecture.
828 West 6th Street, Suite 300
Austin, TX 78703