Designing for Progressive Disclosure
November 6, 2019 10:30am - 11:30am
Progressive Disclosure: Not just for software anymore. This workshop will teach you how to leverage UX research to identify, create, and string together delightful and productive touchpoints that can be applied to software, hardware, and environmental design.
IBM Studios
11501 Burnet Road
Austin TX 78758. Building 903
(Yellow Space, 7th floor)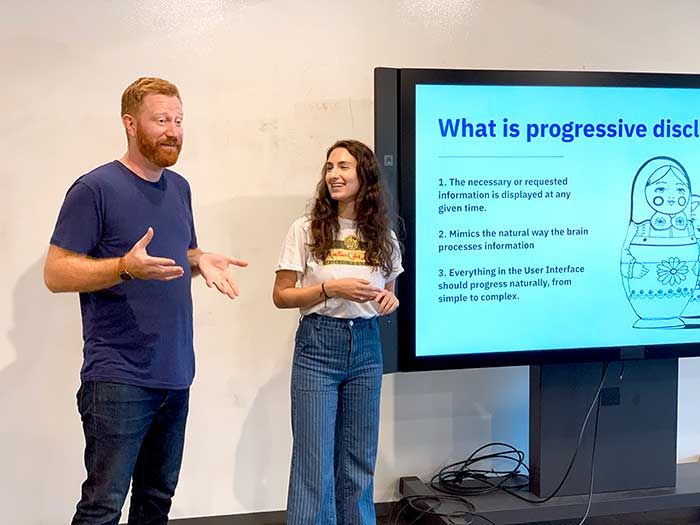 Designing for Progressive Disclosure
Progressive Disclosure: Not just for software anymore.
Come and learn how we revised this traditionally software-focused design method and modernized it for new problems. For wicked problems. For problems of physical and experiential space as well as for digital and software platforms.
Since publication, our article on Designing for Progressive Disclosure has been actively promoted within the design community as an actionable way to dramatically improve the UX of physical, digital, and environmental designs. This workshop will be part-learning, part-interactive workshop that will walk participants through our 4-step approach for applying progressive disclosure to the wicked problems of "making (inclusive, creative, and enjoyable) space" within the growing city of Austin.
Whether you are a software designer, consumer product designer, design hobbyists, spatial designers, or just a citizen who love Austin, you will leave this workshop with concrete skills, and the ability to apply our method to all areas of work and life.
Speakers / Facilitators
Gabriella Campagna- Product Design Lead & Researcher, Computer Vision at IBM. Gabriella is a product design and UX research lead at IBM. She currently leads the design work for a computer vision product initially created by IBM Research China. Gabriella is the recipient of the Best of IBM 2019 Award, the 2Q 2018 Agile Award, and a Gold Spark Award for User Experience. She has a patent in haptic technology and has presented to the CEO of IBM and to IBM's Board of Directors as well as to Fortune magazine and at SXSW.
Gabriella received her undergraduate degree in architecture from the University of Texas at Austin and has a MFA in Design Management from the Savannah College of Art and Design.
Michael Kenney - UX Researcher, IBM Cloud. After moving to Austin from NYC, Michael joined IBM as a content strategist and design researcher where he develops delivery architecture, standards, and voice and tone guidelines for Watson products. Spending time at the nexus of UX and Content— he has also worked for the IBM Research quantum division, where he and his team designed the first publicly-accessible, cloud-based interfaces for quantum computers, and also helped to design Entanglion, an educational quantum board game that he presented at World Maker faire in San Francisco. Michael is a patent holder and an university-level professor of design. Previous to his time at IBM, he worked for several major brands, including Vans, Dannon, SYFY and Microsoft.
LOCATION
11501 Burnet Road, Austin TX 78758. Building 903
DAY
Wednesday, November 6th
ORGANIZED BY
Gabriella Campagna and Michael Kenney
INTENDED AUDIENCE
Designers and creators who are interested in user-centered design approaches for complex problems
11501 Burnet Road Building 903
Austin, TX 78758