Designing with Different Scales: Understanding the Dynamics & Importance of Community Spaces
November 5, 2019 12pm - 1pm
Join us as we bring together leading voices in the Austin community to discuss the challenge of inclusive community spaces and its importance over fresh fruit and pan dulce.
Capital Factory
701 Brazos St.
Austin, TX 78701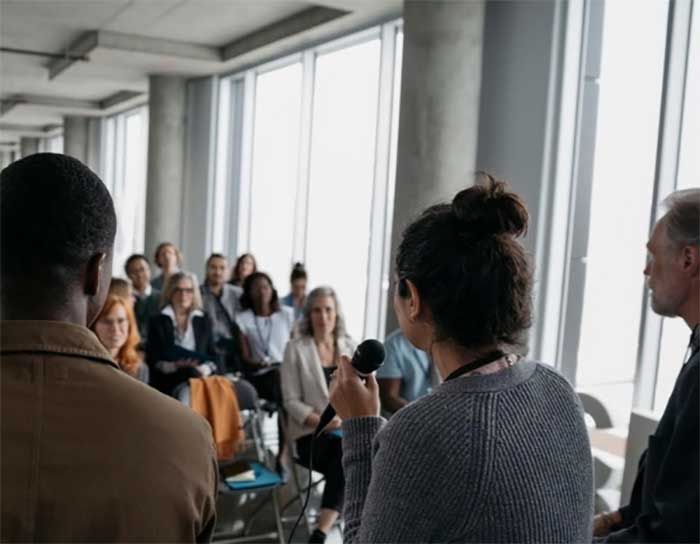 Designing with Different Scales: Understanding the Dynamics & Importance of Community Spaces
Community planning has a lasting impact on the cultural tapestry of our cities. Whether it's in the form of a cultural center, stylized district, or even pop up events, the need for inclusive spaces that serve specific communities is vital to thriving and inclusive cities. How can designers create / and augment these spaces while considering the social, economic, and environmental needs of a city?
Are existing spaces or new spaces being created with a range of diverse needs in mind? We hope to analyze design factors that affect underrepresented groups through socio-cultural lenses (minoritized identities, LGBTQ, elderly, children, and people with disabilities). Our goal for the round table is to provide designers with an understanding of underrepresented people and their role in the dynamics of community spaces and grant them with tools on how to better design community spaces for all people.
Panelists
Beau Frail, Principal Architect of Activate Architecture
Beau Frail, AIA, is the Principal Architect of Activate Architecture, a design firm based in Austin TX, that collaborates with communities, cities and clients to create socially engaged, sustainable, and beautiful spaces. Beau has managed multiple complex adaptive-reuse projects in downtown urban cores, led public interest design charrettes and developed outreach programs with the City of Austin promoting affordable housing. Beau serves on the Texas Society of Architects' Board of Directors and on the AIA National Associates Committee as the Regional Associate Director for Texas.
Marla Torrado, Planning Director at Austin Community Design & Development Center
Marla has a Ph.D. in Community and Regional Planning with a background in community-engaged research and community organizing. She has worked with communities in Austin, Puerto Rico, and Argentina in collaborative and participatory planning projects related to affordable housing, access to healthy foods, and the impacts of development on natural ecosystems.
Fred L. McGhee, Author, Local Activist, & Archaeologist
Fred L. McGhee is an historical archaeologist and urban and environmental anthropologist. One of the leading scholars of the African Diaspora in the United States, he is founder and president of Fred L. McGhee & Associates, the first Black owned and operated archaeological and environmental consulting company in the United States. Deeply grounded in community, Dr. McGhee has for over twenty years been a Texas based advocate and activist, particularly on affordable housing, education, community policing, and environmental justice issues.
Moderator: David Goujon, Project Architect at Page Southerland Page, Inc.
David is a Project Architect at Page and serves an advisory board member for the Emma S. Barrientos Mexican American Cultural Center.
LOCATION
701 Brazos St Austin, TX 78701
ORGANIZED BY

Latinos in Architecture (LIA)
INTENDED AUDIENCE

Anyone interested in creating or being a part of inclusive spaces in austin. students, teachers, professionals, general public. Also activists, architects, designers, and social workers.
701 Brazos St
Austin, TX 78701