Disruptive Hotels - How Hotels Contribute to the Health of Development in Austin
November 4, 2019 12pm - 1:30pm
Engage in a critical discussion about hotels, place-making, and community with leaders in Austin hospitality design who seek to create experiences that contribute to healthy urban development.
Hotel San Jose Courtyard
1316 S Congress Ave
Austin, TX 78704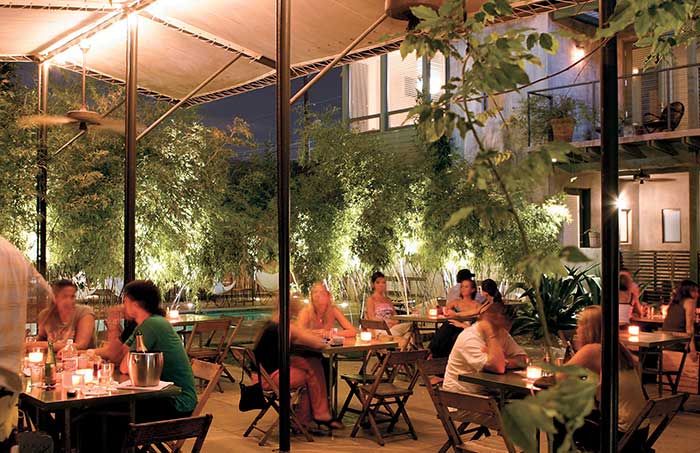 Disruptive Hotels - How Hotels Contribute to the Health of Development in Austin
This panel will spark and engage a critical discussion about hotels/hospitality work, place-making, and community. Hotel design has the potential to at once disrupt existing fabric and to create strong sense of identity rooted in the local neighborhood. We would like to candidly explore how various hospitality strategies and experiences contribute to the healthy development of urban Austin. The event will begin with a brief series of hotel project presentations by local designers, followed by a round-table conversation. How do hotels "make space" for the local community? Hotels can be controversial, as tourism and gentrification can change and cause displacement in a neighborhood. But hotels are also powerful signifiers of place - can this power be harnessed to "make space" for residents and the existing community as well?
Speakers / Facilitators
Ashley Heeren, AIA, LEED AP BD+C Project Architect, Lake|Flato Architects
Ashley is project architect for a variety of public-spirited projects, including the Canopy Hotel under construction on West 6th Street. She helped open Lake|Flato's Austin studio in 2016, which is focused on development projects that engage and enhance urban fabric. She is passionate about community involvement in both critical dialog and hands-on explorations of our built environments.
JP Casillas PLA, RA Senior Associate, Ten Eyck Landscape Architects Inc.
JP comes from Puerto Rico, spending much of his childhood on his grandparents' cattle ranch and coffee farm where he first became aware of the dynamic relationship between people and the land. He has experience in working on hospitality projects locally and abroad. Most recently he is project manager for the Commodore Perry Estate Hotel in Austin.
Michael Hargens, AIA Co-founder, Agenda Architecture
Michael worked as a project architect for more than 8 years at Baldridge Architects where he oversaw a number of residential and hospitality projects, including the recently completed Arrive East Austin. He has recently established his own firm, Agenda Architecture, and periodically teaches as an adjunct faculty member at the UT School of Architecture.
Tenaya Hills Design Director, Bunkhouse Group For over a decade
Tenaya has worked with the Bunkhouse team, hotel ownership groups and hotel management to concept and manage new Bunkhouse projects and remodels. She manages all elements related to design at properties, from large scale project management to small design details, understanding the impact all scales have on the experience.
Sophia Razzaque, AIA, IIDA, LEED AP Project Architect, Lake|Flato Architects
Sophia is managing the Magdalena Hotel, currently under construction just off South Congress. Her previous experience includes six years with Michael Hsu Office of Architecture where she was an integral part of the Hotel Ella team and managed The Line Hotel team prior to her departure. Sophia is passionate about making great places in her hometown of Austin.
LOCATION
San Jose Hotel, 1316 S Congress Ave, Austin, TX 78704
HANDICAP ACCESSIBLE?
No information provided
ORGANIZED BY
Ashley Heeren
INTENDED AUDIENCE
Open to all curious minds!
1316 S Congress Ave
Austin, TX 78704