Exploring the Intersection of Motherhood & Work
November 7, 2019 7:30pm - 9:30pm
Join us as we discuss the way our workspaces and community spaces are not designed for working parents, particularly working mothers and what we can do to potentially combat this in the future.
THE SPACE
916 Springdale Rd. Bldg. 4 Unit 102
Austin Texas 78702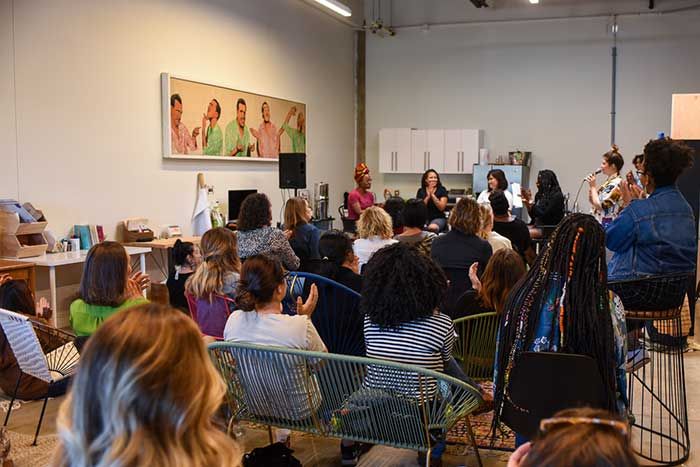 For this Austin Design Week discussion, #bossbabesATX and Collegiate Mom Coalition have partnered to discuss the way our workspaces and community spaces are not designed for working parents—particularly working mothers.
Although we have revolutionized the workforce in America and more and more women go to work, we have yet to properly value and address the labor of care-taking. Convening working parents, this panel will discuss the sexist systems and stereotypes within the design of our workplaces that contribute toward leaving working moms behind. The panel will also present some possible approaches to making more space for mothers in the workplace: like challenging implicit bias around motherhood, creating flexible work hours and schedules and dismantling the concepts and pressures of work/life balance.
Our featured speakers include: Jasmine Robinson, the Founder/Executive Director of Collegiate Mom Coalition, maker and photographer Shelley Moon Hayes, Dropbox Diversity and Inclusion Leader Monique Parker and co-founder of Doula Trainings International, Gina Giordano.
This event is kid-friendly and will have activities for those who choose to bring along little babes.
Speakers / Faciliators
Moderator: Jasmine Robinson Founder/Executive Director of Collegiate Mom Coalition
Jasmine Robinson is the founder and Executive Director of the grassroots non-profit "Collegiate Mom Coalition" which has provided $6,000 scholarships and resources to college moms. Originally from Houston TX, Jasmine Robinson Now resides in Pearland Tx with her 2 daughters Kenadie 10 and Kimora 9. She is a proud 2nd year committee member of Bossbabes ATX, a non-profit organization that hosts event series, showcases, strategic collaborations and professional development programs that provide a platform of visibility, outreach and financial opportunity to 1500+ emerging women and nonbinary creatives, entrepreneurs and organizers per year. She was also the 2018 scholarship recipient from State of the Uterus where her organization was awarded $1,700. Jasmine was also recently selected for a 2 year "Movement Mujeres" fellowship program under Deeds not words and the Jolt initiative started by former Texas Senator Wendy Davis and Jolt Executive director Cristina Tzintzun that serves as a platform for 25 women of color across the state of Texas to change the landscape of Texas Legislature.
Shelly Moon Hayes
Shelley Moon Hayes is a photographer turned designer from Bay Area, California living in Austin, Texas with her beautiful family of 4. When she is not designing or photographing, she is passionately serving her community through the study of emotional intelligence, personal development and mindfulness meditation.
Gina Giordano
Gina Giordano is a doula, creator, co founder of Doula Trainings International and co creator of Born into This. Originally from Miami FL, she grew up in a close family unit. As the oldest of five children, she was taught how to support and nurture at a very young age. After studying fine arts in college, she moved to New York City where she was introduced to the idea of doula work. Just after one training her passion for working in reproductive justice was ignited. In 2005 she started a business, offering doula services and education to families. Through her work she learned how to offer compassionate, dignified care for ALL people, no matter their choices. Driven to serve more people she created DTI and Born into This with her long time friend and business partner Tara Brooke. Gina's mission is to bring awareness to reproductive health and justice through innovative and curated design. She is passionate about breaking down taboos and creating conversation to normalize people bodies and reproductive rights. She is the mother to two wild girls, married to her lifelong sweetheart and lives in Austin, TX.
Collegiate Mom Coalition — Collegiate Mom Coaltion aims to serve as a source of excellence for moms pursuing their undergraduate degree by providing scholarships, programs that enhance their education, workshops to fine tune professional skills, access to resources that encourage economic growth and platforms that build social involvement. We are advocates for a family friendly university that cultivates tangible success for women in college with children.
#bossbabesATX — We're a Texas-based nonprofit that amplifies and connects women and nonbinary creatives, entrepreneurs and organizers. We create space to share our crafts, catalyze multi-industry coalitions, promote intersectionality across disciplines, seek guidance and provide each other with practical and emotional resources. Anyone interested in our mission, core values, and initiatives are invited to participate—and learn more about how intersectional gender equality can improve their daily lives. We provide 1500 opportunities to women and nonbinary creatives, entrepreneurs and community organizers per year. More than 15,000+ community members also annually attend our showcases, markets and dialogues—and in the last three years, our programs generated an additional $1million for the Austin economy. So, whether you apply to participate in one of our programs, attend our workshops, conferences and dialogues, or come out to a festival or market to support the community we're building, you're a member of this movement. All babes, all people, are welcome. Learn more at bossbabes.org.
LOCATION
916 Springdale Rd. Bldg. 4 Unit 102 Austin Texas 78702
ORGANIZED BY
#bossbabesATX and Collegiate Mom Coalition
INTENDED AUDIENCE
Adults ages 21 to 35, parents, men and women
916 Springdale Rd. Bldg. 4 Unit 102
Austin, TX 78702