Fall Fast to Send Better: Make Space to Design with Your Whole Self
November 7, 2019 10am - 12pm
Join fellow designers at Austin Bouldering Project for collaborative activities, discussion, and hands-on bouldering techniques that designers of all varieties can use to build self-confidence, increase adaptability in the face of new and changing problems, and learn to design by using the whole self.
Austin Bouldering Project
979 Springdale Rd #150
Austin, TX 78702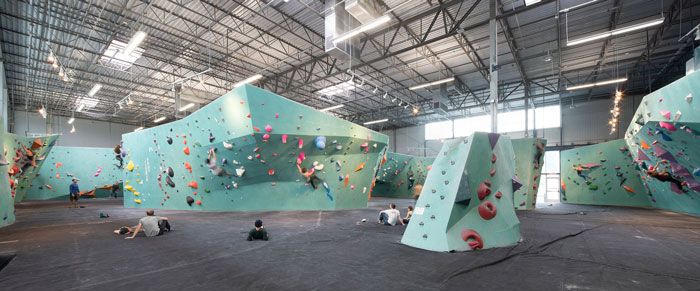 Fall Fast to Send Better: Make Space to Design with Your Whole Self
This will be a small, hands on workshop where participants will learn and apply principles shared by designers and climbers alike. As both climbers and designers of various experience levels, Liv, Kristi and Molly will share their experiences and challenges of climbing and designing; and how both activities can feed confidence and improve problem solving processes through exploring and developing a mind-body connection. They will lead attendees through collaborative activities, discussion and hands-on bouldering techniques that designers of all varieties can use to build self-confidence, increase adaptability in the face of new and changing problems, and learn to design by using the whole self.
Liv, Kristi, and Molly are all passionate about making space for underrepresented views and experiences in design. Our event was designed with literal and physical embodiments of the theme "Make Space." We will physically make space to explore different ways we can use our bodies to solve problems–no matter our physical strengths and weaknesses. Through collaborative and embodied learning, intentional problem assessment, and providing and receiving structured feedback, we will also make the literal and figurative space to take risks and adapt fear of failure into mind-body connection and empowerment.
By the end of this workshop, participants will:
1. Recognize basic principles of bouldering / rock climbing
2. Explore the value of a mind-body connection in relation to design
3. Learn how to adapt to your personal strengths and weaknesses to solve problems with agency
4. Collaborate with other climbers to climb further through continuous feedback
5. Focus on "whole self" outcomes over temporary output
Speakers / Facilitators
Molly McClurg, Professor of Design at Austin Community College
Liv Torczon, Rock Climbing Instructor, Product Designer, and ACC UX Design Student
Kristi Polozoff, Photographer, UX Researcher, and ACC UX Design Student
About The Organization
ACC's Visual Communication Program prepares you to jump into profitable, creative careers with training in graphic design, illustration, user experience design, and graphic arts technology. Our top-notch faculty includes local industry professionals eager to provide you with real world knowledge from years of experience in the business.
ACC offers several two-year Associate of Applied Science degrees in the areas below, as well as multiple certificates requiring four to six semesters of study. After graduation you'll be ready for a picture-perfect career.
Students wishing to enter any of our programs of study are not required to have art, design or computer experience, although it is helpful. We hope you will bring enthusiasm to our classes as well as a willingness to communicate, to solve problems creatively, to work in teams, and to commit to learning.
Classes in Visual Communication can benefit students just out of high school, people who'd like a change of career, and professionals in the industry who wish to update their creative and technical skills.
You can take the first step in the registration process at ACC's application page. And check out more information about becoming a VisCom student at our get started page.
LOCATION
979 Springdale Rd #150, Austin, TX 78702
DAY
Thursday, November 7th
ORGANIZED BY
Austin Community College: Visual Communication programs
INTENDED AUDIENCE
The event is designed for anyone who identifies as a new or beginner climber and/or is looking to build self-confidence in their design practice by trying something new and out of their comfort zone. This event will be an inclusive-space designed for people that are looking to try something new in a no-pressure, anti-competitive, and supportive environment. To explore the mind-body connection, there will be physical aspects of this workshop; however, it is not intended to be a 'fitness class' or 'athletic competition.' We will fall and fail fast to send and design better. Participants will have to sign a liability waiver before entering the gym. All equipment will be provided. Participants should wear comfortable clothes they can move around and perspire in.
979 Springdale Rd #150
Austin, TX 78702