How Drawing and Storytelling Can Be Used as Data
November 7, 2019 6pm - 7:30pm
"Stories Become Data" is a project designed to investigate how technology and data help people feel connected in a meaningful and personal way via a digital environment.
Capital Factory
701 Brazos St
Austin, TX 78701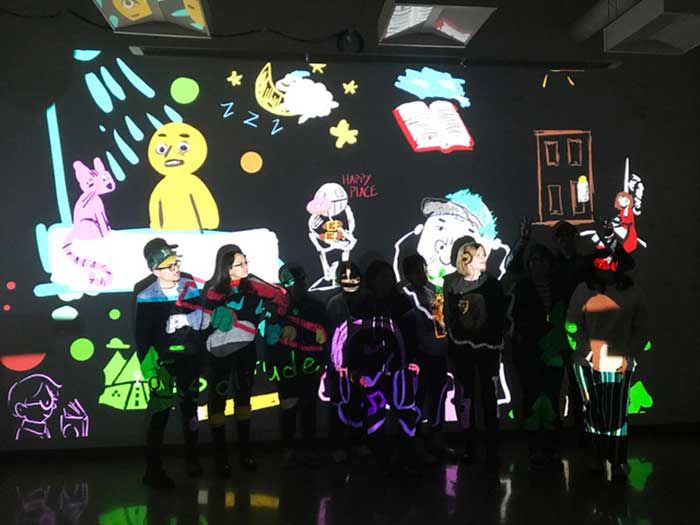 How Drawing and Storytelling Can Be Used as Data
"Stories Become Data" is a digital environment that invites participants to add their own stories to a collective narrative through writing, drawing or animating. It allows individuals to share their stories, giving the Austin Design Week community an opportunity to see a fuller perspective of how we relate to each other. Designed for creative expression and civic imagination, "Stories Become Data" runs through the processes of conception, design and construction with an element of play, experimentation, and collaboration. Workshop attendees will draw their stories (data) via wi-fi interconnected iPads. The iPads will be projected on an open wall to show the cumulative process of the participants' creations. This digital environment creates a space for participants to share and to visualize their stories collectively and simultaneously in real time.
By allowing multiple participants to collaborate in drawing within the same workspace, they share the same canvas and accumulate their stories in a single vision. This allows every participant to read and understand everyone else's contributions and reflects an interrelationship of creativity and participation. The workshop seeks to introduce a new perspective to the discussion and genre of story-based data visualization.
Speakers / Facilitators
MiHyun Kim, Assistant Professor of Communication Design, Texas State University.
MiHyun Kim is an Assistant Professor of Communication Design at Texas State University. Her main research agenda is screen-based interactive storytelling that connects people by using technologies and data. Her projects have been recognized from numerous national and international design organizations and competitions including European Design Awards, Horizon interactive Awards, ico-d (International Council of Design), AIGA Design Educator Community, UCDA Design Education Summit, and eyeO festival.
LOCATION
701 Brazos St, Austin, TX 78701
DAY
Thursday, November 7th
INTENDED AUDIENCE
Anyone who is curious in exploring new digital tools and interested in data and in sharing stories. Anyone who makes space for others, herself/himself and new possibilities. Anyone who has used ipad for creativity. All drawing skill levels are welcome!
701 Brazos St
Austin, TX 78701