Inextricably Linked: Design and Accessibility at USAA
November 6, 2019 4pm - 5:30pm
Join us for a round of short activities that reveal how our design decisions play a critical role in who can and cannot access a product, a space, an experience.
USAA
201 W. 5th Street Floor 14
Austin, TX 78701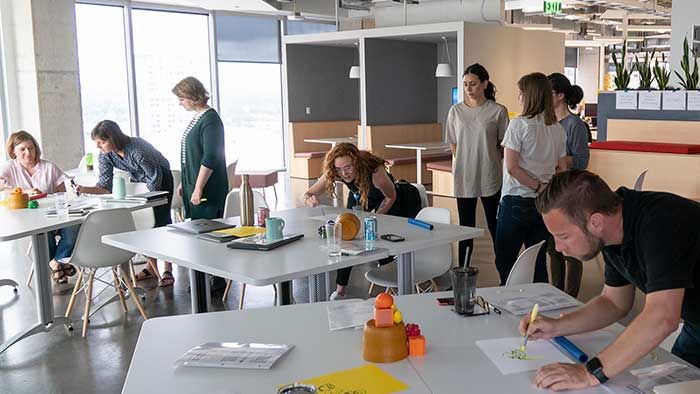 Inextricably Linked: Design and Accessibility at USAA
Our social fabric is made of people who fall within a vast spectrum of ability/disability. USAA's membership is no exception, which is why we believe that solutions designed with an inclusive mindset don't just benefit the few — they make experiences better for everyone. With the ever-evolving ways interfaces define how we access essential services, it is more crucial than ever that we make space and account for the varied means of interaction, and that experiences be built to meet the needs of all abilities.
This workshop consists of a number of short activities and demos. At the end of the day, participants will:
· Develop an inclusive mindset towards different levels of ability
· Draw a correlation between design and the potential barriers they create (intentional or unintentional)
· Identify design as a key player in the accessibility ecosystem
Regardless of discipline or role, approaching accessibility through an inclusive posture creates conditions for as many people to succeed as possible — contributing to a more just and equitable environment be it a city, an industry, a community. This is why it's imperative for designers to draw on the full range of human diversity, no matter what they create.
Speakers / Facilitators
Meriah Garrett
Meriah Garrett joined USAA in December of 2015. As the Chief Design Officer, she seeks to create an environment where beautiful member experiences become our new normal. This means leading our internal design organization, growing our design capabilities, and defining a curriculum of internal education that lifts up design practitioners and helps encourage design thinking across the business.
Tom Ahn
Tom is a designer on the Design Language Systems team at the Chief Design Office. His practice began in visual design, and has since grown to include design engagement, support, and education. He focuses these skills in the service of fostering greater alignment among team members in the way they think and learn about design.
Eric Lyons
Eric Lyons brings over 15 years of experience in accessibility to his role as a Design Director as USAA. From working at startups to federal government agencies, Eric has always made accessibility a priority in his work and his career. He has been at USAA for a year and a half, and in that time has helped develop training programs and documentation to help designers approach their experience building from an accessibility first perspective, and worked hard to change the attitude designers and developers alike have towards accessibility. In his free time Eric likes biking on the flat surfaces of San Antonio, and collecting hip hop vinyl after giving his entire collection to a friend to open a record store.
Patrick Kelley
Patrick Kelley is an Accessibility Adviser at USAA, who started out in design and development before moving over to the Accessibility Operations team.
Patrick Sturdivant
Patrick Sturdivant currently works in Enterprise Platform Infrastructure Professional Services at USAA, performing accessibility testing for employee & USAA-member facing digital content, promoting digital equality for all by testing, training and spreading awareness to all employees about what it is like to have a disability. He also runs the USAA Accessibility Lab, which teaches USAA employees how to leverage a range of accessibility software and testing.
USAA has been powering innovation with empathy for nearly 100 years. Within the Chief Design Office (CDO), we reaffirm our commitment to build for the future and humanize the digital experience. CDO is comprised of 200+ multi-disciplinary designers, teachers, students, empathizers, explorers, doodlers, and even unicyclists. Spanning three locations (San Antonio, Austin and Plano), we have varied backgrounds across all design disciplines, from self-taught to advanced degrees. As designers at USAA, we are measured by delivering on our mission: to help facilitate the financial security of our members. With access to millions of USAA members, we craft informed solutions through human-centered design that demonstrate value and meaning based on real needs. We continually engage our business partners and members to ensure we are focused on the right solutions. As technology continues to evolve at a rapid pace, we recognize the need to not only stay current, but also look beyond, all for the benefit of our members.
LOCATION
201 W. 5th Street Floor 14 Austin, TX 78701
INTENDED AUDIENCE
The workshop is meant to cover fundamental concepts around accessibility, so it is geared towards a wide audience. While we work with digital products at the Chief Design Office, the concepts we cover can easily be seen through the lens of other disciplines (not just product design). No prior knowledge or understanding of accessibility or design required.
201 W. 5th Street Floor 14
Austin, TX 78701