Letterpress Printing Workshop
November 8, 2019 4pm - 5:30pm
Join us for a hands-on design experience of Letterpress Printing on the Vandercook press. Create your own ADW print!
Austin Book Arts Center
5501 N. Lamar Blvd, Ste 125
Austin, TX, 78751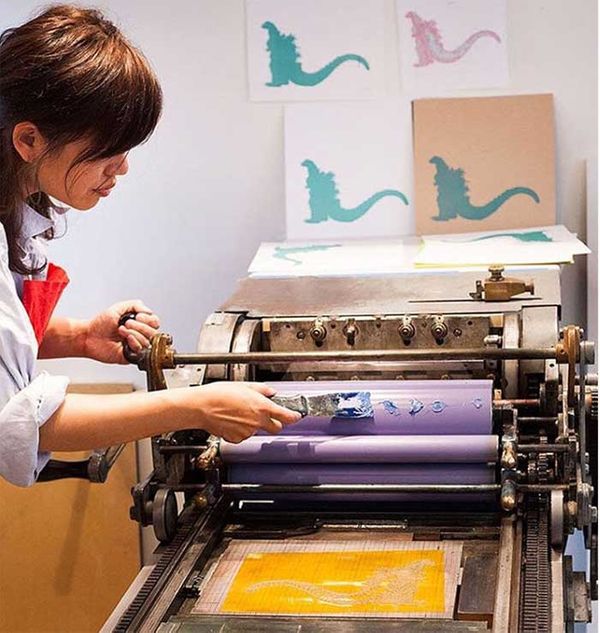 Letterpress Printing Workshop
We're calling designers and creators of all backgrounds to take a break from the screen for a hands-on design experience of Letterpress Printing. Since the 15th century, the technique of Letterpress Printing has majorly influenced the principles of design. Connect with rich design history in a tactile, fun printing workshop.
This class introduces the process, materials, machines, and the addictive satisfaction of printing by hand on a Vandercook press. In this introductory workshop, students will learn the basics of letterpress printing using either wood & metal type and plates.
Attendees will print a small edition either individually or collaboratively, using the Vandercook proof presses. Students can expect to complete a small edition of a custom print.
Speakers / Facilitators
Kevin Auer, Printer and Book Binder, Austin Book Arts Center
Auer began his craft as an apprentice letterpress printer and bookbinder and has worked in the book arts for more than 25 years. He was the co-founder of Wolfe Editions, a commercial print shop in Portland, Maine, specializing in limited edition print work. He has worked as a conservator of medieval manuscripts at the Walters Art Museum in Baltimore, Maryland and rare books at the Harry Ransom Center, and currently teaches studio classes with a focus on book structures and print media. Auer held previous positions at the Maryland Institute College of Art and The University of Houston, Victoria.
Auer holds a B.A. in Asian Studies from Connecticut College. He earned his master's degree in US History from The University of Texas at Austin. He additionally holds a Certificate in Book and Paper Conservation from The University of Texas.
LOCATION
5501 N. Lamar Blvd, Ste 125 Austin, TX, 78751
ORGANIZED BY

Kelsey Hayenga
INTENDED AUDIENCE
Anyone who is a novice at letterpress printing. This will be an introductory workshop intended for people's first time on the printing press.
5501 N. Lamar Blvd, Ste 125
Austin, TX 78751