Make Space for Voices: Methods for Inclusive Design and Uncovering What's Not Being Said
November 4, 2019 8:30am - 10am
What if our mere presence gets in the way of uncovering the true thoughts and feelings of others? Uncover ways to take a step back and elevate the voices of others.
Capital Factory
701 Brazos St
Austin, TX 78701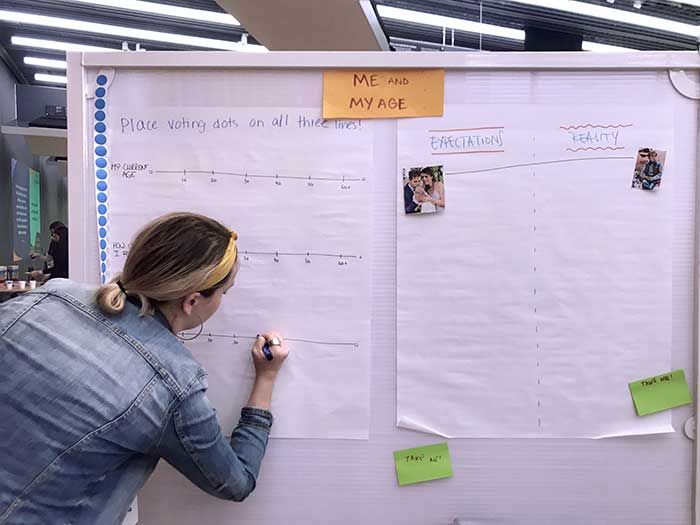 Make space for voices: Methods for inclusive design and uncovering what's not being said
Let's make space for voices.
So often, whether in the office or in the public sector, we encounter situations which a small group of people make decisions that are impressed upon a much larger group. And very often the outcome of these decisions fails to be adopted by, or useful to, the people they serve. Why is this? As designers we are constantly trying to better understand our user's needs. We conduct interviews, send out surveys, and comb through analytics. Designers and decision makers alike want to know what others want, think, or feel. But it's not always an easy task. All of us are subject to our own biases, and even more, when conducting a research interview, our mere presence can inhibit or influence the information we receive from others. In this workshop we will explore methods of co-creation to uncover the unsaid desires of our users to both increase adoption of an idea/product/service, and mitigate the power imbalances among a group. Participants will learn new methods to add to their toolkit and spend time designing an 'exhibit' utilizing the techniques discussed.
Speakers / Facilitators
Kaley Coffield, Designer, IBM
Kaley is a designer and educator based in Austin, TX. Prior to working in the world of design, she spent a decade in the education space both locally and internationally, embedded in communities around the world. Kaley believes that the true power of design lies in it's ability to bring people together and empower community problem solving. And that often solving problems out in the world means first solving them within our own workspaces and communities.
While not quoting to podcasts or taking on new hobbies, Kaley likes to volunteer with some of her favorite organizations – Creative Mornings, AIGA Changemakers, and Austin Design Week.
LOCATION
Capital Factory, 701 Brazos St, Austin, TX 78701
ORGANIZED BY
Kaley Coffield
INTENDED AUDIENCE
Bosses, service providers, and designers who want to be more confident in what other's think.
701 Brazos St
Austin, TX 78701