MakeATX Studio Tour
November 4, 2019 2pm - 4pm
Join us at MakeATX for a laser cutting studio tour where you will learn the basics of laser cutting and get a chance to participate in creating a personalized, laser cut design tool.
MakeATX
1109 B Shady Lane
Austin TX 78702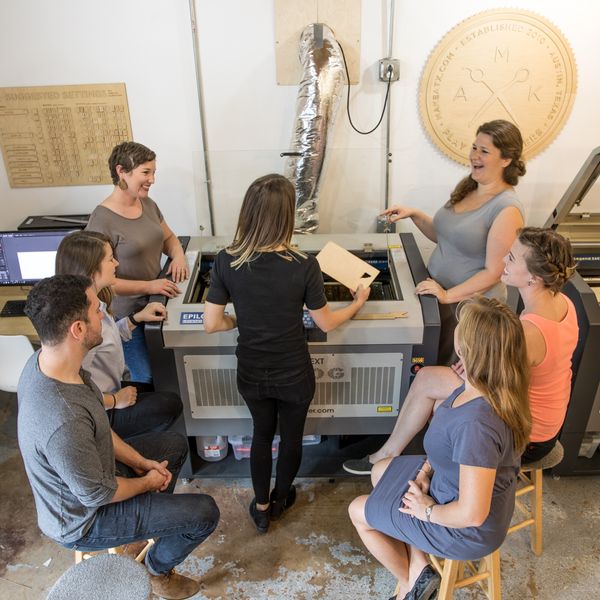 MakeATX Studio Tour
MakeATX is a laser cutting workshop in Austin, Texas that offers classes and memberships for local designers who want to learn how to operate the laser cutting machines. In addition, MakeATX offers Custom Cutting Services for clients who seek fabrication of customized laser cut projects. MakeATX is the headquarters of Bright Beam Goods - a line of laser cut games and homegoods which is sold across the country.
Speakers/Facilitators
Kristen Von Minden and Eve Trester- Wilson
Kristen Von Minden and Eve Trester- Wilson founded MakeATX with the belief that having access to the proper equipment and workspace would not only allow them to make beautiful objects with their tools and their hands, but it would also allow them the possibility of making a modest living doing something they love. Both avid quilters, Kristen graduated from Harvard University Graduate School of Design with a Master of Architecture and Eve graduated from University of Texas with Bachelor of Architecture and Bachelor of Arts, Plan II.
Devon Stonebrook
Devon Stonebrook manages Custom Cutting at MakeATX and she graduated from the University of Michigan's Taubman School of Architecture with a Bachelor of Science in Architecture.
Sam Barks
Samara (Sam) is a production assistant that assists with custom cutting at MakeATX. In her own time she is a technical 3D artist and illustrator. She also teaches 3-8 grade 3D design/3D printing part-time and volunteers regularly with Little Artist Big Artist.
LOCATION
1109 B Shady Lane, Austin TX 78702
INTENDED AUDIENCE
Local makers, crafters, designers, entrepreneurs, or hobbyists who are interested in adding laser cutting skills to their tool kit. No laser cutting experience required.
1109 B Shady Lane
Austin, TX 78702