​Making Room in Colorless Spaces
November 8, 2019 5:30pm - 6:30pm
As people of color, to make space, sometimes you have to create it yourself. This panel will discuss individuals' journeys and the importance of creating space for people like them when there isn't any. We would also touch on how and why we've established our brands, businesses, careers, and how that helps make space for others.
The Commune
101 N Loop Blvd E.
Austin, TX 78751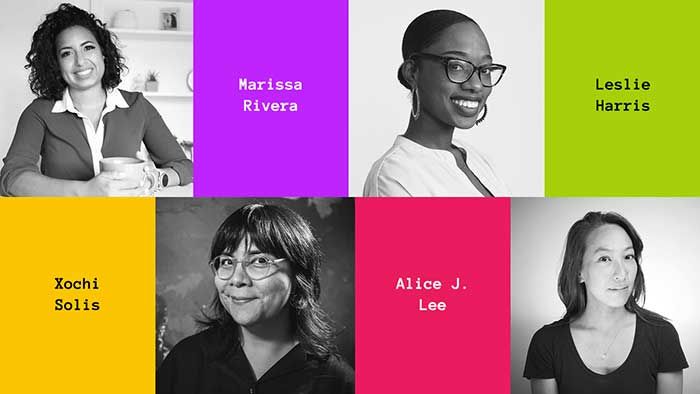 ​Making Room in Colorless Spaces
As people of color, entrepreneurs, and creatives, to make space, sometimes you have to create it yourself. Due to personal experiences, lack of representation, or opportunities in the traditional workspace, many of us saw it was essential to forge non-traditional career paths and build a sense of community for POC outside of white-centered spaces.
This panel will discuss individuals' journeys into their careers, the importance of creating space when there isn't any, and starting a dialogue on how and why we established our brands and/or businesses independently in order to make space for others. This panel will feature a discussion to reinforce the concept of making space not only through diversifying the workplace but by focusing on the topic of celebrating those who have independently found success in creating their own paths.
Speakers / Facilitators
Xochi Solis, Mixed Media Artist & Board Member of Boss Babes ATX
Xochi Solis is a mixed media artist born and raised in Austin, TX. Her works include multilayered, collaged paintings constructed from paint, hand-dyed paper, vinyl, plastics, and images from found books and magazines. As an accomplished artist and leader in her community with over 15 years of experience, Solis is enthusiastic about continuing to transform her practice as a cultural producer into a vehicle for active citizenship and civic responsibility. In addition to her studio practice, she sits on the leadership board of Boss Babes ATX and manages and spins records with the Austin chapter of Chulita Vinyl Club.
Alice J. Lee, Assistant Professor of Communication Design at Texas State University
Alice J. Lee is a graphic designer, researcher, and educator. Her research interests include alphabetic systems, concepts of interconnectedness, and the dynamic of complementing opposites. Her practice is a mediation of interdisciplinary strategies that include interactive installations, books, 2-dimensional print, and time-based media that explore different dynamics of opposing technologies, formats, and ideas. It also includes community workshops, lectures, and presentations. She collaborates with cultural and educational organizations as a designer, creative director, and visual culture consultant.
She received her BA from Yale University and her Master of Design in Graphic Design from the University of Illinois at Chicago. She serves as Assistant Professor of Communication Design at Texas State University.
Leslie Harris, Product Designer at T3
Leslie Harris by day is a Product Designer at T3, an Austin-based advertising agency. At night, she's a graduate student at Texas State University studying Communication Design. Leslie loves all things technology and design and enjoys creating products that can change the way we think about the future. During her time in Austin, Leslie has served as the Diversity Co-chair for Ad 2 Austin, an affiliate of the American Advertising Federation. In this position, she leveraged her platform as a means to start conversations about Diversity and Inclusion in regards to the advertising industry.
Marissa Rivera, Psychotherapist & Consultant at Ola Wellness
Marissa Rivera is a licensed psychotherapist, consultant, and educator in Austin, Texas. Marissa enjoys connecting with folks from a diverse array of backgrounds and is proud to own a therapy practice serving Austin's LGBTQ+ and POC communities. Her clinical focus includes helping high-functioning adults and adolescents thrive in the midst of life transitions, as well as facilitating the transformation of their experiences with anxiety, imposter syndrome, and trauma. She also serves on the Board of Directors for Austin IN Connection, a local non-profit whose mission is to connect helping professionals and the community to educational opportunities on attachment theories and Interpersonal Neurobiology. Marissa is passionate about shifting society's conversations about mental health, community, and our relationships with ourselves. In her personal time, Marissa enjoys supporting Austin's creatives, training for half-marathons, and searching for the perfect taco.
LOCATION
101 N Loop Blvd E, Austin, TX 78751
DAY
​ Friday, November ​8​th
ORGANIZED BY
Personas Collective
INTENDED AUDIENCE
Anyone is welcome to join the conversation and learn! Entrepreneurs, POC, and young adults.
101 N Loop Blvd E, Austin
Austin, TX 78751