MAKO Design + Invent Studio Tour
November 8, 2019 2pm - 4pm
Join us as we bring together technology leaders and design influencers of the industrial design industry of Silicon Hills, hosted by international design entrepreneur, Kevin Mako, Founder and President of the global award winning Mako Design + Invent, and Mako's Director of Design, Tim Uys.
MAKO Design + Invent
3205 Liberty St.
Austin, TX 78705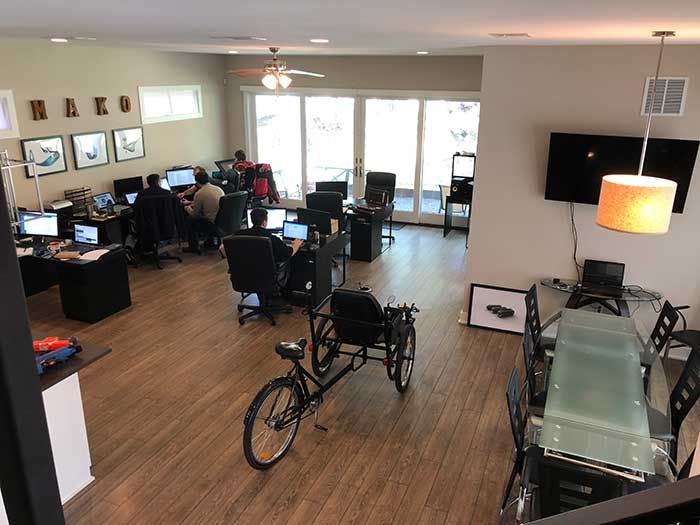 MAKO Design + Invent Studio Tour
MAKO Design + Invent is a full-service consumer product development firm servicing small product businesses and early-stage invention startups. With a 25-person team across 4 offices (Austin, Texas, Miami, Florida, Toronto, Canada), MAKO has complete in-house industrial design, mechanical engineering, electrical engineering, patent referral, prototyping, and manufacturing services. To assist our start-up inventor clients, in addition to above, we help with patenting, strategy, marketing, and sales/distribution for all consumer product categories. MAKO Design has been named to Entrepreneur magazine's E360 list and the Inc 5000 for it's superior growth, leadership, and innovation. The company has won global awards from the German Design Awards, the UK's Creativepool Awards, and many more.
Kevin Mako will be giving the talk, alongside Tim Uys. He will be discussing "From Idea to Store Shelves: How to Develop Your Invention Idea"
Speakers/Facilitators
Kevin Mako
Kevin Mako is the Founder and President of MAKO Design + Invent, a 25-person invention development firm with offices in Toronto, Ontario, Austin, Texas, and Miami, Florida. Kevin Mako also spends a great deal of time progressing the product development industry as a whole through guest speaking engagements, building robust strategic partnerships, and advancing the development of entrepreneurship through initiatives such as The Industrial Design Guild, Inventors Meetups, and the MAKO Student Innovation Awards at Ryerson, which grants inventors $10,500 every year for their innovative start-ups. Kevin Mako has spoken at numerous events across the globe on entrepreneurship, start-ups, and product innovation. Most recently, Kevin Mako was a keynote speaker at the Dublin Tech Summit in Ireland, where he spoke alongside engineers from NASA, and directors from the USA's White House. For his industry impact, outstanding leadership and rapid business development, MAKO Invent was named one of the best companies in 2016 by Entrepreneur Magazine, has been named to the Inc5000 Fastest Growing Companies in America list for the past two years, and was named to Canada's prestigious Growth 500 for 2019.
Tim Uys
Equipped with a Btech in Engineering and Design, and experience working within several industries, Tim Uys is a formidable part of our team at Mako Design + Invent as our Director of Design. Tim has an extensive history working within the design field as he has carries over 25 years of experience. Not only has Tim guest lectured at events, sharing his wealth of knowledge in the industrial design field, but he was also the director of design for one of the largest ID firms in Texas, a past designer of Nike Gold, and Dell. Among these impressive titles, Tim has designed products under large and well-known names such as Dell, Nike, Qualcomm, Telkom SA, Foxtel Australia, IRONMAN Fitness, and Champion Fitness brand, to name a few of the many. Tim is an expert in working with Solidworks when crafting his top of the grade designs but is also well-versed in other famous design software's such as Fusion and 360. With his experience and expertise in industrial and product design, Tim is a strong and lead figure in innovating and perfecting any project presented to him at an expert and top-grade level using the most sophisticated tools to ensure the highest quality of designs.
LOCATION
3205 Liberty St, Austin, TX 78705, USA
HANDICAP ACCESSIBLE?
Accessible from the backside of the office.
ORGANIZED BY
MAKO Design + Invent
INTENDED AUDIENCE
Anyone interested in product development, industrial design, physical engineering, mechanical or electrical engineering. Further, anyone who currently has an invention idea for a physical product, and interested in understanding what to do next.
3205 Liberty St
Austin, TX 78705