No Right to Make This
November 6, 2019 4pm - 6pm
There's always a first time for solving a problem, the moment you make something you've never made before. Let's explore what it means to design inclusively to engage and surprise the Austin Community.
600 Congress Lobby
Austin, TX 78701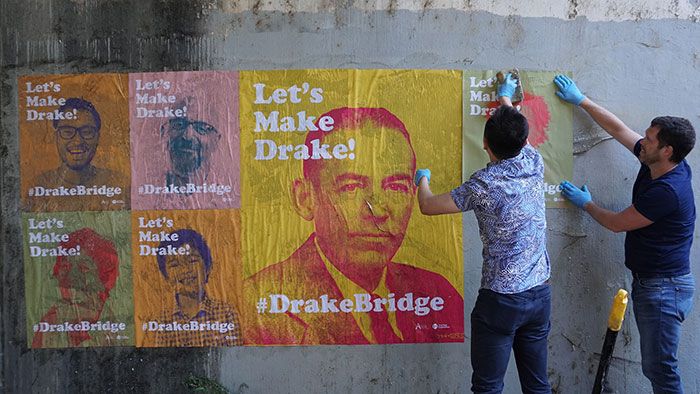 No Right to Make This
Celebrating Austin Design Festival's theme of "Make Space," this event targets the question: What spaces can we cultivate to learn, grow, and center ourselves in equity as we continue to expand as a city, design industry, and community?
There's always a first time for solving a problem, the first moment you make something you've never made before. The key to successfully solving any problem is knowing how to think inclusively about different ways to solve it — and from there, anything is possible. In "No Right to Make This," we will explore what it means to design inclusively to engage and surprise the Austin Community. For the Drake Bridge Commons project for The Trail Foundation, the Rios Clementi Hale Studios design team created a tool-kit for community engagement in order to allow the public to express what kind of activities would bring them to this emerging public space at the edge of Lady Bird Lake.
This event is an interactive experience — part talk, part exhibition, and part VR experience. The design team will share the methods used to create an inclusive and vibrant environment using a casual and interactive format and using the model created for the community outreach process.
Speakers / Facilitators
Andy Lantz, Creative Director, Rios Clementi Hale Studios
Andy's design perspective, style, and aesthetic play an important role on Rios Clementi Hale Studios' projects. His depth of experience in sensory deprivation and replacement informs his ability to design places and spaces that engage the complete sensory experience — sound, smell, and touch, in addition to their sight. As a result, his projects possess a textural component, from the grain of the custom sculptural wood reception desk at 600 Congress in Austin to the ephemeral softness of the felt that arrays the ceiling at the Hollywood Bowl Artist Lounge in Los Angeles.
Over the past five years, Andy has led the integration of interiors and architecture to define an interiors practice that explores material expression, data-driven workplace design, and the role of custom fabrication in supporting workplace collaboration and culture. His projects include film production companies, a Fortune 500 company headquarters inspired by natural ecosystems, and a highly creative workplace headquarters for a music streaming company.
Mark Motonaga, Creative Director, Rios Clementi Hale Studios
Mark is a leader in workplace design and a voice in the design community for creating memorable experiences within many project types. His grasp of creative culture and placemaking has led him to speak at such events as the Fast Company Innovation Festival to share his insights into the qualities that make great spaces succeed. He plays a significant leadership role in the firm's ongoing evolution. His extensive experience in the disciplines of architecture, landscape architecture, and urban design enable him to manage not only complex projects, but also daily operations.
Mark's projects range from highly detailed residential properties to large-scale urban developments. His interest is in understanding the underlying cultural currents of a site to create bold, distinct designs that reveal the story that defines a place. His transdisciplinary approach allows him to integrate both architecture and landscape architecture in design, as well as understand the complexity and inter-related nature of both practices. From multi-building campuses to shared workspaces to lobby re-imaginings in major cities across California and Texas, Mark's projects have a common theme of creating dynamic and authentic spaces that add to the narrative of their place.
Nate Cormier, Studio Director, Rios Clementi Hale Studios
Nate directs the landscape architecture studio at RCHS with a focus on dynamic public spaces.His interest in landscape design as a form of storytelling drew him to Los Angeles after two decades of practice in Seattle and a Masters in Landscape Architecture from Harvard University's Graduate School of Design. Nate's projects, including downtown central parks in Houston, Seattle, Los Angeles, and Palm Springs, unearth stories of place as catalysts for authentic urban life. Nate teaches and lectures on landscape design at universities and conferences around the country. He has been active on the boards of the national Landscape Architecture Foundation and numerous urban environmental and civic groups.
Nate's current research interest centers around the culture of comfort in places that experience extreme heat. As many regions are growing hotter and as more people are migrating to precisely these regions, what can we learn from global cultures past and present about how to survive? From ice houses and swamp coolers to porch swings and evening strolls, how do people beat the heat? The contemporary application of this collective wisdom is inventive ways to reduce dependence on air conditioning and attract people to be together outside.
Erin Gehle, Studio Director, Rios Clementi Hale Studios
Erin believes in the power of stories and she harnesses this daily in her role as Studio Director for Rios Clementi Hale Studios. After practicing architecture, a passion for the power of words led Erin to graphic design, and ultimately design-led communications, as an extension of architectural education and a companion to enrich the architectural experience. She applies this background and professional experience to traditional and emerging communications strategies that are meaningful, strategic, and evolving.
Over almost two decades, Erin has supported the communications needs of architects, designers, and the green building industry. Her role expanded to include the responsibility of growing and overseeing an online presence across multiple social media channels. She has led communications outreach and worked with external public relations agencies on media outreach, in addition to acting as the Project Director for multiple monograph projects.
Her strengths are revealing the stories within organizations and thinking strategically about how communications can create meaningful relationships.
About The Organization
For almost four decades Rios Clementi Hale Studios has worked beyond boundaries to invent designs that amplify experiences that are connected by a common thread — the fact that design is never without story. The studio's transdisciplinary nature has led to method of problem solving with a myriad of objects — specialty coffee cups, collaboration tables, immersive environments, parks and spaces, and sometimes even buildings — as the solution. Each project is a genuine expression of location, ecology, culture, and ethnography revealed through a process of storytelling that inexorably leads to an individual solution that can answer no other question.
LOCATION
600 Congress Lobby, Austin, TX 78701
DAY
Wednesday, November 6th
ORGANIZED BY
Rios Clementi Hale Studios
INTENDED AUDIENCE
Design community, design enthusiasts, those interested in making space.
600 Congress Lobby
Austin, TX