Re-Thinking Design: Designing Out Waste
November 4, 2019 12pm - 1:30pm
Discover how to design products to minimize their environmental impact through an interactive workshop about circular economy with Austin Resource Recovery.
Capital Factory
701 Brazos St
Austin, TX 78701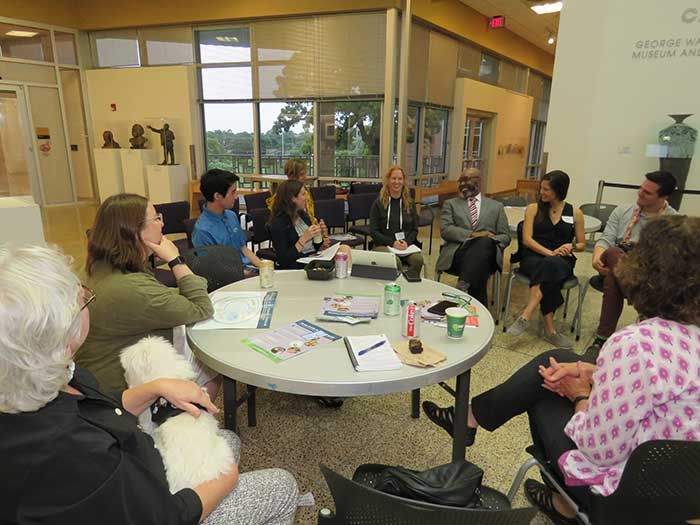 Re-Thinking Design: Designing Out Waste
A circular economy, one that keeps materials and products at their highest and best use by design systems without waste, may be new to some. Join us for an interactive workshop to discover how you can apply circular economy in your daily work. Participants will redesign an everyday product by reflecting on the functional and emotional needs that it serves and using circular strategy cards (based on Austin's 5 circular pillars) to brainstorm new solutions that are better for people and the planet. Our hope is to increase awareness among designers about circular economy, work through challenges with the current wasteful design system, encourage innovation, and build your circular toolbox.
Speakers / Facilitators
Gena McKinley is the Strategic Initiatives Division Manager for Austin Resource Recovery, the City department charged with the implementation of the City of Austin's Zero Waste Master Plan. The Division's work focuses on recycling economic development, zero waste policy and program development, business outreach and public education and marketing. By fostering innovative community-wide partnerships to advance zero waste, this work supports the necessary infrastructure for a resilient circular economy in Central Texas.
Her leadership, commitment and advocacy for zero waste earned national recognition as she was chosen to be included in Waste360's 40 Under 40 list of rising stars in the industry. Gena has earned a Masters of Public Health from the University of Texas School of Public Health and Bachelor of Arts in biology and sociology from Southwestern University. During her academic career, she focused on behavioral science and enjoys applying behavior change theory to the various aspects of her efforts with local government.
About The Organization
Two City of Austin departments, Austin Resource Recovery and the Economic Development Department, have teamed up to launch the Circular Economy Program. The program's mission is to attract, retain, and grow businesses, non-profits, and entrepreneurs in the zero waste industry in order to create well-paying local jobs, attract investment, and support the necessary infrastructure for a resilient circular economy in Central Texas.
LOCATION
Capital Factory - 701 Brazos St, Austin, TX 78701
ORGANIZED BY
Austin Resource Recovery, A City of Austin service
INTENDED AUDIENCE
Physical designers - interior, materials, structural, fashion
701 Brazos St
Austin, TX 78701