Reframing Collaboration
November 7, 2019 8:30am - 10am
Come experience new mental models for design collaboration in a fun and playful workshop with leading human-centered designers.
frog
101 West 6th Street Suite 200
Austin, Texas 78701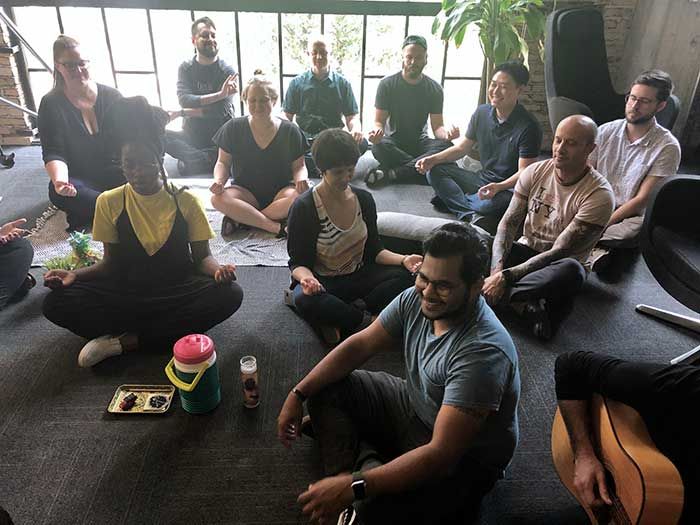 Reframing Collaboration
We work with people every day. Those moments when your team is really vibing feels amazing. Ideas come fast, agreement is easy, and the work becomes greater and richer than it could have been had it been done solo. But, what about all those other times?
Join us as we explore and play with new mindsets of collaboration. Practice unusual techniques. Make space for others in your creative process. Develop solutions to work effectively with the people you have maybe been avoiding.
This interactive workshop consists of three chapters: Meditation, Active Listening, and Co-creation. Together, we will explore and practice techniques from a diverse range of sources including meditation, yoga and pilates, sound baths, and the FBI. We will ground ourselves through meditation and make space for others using empathy-building and active listening before diving into co-creation activities.
Come prepared to have fun, get weird and bring the play back into your teams.
Speakers / Facilitators
Alexis Puchek, frog, Principal Director
Alexis Du Mond Puchek has 15+ years of experience in User Experience, Interaction Design, Front-End Web Development and Design, and Information Architecture. She has experience working in-house with Fortune 500 companies like Visa and PayPal, as well as in advertising and consulting firms with companies like SapientRazorfish and frog. Her background in financial services, enterprise software, systemic thinking, prototyping methods, and cross-platform and responsive interfaces has enabled her to create world-class solutions for IT services, financial services, ecommerce, automotive, spirits, airline, oil and gas, healthcare, cellular, and banking clients. Alexis is a teacher, mentor, and connector. She strives to lift people up and empower designers to produce exemplary, usable, and accessible design.
Jenny Savage, frog, Senior Visual Designer
Jenny Savage is an award-winning Senior Visual Designer at frog design where she researches and designs for experiences, products & brands. She's been in Austin TX for 2 years having previously worked in Seattle, NYC, Atlanta & Kansas City.
frog is a global design and strategy firm. We transform businesses at scale by creating systems of brand, product and service that deliver a distinctly better experience. We strive to touch hearts and move markets. Our passion is to transform ideas into realities. We partner with clients to anticipate the future, evolve organizations and advance the human experience.https://www.frogdesign.com/
LOCATION
101 West 6th Street Suite 200 Austin, Texas 78701
DAY
Thursday, November 7th
INTENDED AUDIENCE
Students or Designers at all ages & levels that are currently or will be working in team-based environments.
101 West 6th Street Suite 200
Austin, TX 78701