Rethink Restroom Design
November 5, 2019 10:30am - 12:30pm
Hear from a panel of experts about elements that influence efficient and inclusive restroom design. Then participate in a tabled design challenge to create a restroom that meets the community's needs.
The Riveter
1145 W 5th Street
Austin, TX 78703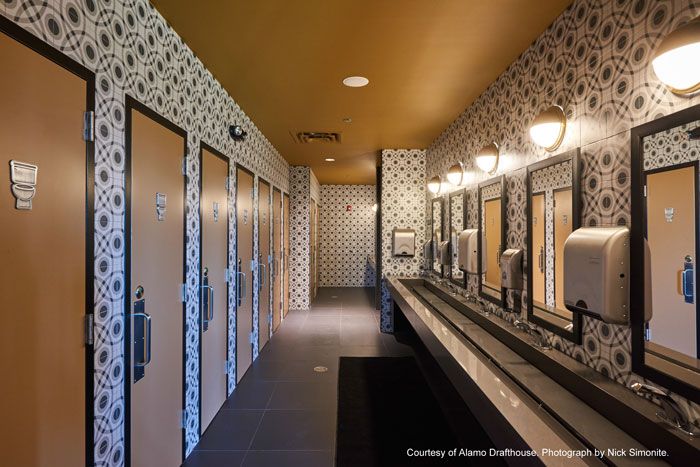 Rethink Restroom Design
While restrooms are a ubiquitous part of our lives, they often evade constructive discussion and critical analysis from a design perspective. Designers now have a strategic and timely opportunity to rethink restroom design to better serve all restroom users.
The first hour of this session will feature a panel of experts discussing elements that influence efficient and inclusive restroom design. Learn how inclusive restroom design benefits all, including those who do not conform to the gender binary, those who need accessible spaces and those who may need assistance from someone of a different gender. Explore how design addresses a number of secondary functions that happen in restrooms, such as attending to personal hygiene, using skin care products and changing diapers. Consider how restroom design facilitates points of distribution for personal care products as well as safe collection points for sharps. In this session, you will also learn more about how restrooms can be at the forefront of environmental conservation, where water conservation, dual plumbing and non-potable water for flush fixtures can save natural resources.
During the second hour, the panelists will guide attendees through a tabled design challenge to create a restroom that meets the community's needs.
Speakers / Facilitators
Sarah Talkington, Manager of the Austin Energy Green Building commercial team, coordinates work with local developers, owners, design teams and other building professionals to find best practice, sustainable design and construction solutions for Austin. She leads project teams in achieving both Austin Energy Green Building commercial ratings and USGBC LEED ratings for their projects.
Katherine Jashinski, is an Austin Water engineer and an expert on decentralized and onsite reuse systems. Katherine received both a bachelor's degree in geosystems engineering and hydrogeology and a master's degree in environmental and water resources engineering from the University of Texas at Austin.
Joel Sanders, FAIA, is the Founding Member of Stalled!, an interdisciplinary design-research project to create viable economical inclusive restroom prototypes for retrofit and new construction projects, which in April 2019 successfully amended the International Plumbing Code to allow for all-gender restroom design. In addition to being Principal of his award-winning LGBTE-certified studio JSA in New York, Sanders is Professor and Director of Post-Professional Studies at Yale School of Architecture and is a contributor and editor of several publications.
Shelby Blessing believes that all design has a social impact, and that designers have a responsibility to maximize the positive social impact of their work. As an architect at Page in Austin, TX, Shelby collaborates with teammates and clients to create innovative learning environments, dense urban living and unique public spaces that promote interaction and community. Shelby is also an active member of her professional community, where she is currently focused on projects surrounding equity in professional leadership, post-occupancy research of supportive housing for the chronically homeless, and gender-inclusive restroom design.
Tamara Goheen works for the Austin Public Library as a Community Services Coordinator, helping to provide "wraparound services" at library branches and to establish beneficial partnership programming and services for vulnerable communities. She comes to this position after a decade of work with local non-profit and public health organizations. She is certified in Mental Health First Aid and Trauma-Informed Cross-Cultural Psychoeducation, and has focused her work in the areas of health equity and education, reproductive justice, immigration and building community partnerships.
About The Organization
Austin Energy® Green Building developed the first rating system in the U.S. for evaluating the sustainability of buildings, creating a model for many other cities as well as the U.S. Green Building Council's LEED certification system. Since 1991, Austin Energy Green Building has cultivated innovation in building and transportation for the enrichment of the community's environmental, economic and human well-being by providing green building ratings, consulting services, code advancement, education and professional development. As the city grows and the community expands, Austin Energy Green Building continues to raise the standards for energy efficiency, water quality and conservation, indoor environmental quality, material resources and site development. In addition, Austin Energy Green Building's commitment to equity ensures comprehensive, beneficial outcomes for all people in the community.
LOCATION
1145 W 5th Street, Austin, TX 78703
ORGANIZED BY
Austin Energy Green Building
INTENDED AUDIENCE
Anyone interested in universal design
1145 W 5th Street
Austin, 78703