Reviving Lost Histories & Ecologies: Collaborative Design of an Urban Greenspace on Shoal Creek
November 4, 2019 10am - 12pm
Work together with multidisciplinary designers to generate ideas on how to tell the historical and ecological stories of Austin through the design of public open space along Shoal Creek with design firm Asakura Robinson and the Shoal Creek Conservancy.
611 Wood Street
Austin, TX 78703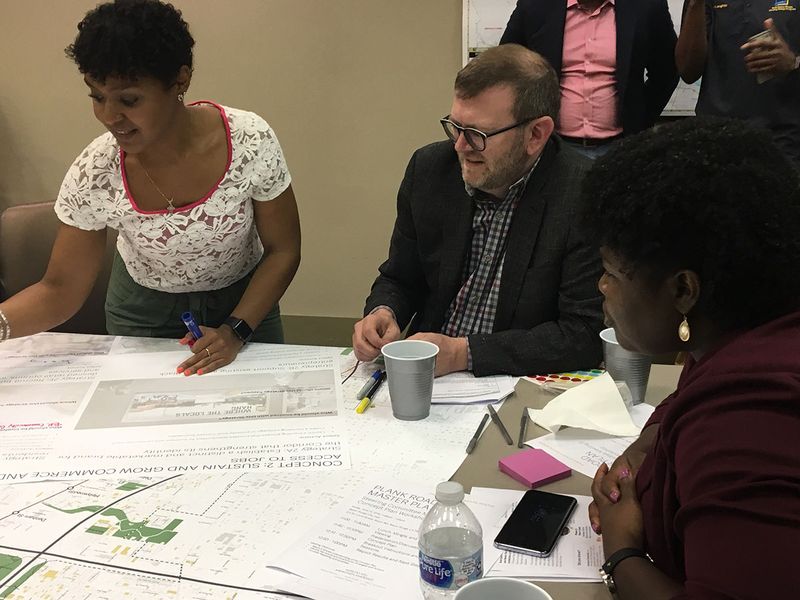 Reviving Lost Histories & Ecologies: Collaborative Design of an Urban Greenspace on Shoal Creek
As Austin experiences unprecedented development, both longstanding neighborhoods and natural areas are erased, often with little trace. In the early 20th century, residents of the historic black Freedman's community of Wood Street lived along Shoal Creek, an urban waterway that runs through the heart of downtown. As the city grew, black residents, and later Mexican-Americans, left their homes, and a former cluster of residences once located at 6th Street and Shoal Creek, now known as the Wood Street Historic Settlement, is currently a vacant parcel of land. This collaborative design and programming workshop will generate ideas for this fraught urban space in order to honor the cultural history of the settlement, the creek's ecology, and the environmental history of Shoal Creek. In small groups, participants will be led through ideation activities and questions to generate ideas on design and programming of the green space. Example ideas may include art installations, augmented reality experiences, educational programs, location-based phone apps, and annual events. While this is only an imaginative design exercise, it is possible that the outcome from this workshop will help local conservation groups create a future public, open space for this historic site.
Speakers / Facilitators
Kari Spiegelhalter, Associate Urban Ecological Designer, Asakura Robinson
As an Associate Urban Ecological Designer for Asakura Robinson, Kari works on a broad range of sustainability and equity-related planning and design projects that enhance urban ecosystems, public health, and environmental justice. She is especially interested in how participatory design processes build ecological and social resilience in communities. Kari received her Masters of Landscape Architecture from Cornell University and was named Cornell's 2018 Graduate Olmsted Scholar. At Cornell, she became interested in community engagement and environmental justice, and co-wrote the "Landscape Architecture Student's Guide to Environmental Justice," which received an ASLA Student Award in the communications category.
Maria Darr, Programs Coordinator, Shoal Creek Conservancy
In her role at Shoal Creek Conservancy, Maria engages community members via coordinating SCC's volunteer program, educational tours, and events throughout the Shoal Creek watershed. Additionally, Maria ensures the public is up to date on the latest happenings at SCC via monthly newsletters and social media posts. If you see her on the trail be sure to say hi! Before her time at SCC, Maria served the Austin community as the Volunteer Engagement Manager at Austin Habitat for Humanity. Maria has over four years of Volunteer Management experience, as well as a passion for the outdoors. Maria received her B.A. in Anthropology and Journalism from The University of Connecticut and her M.A. in Human Skeletal Biology from New York University. Spending her free time backpacking across Texas, Maria is particularly passionate about the power education and community engagement has on conservation, especially along Shoal Creek.
About The Organization
Asakura Robinson
Asakura Robinson is a planning, urban design, and landscape architecture firm which strengthens environments and positively impacts communities through innovation, engagement, stewardship, and an integrated design process and our employees are leaders in social and environmental design. As a firm, we strive to assist visionary clients to spur positive change. We focus on engaging communities in ever more diverse project contexts while maintaining a high level of creativity and collaboration in every endeavor.
Shoal Creek Conservancy
Shoal Creek Conservancy is a non-profit proud steward of the 13-square-mile Shoal Creek watershed in Austin, Texas. We champion the Shoal Creek watershed in order to create a healthy and vibrant community. The Shoal Creek watershed provides an oasis in a rapidly growing urban area, and we believe that with thoughtful investment, this natural treasure can better benefit our ecology, economy, and enjoyment of the outdoors.
LOCATION
611 Wood Street, Austin, TX 78703
ORGANIZED BY
Asakura Robinson & Shoal Creek Conservancy
INTENDED AUDIENCE
Designers, artists, and citizens passionate about making space in cities for untold stories of Austin's history and ecology.
HANDICAP ACCESSIBLE?
Information not provided
611 Wood Street
Austin, TX 78703