Storytelling Workshop
November 5, 2019 12pm - 1:30pm
In this workshop, copywriter Liz Feezor teaches attendees how to write a professional profile that tells your story, communicates your value, and connects with your audience.
The Hub, Trinity Hall
311 E 5th St.
Austin, TX 78701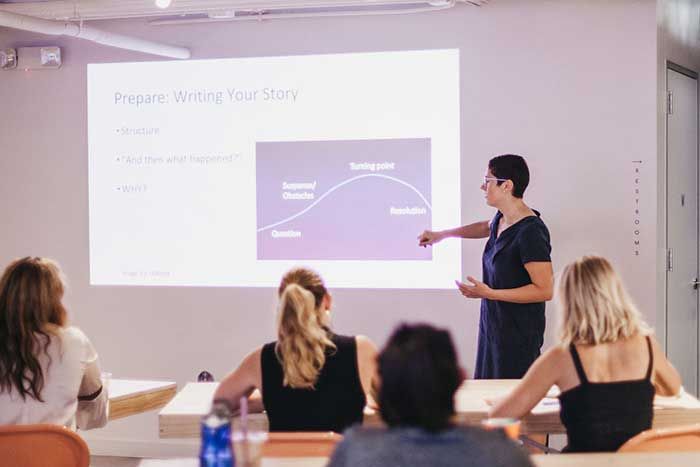 Storytelling Workshop
In this workshop, we will dive into the ins and outs of writing an impactful, memorable bio for yourself that communicates your value, showcases your personality, and attracts the clients you want to work with. We will cover storytelling concepts, bios for different needs (social media, About pages, third-person longform bios), and social media—and how they interplay with one another to tell a cohesive, impactful story. This session covers how to write AND share your story: we will learn how to leverage LinkedIn to your advantage and build a professional network. No boring bios and meaningless business jargon here: this session is designed to get you thinking differently about the words you use for yourself and your business.
This interactive talk is designed to get you thinking differently about the words you use to talk about yourself and your work. We'll get into how to write an impactful professional bio, using social media to tell your story, and choosing the right words to talk about ourselves and our work. Part-conceptual and part-tactical, we will create a professional profile and share it with the world. From storytelling to social media, we'll cover it all—and learn how to apply these concepts to writing your own professional profile. Bring your laptop and/or a notebook to take notes, and download the LinkedIn app on your phone.
Speakers/Facilitators
Liz Feezor, Founder and Principal, Liz Feezor Creative, LLC. Liz Feezor is a copywriter and creative strategist who helps ambitious, wholehearted professionals tell their stories. She draws upon years of corporate and academic experience to create high-impact messaging for her clients, including professional bios and website copy for solopreneurs and small businesses. In addition to her client work, Liz is a speaker, essaying, and editorial contributor for local and national outlets.
Liz holds a Master of Health Sciences from Boise State University and a Bachelor of Arts in Spanish from the University of Oregon. She lives in East Austin where you can spot her checking out books from the library or working on her laptop wherever there's a good cup of coffee.
LOCATION
311 E 5th St, Austin, TX 78701
INTENDED AUDIENCE
No pre-requisites, This workshop is for everyone!
311 E 5th St
Austin, TX 78701