The Art of Shoes Studio Tour
November 5, 2019 4pm - 6pm
Join us for an introduction to shoe design and shoe making. Learn the process of The Art of Shoes and how we are providing and leading in ethical fashion.
The Art of Shoes
3508 E. Cesar Chavez
Austin, TX, 78702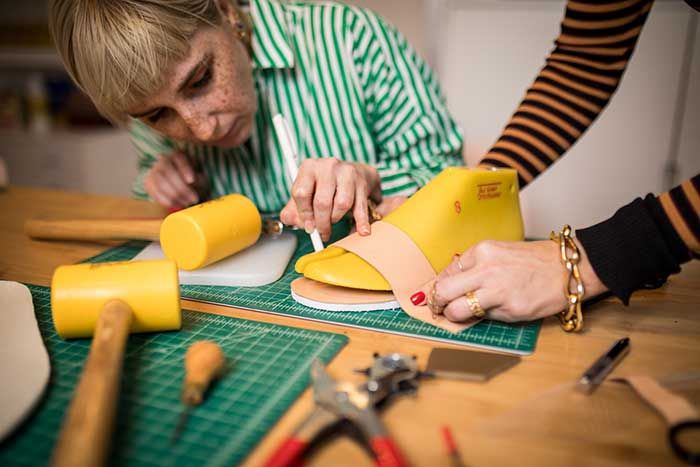 The Art of Shoes Studio Tour
The Art of Shoes is a space that lives and breathes all things shoes, serving as a design studio space as well as a small shoemaking factory. The Art of Shoes was created to educate people in the process of shoemaking and shoe design. Our shoemaking classes are for everyone! We provide a space is a space for you to be creative whether you want to be a shoemaker or shoe designer yourself. Beginners are welcome and we love teaching!
Speakers/Facilitators
Selena McCartney-Footwear Designer and Shoemaker Selena McCartney is a native Texan who started her career in retail at Steve Madden. While there, McCartney took it upon herself to provide ongoing trend reports to the New York home office. Those trend reports were given to the design team and soon enough several retail stores were receiving product based off of her suggestions. This led to a consistent rise in sales. Steve Madden corporate took note of McCartney's work and invited her to begin designing shoes as an assistant designer and relocated her to their corporate office in New York. McCartney taught herself to sketch and worked in Steve's shoe factory where she also learned to make shoes by hand. ​
McCartney spent five years at Steve Madden before deciding to pursue her own passions and aspirations. She worked for Calvin Klein for 5 years and then continued to become a consultant. Some of the brands she has consulted include Rachel Zoe, Corso Como, The Gap Company, and Rebecca Taylor. Selena has designed every type of footwear from dress, to casual, to clean and sophisticated, to novelty. She is currently working as the Design Directorfor Katy Perry footwear. During her career McCartney turned her love for shoe design and shoe collecting into a hobby.
McCartney ended up with 3,000 pairs of shoes that she had collected over many years and decided to open a shoe archive. McCartney rented and sold to shoe brands and stylists that include Marc Jacobs, Derek Lam, Michael Kors, Balmain, HBO, and many more. McCartney had one of the largest independent shoe archives in New York city. With now 20 years of experience in footwear Selena still has a love for shoes. She has created the shoemaking and design studio called The Art of Shoes in Austin, Texas. Selena still holds on to her Texas roots, but enjoys the journey of her fast-paced career.
Chad Kimball-Footwear Designer and Artisan Shoe Maker
Chad Kimball is the creator of shoe brand Standard Handmade where he makes every single pair of shoes in-house, completely by hand, and made to order, you receive a pair of boots or shoes that last you a lifetime, are free of any manipulative business practices, and which you have more control over not only by knowing who made them, but also by being able to customize them.
Kimball makes you boots or shoes that you love, believe in, and make you feel good to wear. There is no better feeling than knowing that you didn't waste any leather, haven't needed several more pairs, and that they are still just as beautiful and functional as the day they were made. To add to that, design wise they are just completely stunning and unique. If standing out just by way of quality and the construction process aren't enough, you'll also have a design no other company has.
LOCATION
3508 E. Cesar Chavez, Austin, TX, 78702
PARKING/TRANSIT
Limited parking (paid street and garage parking) | CapMetro downtown | See our sustainable transportation recommendations | When you walk in the warehouse front door, we are upstairs on the far back right. I will put pink tape on the floor so they know where to follow.
ORGANIZED BY
The Art of Shoes
INTENDED AUDIENCE
Anyone interested in Design and being a maker.
3508 E. Cesar Chavez
Austin, TX 78701