The Role of Media Arts in Placemaking
November 7, 2019 8:30am - 10am
Please join the City of Austin and members of the Austin UNESCO Media Arts Steering Committee for an early morning conversation around interactive public art, civic engagement, and cultural exchange.
Capital Factory
701 Brazos St.
Austin, TX 78701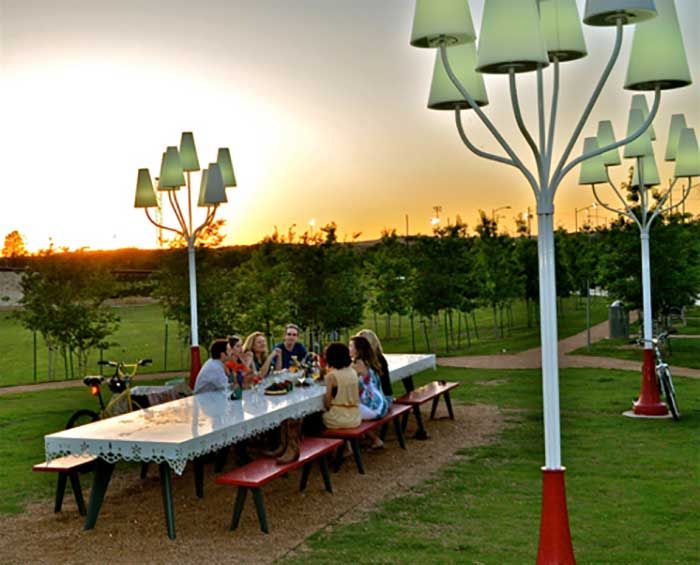 The Role of Media Arts in Placemaking
Austin is a unique city for many reasons. Chief among them is our ability to prioritize the creative sector, in everything from City policies and strategic plans, to arts funding, creative space support and interactive public art pieces featuring new technologies. Did you know that Austin is the only city in the U.S. to hold a UNESCO Creative Cities designation for Media Arts? We collaborate with 13 other cities around the world to share best practices, encourage artist exchanges, create better synergies and mutual understanding between cultures, and also to further the artistic and technological expertise in the field.
Austin is at the cross section of art and technology. Using our strength as a Media Arts city, we have created public interventions that help citizens feel more connected to each other, to art, and to the place we call home. Some examples include talking to lampposts and mailboxes (Hello Lamppost), capturing and playing with shadows of passersby (Shadowing), and a choose your own adventure experience throughout downtown (Wander). We have several media arts/placemaking projects in the works that we would love to share with the community-- and more specifically, start conversations with creatives so they can get more involved with opportunities in the Cultural Arts Division and our UNESCO Media Arts Designation.
Speakers / Facilitators
Several Austin UNESCO Steering Committee members and creative practitioners will be participating in this conversation, including:
Anna Gallagher-Ross
Anna is a curator at Fusebox, an annual contemporary performance festival based in Austin, Texas. A graduate of the Center for Curatorial Studies, Bard College, Anna has curated exhibitions, performances, and public programs in New York, Toronto, and Austin.
Jacob Villanueva
Jacob is the Creative Director of Texas Tribune and a professional creative with a focus on digital media and interactive technology.
Sue Lambe (moderator)
Sue manages the City of Austin's Art in Public Places Program, and is responsible for the existing public art collection of over 300 pieces and for the active permanent and temporary art projects underway throughout the City of Austin. She is a licensed landscape architect in Maine and Texas, with over 20 years of experience designing public spaces. Lambe holds a BFA in Landscape Architecture from the University of Illinois CU. She believes in public art as a meaningful way to connect people to their community – art can spark the 'aha!' moments that bring people together.
LOCATION
701 Brazos St Austin, TX 78701
DAY
Thursday, November 7th
ORGANIZED BY
The City of Austin's Cultural Arts Division of the Economic Development Department
701 Brazos St.
Austin, TX 78701