Trojan Horses & Systems Design
November 7, 2019 12pm - 1pm
Join us in delving into systems design and the trojan horse projects that are rooted in systems dysfunction. Enjoy a healthy lunch and a panel of health design leaders sharing examples and insights of systems design as a means of provoking change in health.
Dell Medical School Health Discovery Building Auditorium
1701 Trinity Street
Austin, TX, 78701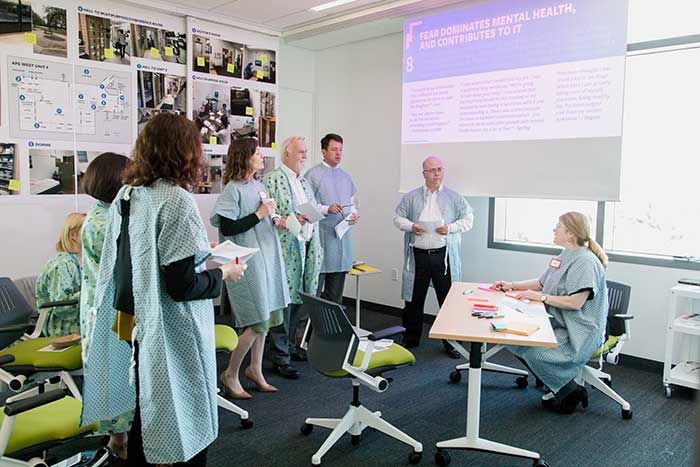 Trojan Horses & Systems Design
Join us in delving into systems design and the trojan horse projects that are rooted in systems dysfunction. Enjoy a healthy lunch and a panel of health design leaders sharing examples and insights of systems design as a means of provoking change in health.
As Dell Medical School moves the focus of academic medicine to factors of health beyond medical care, we find that the wicked societal problems yet to be addressed require sectors and entities to work together in unfamiliar, uncharted ways. Challenges that have no singular client, no one decision maker, and no clear way to proceed require us to make space for new ways of working, new applications of design, and new engagement models. Whether we're designing in arenas like service, environments or products, every engagement ultimately leads to systems design, regardless of how it walked in the door. We are evolving our approaches and methods to understand what's really at the heart of the trojan horses that enter our studio as overly focused and/or overly simplified problems/objectives. This panel featuring leaders from the Design Institute for Health—a radical collaboration between Dell Med and the College of Fine Arts at the University of Texas at Austin—will share how we're applying a systems design approach including a brief history and primer on systems design, and reporting from the field with tangible examples of systems thinking, maps and design from current work, including a sneak preview of the new Masters Program for Design In Health.
Speakers / Facilitators
José Colucci, Dell Medical School, Design Institute for Health, Director of Research and Development
José brings decades of experience designing products, services and strategies in healthcare. Before joining the DIH, José was a Sr. Director and Associated Partner at IDEO, where he worked for 16 years. IDEO is one of the most prominent design and innovation firms in the world. His work at IDEO included services and products for pharma, medical devices, research institutions and healthcare delivery. His interests range from healthcare strategy, trends and innovation in science and technology, medical devices, and service design. He's authored many patents and written on topics from the biotech revolution to design thinking. Recently, he's been researching and speaking about the impact of aging on society and its implications for the design of products and services. He speaks frequently at conferences and events on topics from Design Thinking and Human Centered Design to the Future of Healthcare.
José has a BS in mechanical engineering by the University of São Paulo (USP), an MS in industrial design by USP, and also an MS and a Ph.D. in biomedical engineering by the University of Illinois at Urbana-Champaign.
Lauren Gardner, Dell Medical School, Design Institute for Health, Design Researcher
Lauren's expertise is in using ethnographic and immersive approaches to understand individual needs, behaviors, and perspectives, and the contextual and environmental factors that shape them. She then synthesizes this data across the spectrum of "users" from patients to providers to identify insights and generate ideas for improvement. Prior to joining the Design Institute, Lauren was a Senior Program Manager at Reboot, a social impact firm working to solve civic problems. While at Reboot Lauren led research and design engagements to reduce the number of open warrants in New York City, diversify volunteer contributions to Wikipedia, strengthen the global participatory budgeting movement, and launch an incubator for public procurement reformers. Lauren's background has also included assessing the quality of education in Zambia for the World Bank and facilitating study abroad experiences in Pune, India.
Lauren holds an MFA in Design for Social Innovation from the School of Visual Arts and graduated from American University with a BA in International Relations and minors in communications and graphic design.
Kat Jones, Dell Medical School, Design Institute for Health, Director of Strategy and Mission/s
Kat shapes and articulates the Design Institute's strategy by developing distinct experiences, perspectives, and conversations within Dell Med and across our community that build and establish the role of design in health in a manner that enhances Dell Medical School's culture and missions. Trained as a medical illustrator, Kat works to understand complex concepts and then to translate those into a story for many to comprehend. Kat's expertise lies in finding the radical clarity by sorting large amounts of information, listening deeply, recognizing patterns, and then pinpointing the "surgical moments" or defining elements of an organization which can then translate into language and experiences that express the organization's story. Kat joined the Design Institute from Milkshake, a strategy and brand consultancy she founded in 1999 which has created and shaped brands for nonprofits, government, corporations, and movements including LIVESTRONG, Populous, Generation TX, National Co-op Grocers.
Katherine graduated from the University of Michigan with a BFA in Fine Arts and a BGS in Zoology and earned an MA from The Johns Hopkins University School of Medicine in Biological and Medical Illustration.
Doreen Lorenzo, UT Austin, Assistant Dean, School of Design and Creative Technologies
Doreen Lorenzo is a successful leader of global creative firms and has advised Fortune 100 companies on design and innovation issues for decades. In March 2016 she was appointed Director of the Center for Integrated Design at the University of Texas at Austin. She is a co-founder of mobile video insights firm Vidlet, as well as a board member and advisor of several other startups, and a columnist for Fast Co. Design and Medium. A recognized thought leader on business and design issues, she speaks publicly about her signature leadership style and the power of empathy to drive business results.From 2013 to 2015 Doreen was president of Quirky, where she oversaw product development and operations for this fast-growing company. Prior to Quirky she worked at frog design for 16 years, including seven years as president. While president of frog she drove company strategy, oversaw worldwide operations and delivery, and led the iconic design firm to record growth.
Doreen earned a master's degree in communication and media studies from Boston University and a bachelor's degree in theatre from the State University of New York, Stony Brook.
LOCATION
1701 Trinity Street Austin, TX, 78701
ORGANIZED BY
Design Institute for Health & Dell Medical School
INTENDED AUDIENCE
This event is for anyone curious about the convergence of design and health and more broadly, the complex interconnectedness of systems, including members of the Austin design community, Dell Medical School, community organizations, elected officials and policy makers.
1701 Trinity Street
Austin, TX 78701