UT Letterpress Workshop
November 6, 2019 7pm - 8:30pm
The Rob Roy Kelly American Wood Type Collection (The RRK) is a holding of over 150 typefaces from the 1800s. The RRK is housed by the Design Department at UT. We'd like to invite designers and typeface aficionados to come visit for a hands-on demonstration.
Art Building
2301 San Jacinto Blvd
Austin, Tx 78712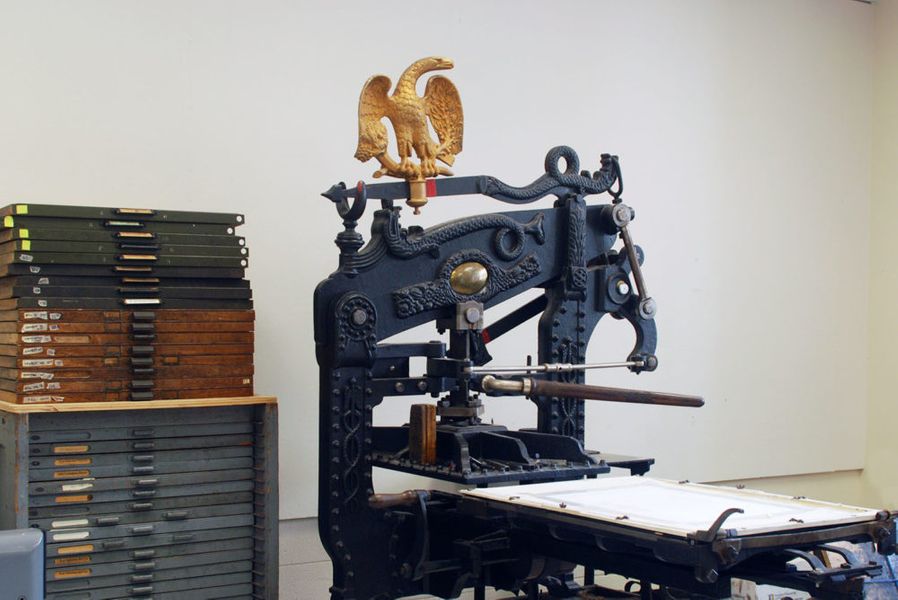 UT Letterpress Workshop
The Design Lab is a mixed-use work space that provides a wide array of tools and technologies, new and old. A main focus of the lab is the Rob Roy Kelly American Wood Type Collection, which we study and utilize with the help of a variety of analogue printing presses. The RRK collection is an archive of more than 160 typesets, hand-carved images, ornaments, and miscellaneous relief printing blocks, dating from as early as the 1820's. As the custodians of this resource, a main focus of the Lab is to provide access and opportunities for students, and designers/typographers in the greater community to get hands-on with a nearly-forgotten piece of American history. In addition to letterpress printing, the Lab provides access to screen printing and darkroom photography facilities, and a selection of fabrication tools. This wide variety of opportunities and resources makes the Lab a foundational component of any project a design student may be tackling. The Lab is an essential reminder of our history, keeping contemporary designers rooted, thoughtful, and empathetic in the age of digital creativity.
Speakers / Facilitators
​Doreen Lorenzo, Assistant Dean, School of Design and Creative Technologies
​Doreen Lorenzo is a successful leader of global creative firms and has advised Fortune 100 companies on design and innovation issues for decades. In March 2016 she was appointed Director of the Center for Integrated Design at the University of Texas at Austin. She is a co-founder of mobile video insights firm Vidlet, as well as a board member and advisor of several other startups, and a columnist for Fast Co. Design and Medium. A recognized thought leader on business and design issues, she speaks publicly about her signature leadership style and the power of empathy to drive business results.
From 2013 to 2015 Doreen was president of Quirky, where she oversaw product development and operations for this fast-growing company. Prior to Quirky she worked at frog design for 16 years, including seven years as president. While president of frog she drove company strategy, oversaw worldwide operations and delivery, and led the iconic design firm to record growth.
Doreen earned a master's degree in communication and media studies from Boston University and a bachelor's degree in theatre from the State University of New York, Stony Brook.​
Kate Canales, Chair, Department of Design, School of Design and Creative Technologies
​Kate Canales is a Distinguished Senior Lecturer and Chair of the Department of Design in the School of Design and Creative Technologies at the University of Texas at Austin. Previously Canales was a clinical professor and the director of Design and Innovation Programs at the Lyle School of Engineering at Southern Methodist University. She is the founder and director of SMU's pioneering Master of Arts degree in Design and Innovation (MADI) which trains students of all backgrounds in human-centered design as a method for innovating in any field. Kate has a background in mechanical engineering, product design and design research, and much of her recent work has focused on building creative capacity inside organizations.
Prior to SMU, Kate worked as a designer and design researcher at IDEO and as a creative director at frog design, both internationally recognized leaders in the field of design and innovation.​
Henry Smith, Letterpress Lab Technician
​Henry Smith is a multi-media artist and designer. Studying studio art at the University of Texas at Austin, Smith receiving a Bachelor of Fine Arts degree in 2017. He has since embarked on a design career focused around curating experiences, organizing events, and stimulating conversational opportunities. Working primarily in print, sculpture, and social practice, Smith explores channels and venues of community-building and information exchange. Much of the same rhetorical vehicles are utilized across his practice of commercial design, and his personal art practice. Smith has managed the Letterpress Lab since early 2019.​
The School of Design and Creative Technologies educates students for creative professions needed now and in the future. Our unique responsive curriculum prepares graduates for the creative and complex global economy. We teach design and design thinking, as well as creative technologies that equip our students to deliver artistic and thoughtful products and content in Digital Visualization, Game Design, Music and Sound and Projection, Lighting and Interactivity (PLAI).
LOCATION
2301 San Jacinto Blvd Austin, Tx 78712
HANDICAP ACCESSIBLE?
No information provided.
ORGANIZED BY
UT School of Design and Creative Technologies
INTENDED AUDIENCE
Typeface aficionados, Local Austin designers
2301 San Jacinto Blvd
Austin, TX 78712