Women Talk Design Lightning Talks
November 4, 2019 10:30am - 12pm
Join us and listen to several 5-minute talks on the theme "Make Space" from new and experienced speakers in the Women Talk Design community.
The Hub, Trinity Hall
311 E 5th St.
Austin, TX 78701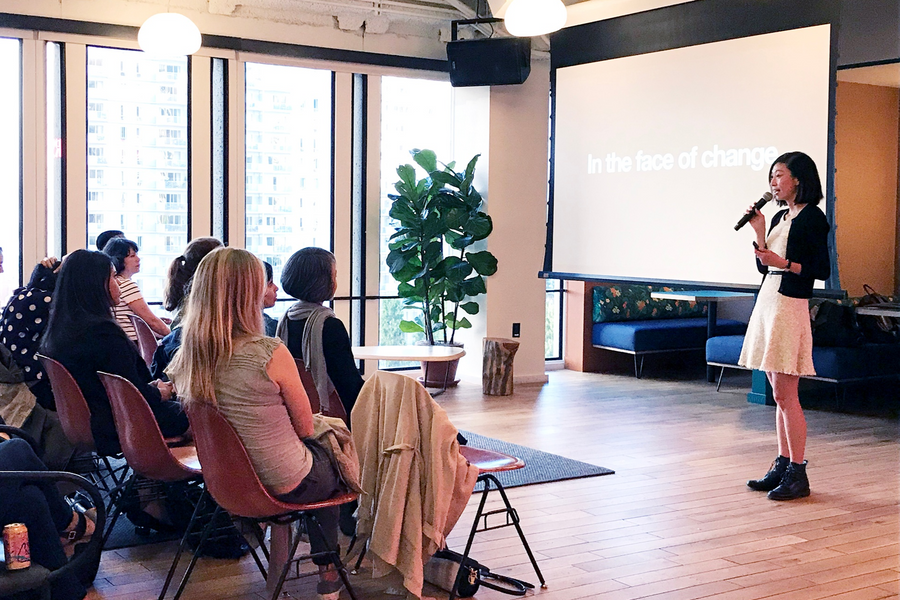 Women Talk Design Lightning Talks
Women Talk Design hosts a Lightning Talks event to give new and experienced women and non-binary speakers an opportunity to practice a 5-minute version of a talk they are working on, in front of a small, supportive audience. During this special edition of WTD Lightning Talks, speakers will present short talks that relate to Austin Design Week's theme "Make Space". We invite you to cheer on our speakers as they present their talks, learn something new, and meet others in attendance.
Are you a woman or nonbinary creative interested in presenting a talk? Fill out this form and WTD will be in touch.
Speakers + talks:
Mae Reed, Communication is hard
Samantha Schak, How to Advocate for Yourself to Break Toxic Workplace Cycles
Michelle Trame, Fielding "Bad" Questions
Elise Entzenberger, The Strength of Softness: Making Space for Emotions Can Make You a Better Designer
Elizabeth Pizzuti, What are users really saying?
Sneha Dasgupta, Building accessible products at a startup
Rebecca Chen, Unraveling the stigma of colorism in global communities
Catherine Woodiwiss, Why Burnout Is the Next Big Design Challenge: And Where to Start
About the Organization:
Women Talk Design is on a mission to see a more diverse group of speakers on stage. We elevate women and nonbinary speakers so event organizers can discover them, equip event organizers with resources on how to design more inclusive events, and offer training, events and community for new speakers.
LOCATION
The Hub, Trinity Hall, 311 E 5th St, Austin, TX 78701
ORGANIZED BY
Women Talk Design
INTENDED AUDIENCE
This event is open to everyone. We appreciate you being a respectful, supportive audience!
311 E 5th st.
Austin, TX 78701