Work Play Money Love What It Is What Could Be... Both Neither Art Design
November 4, 2019 2pm - 4pm
Preview a new exhibition of art-design at Northern-Southern gallery, then join an open discussion with the show's curators and participants. Let's talk about what it is we do when we design (or art) and why. tldr; art-design, snacks, and conversation in still weird East Austin.
Northern-Southern
1900-B E 12th St
Austin, TX 78702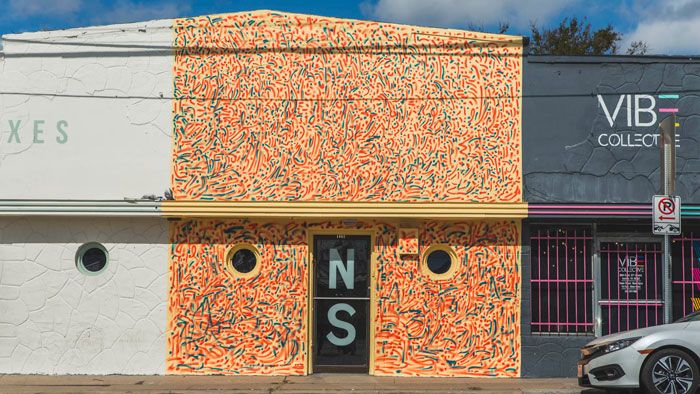 Work Play Money Love What It Is What Could Be... Both Neither Art Design
Participate in a group conversation about contemporary creative living and preview the new exhibition at Northern–Southern gallery. WORK PLAY MONEY LOVE WHAT IT IS WHAT COULD BE BOTH NEITHER ART DESIGN surveys creative practices that overlap cultures, primarily those of professional design and fine art, but also politics, business, and philanthropy. Never outliers, just rarely discussed—hybrid art-design practices have blossomed in the twenty-first century. The show is a conversation about art-design as a profession shaped by contradictory pressures and motives. We attempt to find—and share—ways to talk about the ways we work now.
Speakers / Facilitators
A number of artists and designers will speak and listen.
Phillip Niemeyer is an artist, designer, curator. He founded Northern-Southern in 2013. Elaine I-Ling Shen is an artist and designer. Transmountain is Lindsey Culpepper and Gil Moreno, they design and craft furniture from studio in South Austin. Rachel Freeman is an artist and the Director at 4th Edition Design. Tigress Tile is Lisa Choinacky (artist) and Andrea Christie (ceramist). They make custom painted handcrafted earthenware tiles.
About The Organization
Northern-Southern exists to champion and nurture new expression in art, design, and culture. The N-S gallery hosts regular exhibitions of contemporary art and design. As an art agency, N-S integrates contemporary art with functional interior design for offices, homes and other projects.
LOCATION
Northern-Southern, 1900-B E 12th St, Austin, TX 78702
PARKING/TRANSIT
Northern-Southern is a bright yellow building at the corner of East 12th Street and Chicon. There is limited lot parking at the lot marked with the N-S logo (Do not park in any other lots). Neighborhood street parking is plentiful and recommended. See our sustainable transportation recommendations
ORGANIZED BY
Northern-Southern
INTENDED AUDIENCE
Everyone is welcome
1900-B E 12th St
Austin, TX 78702