A Remote Prototype Workshop for COVID Future Experience Design
NOVEMBER 13, 2020, 10:00AM - 11:30AM
We will create COVID-Future Experience Design to identify short-term changes that can become long-term solutions in the City of Austin.
Virtual Event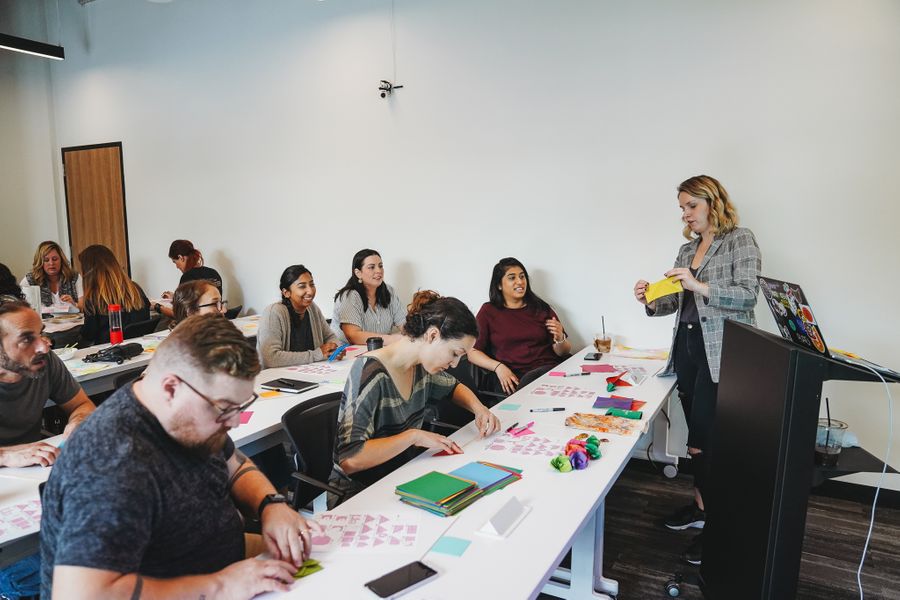 A Remote Prototype Workshop for COVID Future Experience Design
Join us for an online workshop that collectively brainstorm and prototype design solutions to address COVID Future Experience Design in the City of Austin. Since the rapid escalation of the COVID-19 pandemic has a significant impact on medical, economic, social, and cultural dimensions across the world, it is inevitable to recalibrate for this new reality, and to be of service in a challenging time.
By using a digital whiteboard, we will gather virtually to communicate our ideas and feelings, brainstorm potential solutions, prototype the ideas collectively and imagine a brighter future. This workshop will identify short-term changes that can become long-term solutions through collective real-time prototyping and UX design process in virtual space.
SPEAKER
MiHyun Kim, Assistant Professor of Communication Design, Texas State University
MiHyun Kim is a designer, an artist and an educator. She is currently an Assistant Professor of Communication Design, School of Art and Design at Texas State University. Her research agenda focuses on interdisciplinary digital humanity projects that create connections between people and their communities, especially for marginalized members of communities, whose narratives are often underrepresented. By using digital technology, human experience design, and data visualization, her projects serve to create a sense of belonging and empowerment.
Kim is the design lead for the non-profit Oregon based research team: Landscape for Humanity (L4H). Through this initiative L4H aims to create a sustainable infrastructure system for vulnerable urban populations. Kim is also the founder and primary director of the community based interactive project, Stories Become Data. Stories Become Data invites participants to share their own stories to a collective narrative through writing, drawing and animating.
Her projects have been recognized for excellence from numerous international and national design organizations including Interaction Design (IxD) Association, ico-d (International Council of Design), CAA (College Arts Association), Cumulus (International Association of Universities and Colleges of Art, Design and Media), AIGA Design Educator Community, UCDA Design Education Summit, and eyeO festival.
INTENDED AUDIENCE
Any skill level is welcome. Whether participants are educators, students, UI/UX designers, art directors, product managers, the City of Austin employee or app developers, all will benefit from this collective prototype workshop. We will learn how to reduce the time to generate ideas and to prototype collectively, while improving the experience for our users.
REGISTER
This event has ended.