Art and Architecture, Embracing Artisans and Craftspeople to Design Memorable Experiences
NOVEMBER 10, 2020, 12:00PM - 1:00PM
Artisans and craftspeople have the power to transform a place into an experience that represents its community. This presentation explores how architecture can and should embrace diverse artists in design.
Virtual Event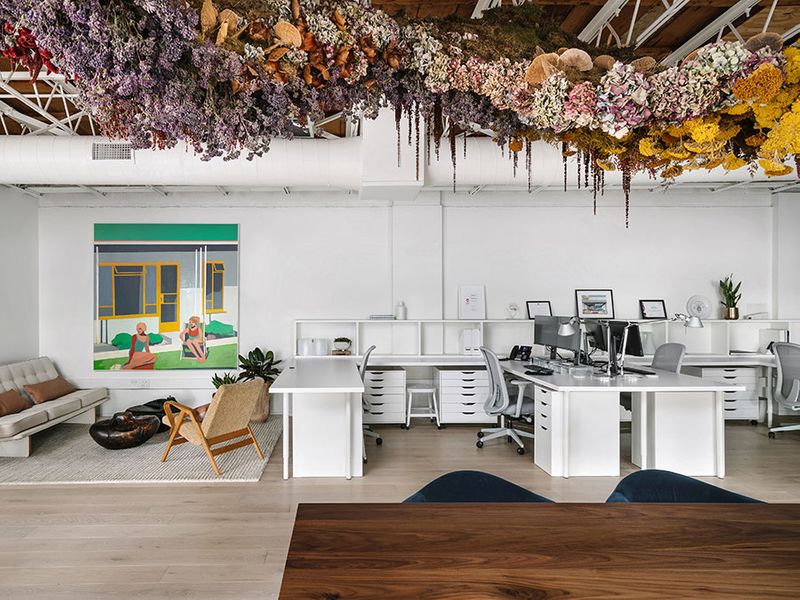 Art and Architecture, Embracing Artisans and Craftspeople to Design Memorable Experiences
Michael Hsu Office of Architecture is a fully integrated architecture and interior design firm rooted in hospitality. We believe that design is for everyone. At the core of our work is the desire to create memorable experiences. The process of working with artists offers architects a fresh viewpoint of their design and allows for a creative tension that always benefits the space. Embracing local visual artists and craftspeople elevates a place into an experience and allows a space to offer diverse perspectives that are reflective of their community. This presentation explores the relationship between architectural design and art and studies a few of the firm's favorite artists and collaborations.
MODERATOR
Marisa Grande, IIDA
Marisa Grande is Senior Associate and Interior Designer at Michael Hsu Office of Architecture. Marisa has managed a wide variety of interior projects of all scales. Notable projects include Fifth & West, multiple locations of Westlake Dermatology, Four Hands Office, Republic Property Group office, and most recently 44 East Austin. Marisa is passionate about the influence of design on individual wellbeing through the built environment. Whether it's school, work, or play, she feels grateful for our unique position as designers to shape anything from a single experience to daily life.
SPEAKER
Michael Hsu, Founder and Principal, Michael Hsu Office of Architecture
Michael Hsu, AIA, IIDA is the founder and principal of Michael Hsu Office of Architecture (MHOA), a fully integrated architecture and interior design firm. MHOA was founded in Austin in 2005 and opened a second studio in Houston in 2018. Hsu is currently a member of the University of Texas School of Architecture's Advisory Council and is the immediate Past President of AIA Austin. Michael Hsu Office of Architecture was formed with the goal of producing locally engaged, design-driven architecture and interiors. The firm advocates a simple, edited design palette, using creative materials and techniques to create unexpected results. The firm's work includes diverse projects that include large mixed-use developments, adaptive reuse projects, public realm design, architectural branding, single family residences, hotels, restaurants, commercial interiors, bespoke furniture design and more.
SPEAKER
Valerie Wolf, Davy Gray
Austin based designer, Valerie Wolf, has been transforming spaces with flowers and natural materials since 2014. Her artistry seeks to encapsulate beauty in all seasons of life. The intricate and ephemeral qualities of her work emphasizes the importance of environmental preservation and seeks to showcase the ways in which humans interact with our natural world.
SPEAKER
Nathan Warner, Warbach
Warbach is an internationally recognized lighting studio based in Austin, Texas. From our beginning we have consistently produced one of a kind, large and small lighting installations in collaboration with industry leaders of architecture, design, and development. It is our mission to push the potentials of lighting technology to the highest degree of engineering, finish, and quality while providing industry leading UL certified lighting installations for residential and commercial applications.
SPEAKER
Shea Little, Big Medium
Shea Little is one of the co-founders of Big Medium and continues to serve as the Executive Director overseeing the artistic vision, direction, and operations for the organization and all its programs, including WEST and EAST. Little received his BFA from the School of Visual Arts in NYC in 2000 and attended the University of Texas McCombs School of Business and received an Arts Management Certificate in 2015. Little is an artist and has shown his artwork throughout Texas in galleries and museums both as an individual artist and as part of a three-person collaborative group called Sodalitas.
DAY
Tuesday, November 10th
ORGANIZED BY
Michael Hsu Office of Architecture
INTENDED AUDIENCE
This is intended for anyone interested in art, architecture or collaborations amongst designers.