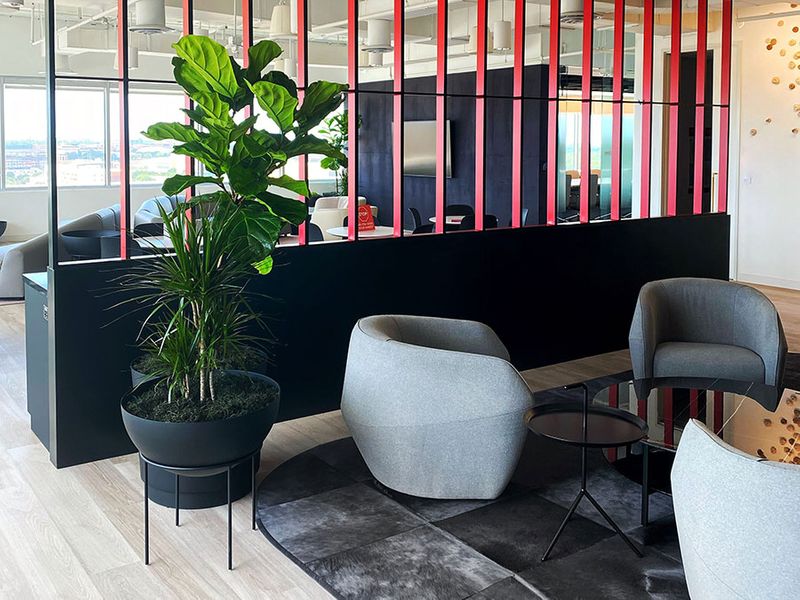 Building a Foundation: Beauty and Technology Innovation for a Better World
Learn how Shiseido and Abel Design Group collaborated to deliver a high caliber, people-centric design for the new Technology Acceleration Headquarters in Austin.
The event will kick-off with an online tour of the space hosted by Shiseido Executive, James Mainard, President, Technology Acceleration Hub, and Abel Design Group Senior Designer Rebekka Glass. Virtually experience the tech-infused downtown headquarters that blends the brand's Japanese, New Yorker, and Parisian influences, all set to the 360-degree views of the Austin skyline.
The online tour will be followed by a panel presentation. Shiseido and Abel Design Group will discuss how the newly created office space provides the foundation for Shiseido's Austin technology team to democratize and revolutionize the beauty industry by creating the most personalized products that the industry has ever seen. Discover how from lab to consumer, Shiseido's people-centric approach to design is creating beauty innovation for a better world.
Stay tuned throughout the presentation for participant giveaways generiously sponsored by Shiseido!
SPEAKER
Rebekka Glass - Senior Interior Designer, Abel Design Group
Rebekka values designing beautiful, thoughtful spaces through the careful selection of finishes, textures, lighting, furniture, and layering the dimensionality of the architecture. Her strong attention to detail and ability to remain within budget ultimately provides the best formula for a successful project that tells a client specific story. Throughout her career, Rebekka has had the opportunity to work on projects ranging from 3,000 square feet to 940,000 square feet for residential, professional service, tech, law firm, energy, and financial clients.
SPEAKER
Laura Evans - Associate Principal, Abel Design Group
Laura is a licensed and registered Architect in the State of Texas and New York with over 14 years of experience in hospitality, corporate interiors, and new construction. Laura specializes in taking initial design concepts and developing them into the final product that meets the client's expectation and budget. Clients benefit from Laura's extensive experience in design development and construction management for various types of businesses in different markets including law firms, tech, hotels, retail and energy companies
SPEAKER
Jim Mainard - President Technology Acceleration Hub, Shiseido Americas Corporation
Jim is the President of the global Technology Acceleration Hub recently created to deliver advanced technologies in support of Shiseido's global prestige brand portfolio. The focus of this team is to build new disruptive IP and integrate existing emerging technologies to form best in class consumer experiences to serve the beauty and skincare. Before joining Shiseido, Jim cofounded a company, Connected Travel, LLC serving major insurance and automobile companies in creating and operating connected vehicle experiences. Prior, Jim held several executive roles at DreamWorks and DreamWorks Animation as EVP Digital Strategy fostering, developing and investing in digital technologies to further business interests, SVP Production Development where he launched new visualization technologies for film making (motion capture, virtual sets, and stereoscopy), and SVP R&D in which he drove the company's substantial investment in visual effects tools and pipelines. He was a Cofounder and former Chairman of the Advanced Imaging Society serving the Entertainment industry, and held a role as the CTO of MGO, which was acquired by, and became Fandango's online movie business Fandango Now. Credited on more than twenty major films, a Broadway musical, and several made for television shows, Jim has deep roots developing and adapting technology in service to creative expression.
SPEAKER
Parvaneh Nilforoushan - VP Product, Shiseido Americas Corporation
Parvaneh is the Vice President of Beauty Tech Product at Shiseido's Global Technology Acceleration Hub. Her mandate is to design, build and launch cutting-edge beauty technologies that bring Shiseido's skincare and makeup products to the masses. Parvaneh has a 15+ year track-record leading high-impact global programs and previously worked with Shiseido's Prestige brands to build owned customer data, drive customer acquisition, and use data to create personalized customer experiences. Prior to joining Shiseido Group, Parvaneh was a Principal at A.T. Kearney, a global management consulting firm, and worked with top CPG and Retail companies on a range of topics including commercial planning, global expansion, digital capability enhancement, and large scale transformation. She has published several articles on the topic of global digital and e-commerce expansion and was an active speaker and press contributor. Parvaneh has an M.B.A. from Georgetown University and a B.B.A in Finance, B.S. in Economics from Southern Methodist University.
SPEAKER
Dr. Shawn Arseneau - SVP Artificial Intelligence, Shiseido Americas Corporation
Shawn began his career in the Royal Canadian Air Force as a military engineer and went on to complete his PhD in the joint fields of artificial intelligence and computer vision from McGill University. Afterwards, he went on to Carnegie Mellon University to work on advancing autonomous drones and then moved to Texas to work on live-fire training simulators with Laser Shot rising to the position of CTO. He joined the Shiseido team in 2019 as the Senior Vice President of A.I.
DAY
Wednesday, November 11th
ORGANIZED BY
Abel Design Group + Shiseido Americas
INTENDED AUDIENCE
Innovators, technology enthusiasts, architecture and interiors lovers, Austin commerce followers, and Shiseido fans.