Designing for a Sustainable Future: A Circular Design Workshop
NOVEMBER 10, 2020, 3:00PM - 4:30PM
Design sustainably not just for today, but for tomorrow's uncertain future. This workshop will use circular design principles and "provocatyping" to redesign a product with its long life in mind.
Virtual Event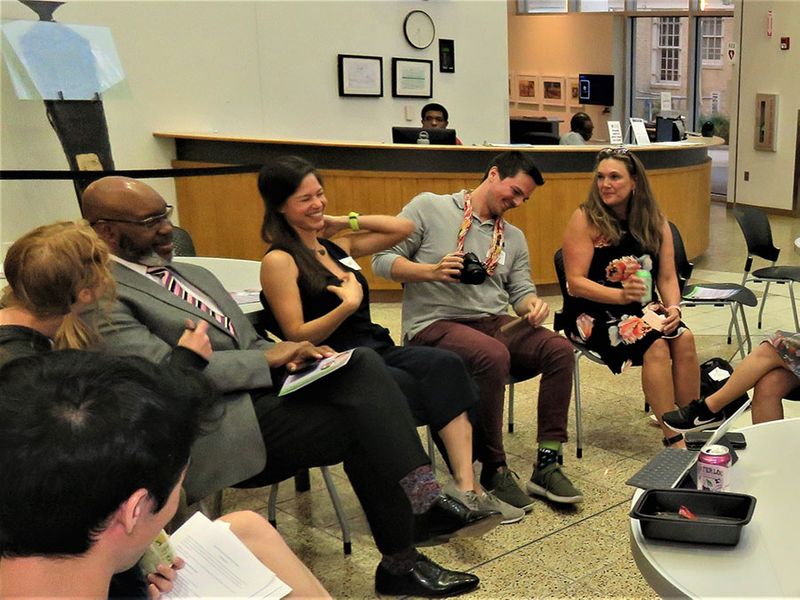 Designing for a Sustainable Future: A Circular Design Workshop
First impressions are overrated. In this workshop, we'll consider how to make a great last impression on both your user and the planet.
Sustainable product design incorporates human-centered design principles and circular design strategies.
The workshop challenges participants to consider a product's intended use and post-consumer use. What will happen to the product if it breaks? Where will it end up? What will its second life be? How might designers plan for these possibilities to ensure product sustainability and circularity?
Using the Circular Design Guide's Circular Strategies Workshop, participants will redesign an everyday product to be more circular and sustainable.
Then, using a "provocatyping" method, participants will consider how the life of their circular product might differ from what they expect. What if it is used differently than expected, by different users, or for longer or shorter than expected? Could it be misused, accidentally or on purpose? Could external circumstances change the impact of the product?
These and other reflection questions will guide participants toward imagining not only the ideal scenario but other possible scenarios. Participants will also have the chance to improve their redesign to mitigate potential negative impacts.
Designers will walk away with a new awareness of how they can influence the environmental impact of a product at every stage of its life cycle.
SPEAKER
Natalie Betts, Circular Economy Program Manager, City of Austin
Natalie Betts is the Circular Economy Program Manager with the City of Austin's Austin Resource Recovery and Economic Development Departments. The Circular Economy Program provides economic development support for local and relocating circular businesses, catalyzes circular entrepreneurship, and promotes circular behavior change among residents, in support of the City's Zero Waste goal and creating good jobs for Austinites.
She recently completed the Robert Bosch Foundation Fellowship in Berlin, Germany. Through the fellowship, she developed circular economy educational resources for social accelerator Project Together, designed and facilitated circular economy trainings with the non-profit Circular Berlin, and created an impact measurement framework and performed reverse supply chain research with start-up circular.fashion.
Natalie is a Certified Economic Developer with over 8 years of experience at the City of Austin promoting her community's economic vitality and sustainability through business recruitment and retention, workforce development, international economic development, and community programming. She was a 2010 White House Intern in the Office of Energy and Climate Change, and is an alumna of Indiana University and Emory University.
SPEAKER
Skyra Rideaux, Economic Development Services Coordinator, City of Austin
Skyra Rideaux is a community and economic development professional with more than 10 years of public and non-profit sector experience. She is a first-generation college graduate, a servant leader and is known among her peers as an idea enthusiast. Skyra currently serves as the Economic Development Services Coordinator for Austin Resource Recovery's Circular Economy program where she is responsible for the recruitment and retention of businesses within the circular economy industry.
In her previous role, Skyra served as the first Black woman appointed to serve in the Mayor-President's Office in Lafayette, Louisiana and was responsible for facilitating community planning and projects related to beautification and waste reduction; identifying and fostering neighborhood preservation and redevelopment opportunities; and providing policy advice and recommendations to the Mayor-President.
Skyra is a 2019 Girls Scouts of Louisiana 'Woman of Distinction' award recipient, 2020 and 2017 TEDx speaker, 2015 Acadiana Top 20 Under 40 honoree, a graduate of Leadership Lafayette Class 28 and Leadership Louisiana Class 2017. She holds a Bachelor of Arts in public relations from the University of Louisiana at Lafayette and is a Certified Community Environment Professional by Keep America Beautiful. She is a veteran and former Bomb-Builder for the US Navy.
SPEAKER
Madelyn Morgan, Conservation Program Coordinator, City of Austin
Madelyn Morgan is a Conservation Program Coordinator for Austin Resource Recovery's Circular Economy Program, developing programs and initiatives to support local businesses and non-profits who are "closing the loop" in Austin. Maddie's experience includes overseeing special event diversion programs, micro plastics research, zero waste business consultation, re-developing a rebate program, teaching zero waste classes, and spearheading community-driven reuse programs. She also chairs the State of Texas Alliance for Recycling's Reuse Council and the departmental Green Team. Maddie is a Waste360 '40 Under 40' recipient and an alumna of The University of Texas at Austin and Texas State University.
DAY
Tuesday, November 10th
ORGANIZED BY
City of Austin Circular Economy Program
INTENDED AUDIENCE
Physical designers- hardware, consumer goods, fashion, packaging, interior. Some level of sustainability knowledge among participants will be helpful, but not required.