Embrace and Amplify
NOVEMBER 12, 2020, 1:00PM - 2:00PM
What happens when you combine the forces of an architecture firm dedicated to creating people–centric spaces with a technology company that develops software platforms to empower creators across industries? Join us as we share how IA and Unity Technologies are embracing new ways of virtually making a physical place.
Virtual Event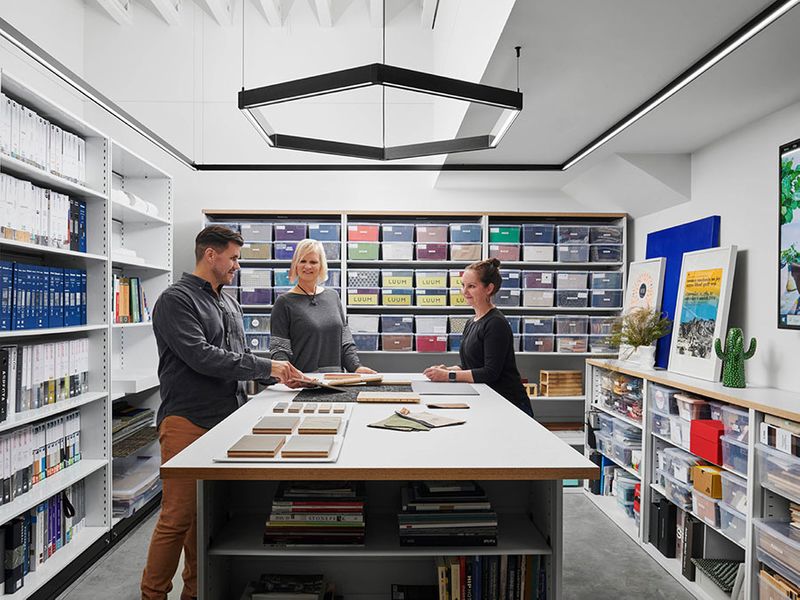 Embrace and Amplify
As we continue to explore and comprehend the new world we live in, the typical design process and how we interface with clients is continually evolving. While many of us are experiencing video conference fatigue and working from home limitations, it has become clear that the status quo of utilizing meeting platforms with colleagues and clients only gets you so far. As such, IA has embraced the virtual world, using unique technology platforms to amplify how users experience the design of a space.
During our interactive session, we will discuss and demonstrate the expanded and inclusive, accessible experience that virtual and mixed reality can bring to design process and company culture. We'll begin with an interactive tour of our very own office on the Eastside. Manuel Navarro, Design Director, will serve as our tour guide and showcase an interactive studio walk-through via Yulio, a collaboration process with Unity for their new offices in Austin. From developing a concept based on Unity's design values and goals to creating bespoke experiences that can mimic the company's current physical spaces, our panel will discuss and share anecdotes on how the creation and accessibility of these virtual visualization tools influenced the design. To wrap things up, attendees will get to experience the visualization tools themselves, participating in a tour of Unity's Austin workshop, with "Easter eggs" for viewers to find along the way. We'll have a Q&A at the end of the session to further engage with the audience.
How do these tools effect the timeline for the decision-making and approval process? Are these just tools for use in our current climate, or can they can be adopted in the long-term? Join us as we unpack how this year of change has challenged us yet allowed us to uncover new ways to keep the magic of designing and amplify the design process for years to come.
SPEAKER
Manuel Navarro, Design Director, IA Interior Architects
Manuel Navarro, IIDA is the Design Director for IA Interior Architects in Austin, TX. Throughout his career, Manuel has created design solutions that are innovative, provocative, and functional for a variety of Fortune 100 Technology clients, financial services clients, and building owners. In addition to workplace interiors, he has extensive experience with multi-family high-rise residential, building redevelopment and capital improvements, and restaurant project types. Manuel is passionate about delivering inspiring spaces for his clients that reflect their strategic business goals and culture, using a design process rooted in curiosity, experimentation, and problem-solving. Manuel is actively engaged in the development of the design community, contributing and participating as a guest lecturer, critic, and mentor in the Austin, Houston, and Chicago design communities. He holds a Bachelor of Arts Degree in Interior Design from Colorado State University and a Master of Arts in Interior Design from Harrington College of Design.
SPEAKER
Kat Schneider, Digital Design Application Specialist, IA Interior
Kat Schneider is a Digital Design Application Specialist with IA's Design Intelligence group. Largely focused on visualization, her experience as a designer, technologist, and maker has led to deep research and experimentation in the world of immersive technology (VR, AR, XR). Kat has worked with a broad range of clients across multiple sectors, including mixed-use development, science + technology, higher education, cultural heritage, and climate resiliency. She holds a Master of Architecture from Northeastern University.Architects
SPEAKER
Elizabeth Guzman, Technical Specialist, Unity
Elizabeth Guzman is a technical specialist for Unity's AEC (Architecture, Engineering and Construction) business. As an architect, Elizabeth has spent her nearly decade-long career in the professional and academic setting focusing on project management, BIM, energy analysis, experience management and how those affect the development of Smart Cities. Elizabeth holds a MASc in building engineering and has published multiple peer-reviewed research papers that continue to influence the AEC industry today. In her spare time, Elizabeth volunteers assisting workshops to help engage youth about science, engineering and tech.
DAY
Thursday, November 12th
ORGANIZED BY
IA Interior Architects
INTENDED AUDIENCE
Everyone is welcome- from designers, architects, strategists, space planners to corporate executives, and end users to real estate professionals.