Embrace Your Colors: Code-Switching While Working Remote During a Pandemic
NOVEMBER 12, 2020, 7:30PM - 8:30PM
Due to the pandemic, the "new normal" presents unique challenges for those working remotely. In this panel, we will unpack code-switching at work with individuals working remotely during a pandemic.
Virtual Event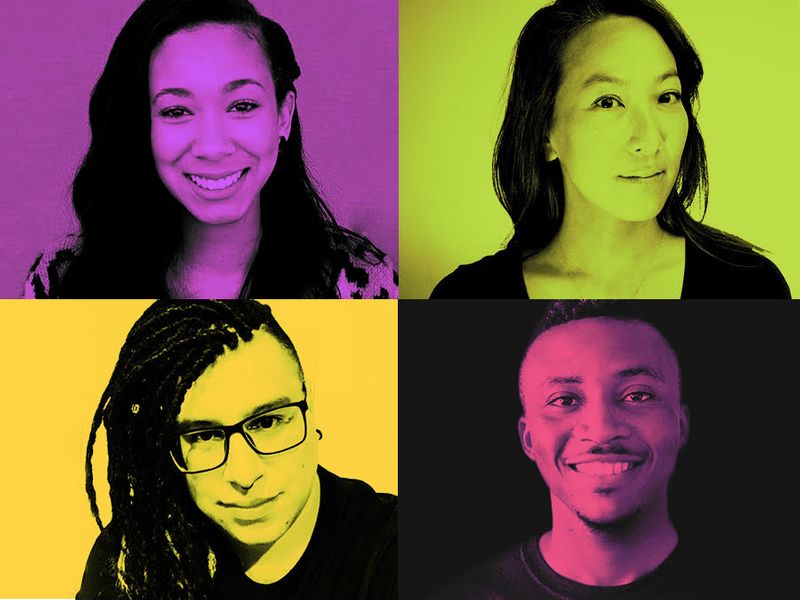 Embrace Your Colors: Code-Switching While Working Remote During a Pandemic
Due to the pandemic, most people who have an office job are now working remotely, or have less daily interactions in person with their coworkers. This "new normal" presents a different set of challenges, particularly when it comes to code-switching at work. Code-switching is the practice of alternating between different languages or methods of expressing ourselves in conversation and our everyday actions. There is an expectation of not being too black at the workplace, too gay, Hispanic, etc. because being authentic can be perceived as unprofessional.
Therefore, we tend to code-switch to blend in with the rest of the workforce and sometimes to keep our jobs. With many people working from home, the expectation of behaving as if one was at the office is still present. Are we still expected to code-switch even if we're working from the comfort of our homes? Or why do we even code-switch in the first place? Join us as we unpack this topic with a diverse panel of individuals currently working remotely in corporate America during a pandemic.
SPEAKER
Skye Zuehlan
Skye Zuehlan is an Afro-Latina with five years of experience in the tech industry. For the past three years, she has worked as an Associate Strategist in the social media space, providing social strategy to brands to help them "do better" on social. She is a fierce advocate for diversity and inclusion, especially as it relates to intersectionality. As a result, she has helped launch several affinity groups at Khoros and supported the creation of a program that provides social media tools, free of charge, to women-owned and Black-owned non-profits and organizations. Whether at work or after-hours, Skye is always looking to help amplify voices who are underrepresented.
SPEAKER
Vic Rodriguez Tang
Vic Rodriguez Tang is a Peruvian queer creative human working full-time as an art director for a software company in Austin. When he's not at work he juggles being a full-time graduate student at VCFA, working on their MFA in Graphic Design. Originally from Perú, Vic moved to Texas when he was 15 to finish high school and attend college. He received his BFA in Design from Texas A&M-Commerce and has been working in the industry since 2008. He is very passionate about amplifying queer, and POC voices through their work to create social change. He has experience working with a variety of clients in-house and in the agency world in the last twelve years, and excited to share his experience of working as a creative in this industry.
SPEAKER
Nsikak Udoh
Nsikak Udoh is a digital strategist who was born and raised in Nigeria until he moved to Maryland in 2007. He originally started out in healthcare until one day with the dissatisfaction of corporate life they decided to change his career path to become a self-taught digital strategist–coder, developer, programmer, builder, consultant, and more! After working several years as a technologist he has built a niche in his industry working as a cultural consultant to help small businesses, political campaigns, and startups to increase their online presence and connect with audiences of color. His motto is to connect, learn, help, and grow.
SPEAKER
Alice J. Lee
Alice J. Lee is a first-generation Korean American graphic designer, researcher, and educator. Her research interests include alphabetic systems, concepts of interconnectedness, and the dynamic of complementing opposites. Her practice is a mediation of interdisciplinary strategies that include interactive installations, books, 2-dimensional print, and time-based media that explore different dynamics of opposing technologies, formats, and ideas. It also includes community workshops, lectures, and presentations. She collaborates with cultural and educational organizations as a designer, creative director, and visual culture consultant. She received her BA from Yale University and her Master of Design in Graphic Design from the University of Illinois at Chicago. She serves as Assistant Professor of Communication Design at Texas State University.
DAY
Thursday, November 12th
ORGANIZED BY
Personas Collective
INTENDED AUDIENCE
People of color or allies of diversity and inclusion