Equity, Diversity, and Inclusion in the Design Community
NOVEMBER 11, 2020, 1:00PM - 2:00PM
Join a diverse group of Austin Designers and Architects for a discussion on Equity and Inclusion in Design Firms, the Design Process, and Professional Organizations.
Virtual Event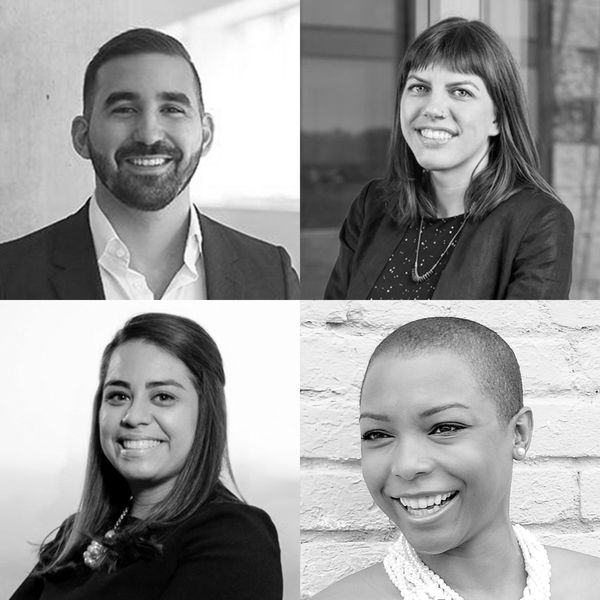 Equity, Diversity, and Inclusion in the Design Community
Design creates a unique relationship between the design professional and the user. Join us as we explore the role of equity and inclusion in the professional practice of Commercial Interior Design and Architecture. We'll take a deep dive into a couple case studies that show how designers can engage their users in shaping their spaces and ask difficult questions that result in meaningful action. We'll also discuss professional organizations in the design industry that are directing movement in Diversity and Inclusion and how to get involved.
MODERATOR
Kate Schneider, RID, IIDA, Leed GA, Senior Interior Designer, Page
Kate is a Senior Interior Designer working at Page in Austin, TX. She has been primarily focused on corporate office environments and multi-family developments for the last 10 years. Special projects include the Yeti flagship store in downtown Austin, the UT Board of Regents council room, and the Jose Luis salon at the Domain. Her favorite part of her job is earning trust and developing long lasting relationships. Her recent clients include Greystar, DJO Global, and Texas A&M.
After graduating with a Bachelor's of Science in Interior Design from the University of Cincinnati DAAP program 10 years ago, she promptly made the leap from Ohio to Texas and hasn't looked back.
Kate is passionate about the profession and industry of Interior Design. She has served in various positions on IIDA Austin's City Center Council and recently graduated from the AIA Leadership Collective. She hopes to create opportunities for Justice, Equity, Diversity, and Inclusion both in her professional role at Page and in her everyday life.
SPEAKER
Krystal Lucero, RID, IIDA, TAID, Senior Interior Designer at Edwards + Mulhausen INTERIOR DESIGN (E+M)
Krystal R. Lucero, RID, IIDA, is a Senior Interior Designer at Edwards + Mulhausen INTERIOR DESIGN (E+M) in Austin, Texas. An Interior Designer for 15 years with a focus on higher education & healthcare interiors. Krystal received a Bachelor of Science in Interior Design from Stephen F. Austin University in Nacogdoches, TX and is a Registered Interior Designer in the State of Texas.
She believes it is important to mentor young designers. Krystal demonstrates this by her involvement with the IIDA HQ Student Mentoring Day, IIDA TX/OK Student Conference, Stephen F. Austin Interior Design Advisory Board, and participation in critiques for the Texas State Interior Design program.
Krystal is actively involved in the design community. She has juror the IIDA HQ Student Design Competitions, participated in the 19th Annual IIDA Industry Roundtable - Design & Diversity and judging the 2015 Inspirations Awards presented by Contract Magazine. She served on the Austin City Center Council as Past Director, two-term Director & the Community Service Chair. Her IIDA Texas/Oklahoma awards include the 2016 Chapter Volunteer of the Year & Austin City Center 2014 Volunteer of the Year. Krystal was honored to be asked by CIDQ to join the Definition of Interior Design Task Force in 2018, to assist in updating the definition of the profession.
This year Krystal has recently been named the VP of Public Relations for Texas Association for Interior Design (TAID) and has been grateful to be invited to discuss diversity in design on various platforms.
SPEAKER
Shelby Blessing, Page
Shelby Blessing believes that all design has a social impact, and that designers have a responsibility to maximize the positive social impact of their work. As an architect and Senior Associate at Page in Austin, TX, Shelby collaborates with teammates and clients to create innovative learning environments, dense urban living, and unique public spaces that promote interaction and community. Shelby is also an active member of her professional community, where she is currently focused on projects surrounding equity in professional leadership, post-occupancy research of supportive housing for the chronically homeless, and gender-inclusive restroom design. She and her team have received numerous awards for her work, including an AIA Design Award for the Austin Montessori School for All.
SPEAKER
Jennifer Jimenez, Page
Jennifer Jimenez has a rich and varied history in the design industry. She has worked in both residential and commercial design, with a wide variety of project types. As a native Texan, she is plugged in to all things Texas, loves Houston, Houston sports, and visits often. Her more recent transition to Austin has her getting plugged into a new community and thriving in Austin outdoor activities. She is currently serving as IIDA's Director of the Austin City Center. She believes in inclusive, collaborative, and immersive team building and uses inventive ways to motivate and inspire her team members, both at work and in her professional organization.
SPEAKER
Gerardo Gandy, Gensler
As a member of the steering committee for Gensler's Community Impact Program, Gerardo helps steer the firm's vision for community impact by focusing efforts and resources on initiatives ranging from non-profit collaborations, mentorship programs, and community engagement events.

Gerardo is the founding Chairman of the ACE Mentor Program of Austin, a non-profit program dedicated to educating high school students about careers in architecture and design. In addition, he serves on the Business Advisory Council for the Ann Richards School for Young Women Leaders, and has served as the Outreach Commissioner for the AIA Austin, focusing his efforts on education and community-based design. Most recently, Gerardo serves as the Chair for the AIA Austin's Exhibit Committee, leading the chapter's exhibit development and programming.

As a result of his dedication to impacting lives through design and creative thinking, Gerardo was named the 2018 Associate Member of the year by the AIA Austin and is the recipient of the 2020 Austin Under 40 Awards in the category of Architecture, Construction, and Engineering.
DAY
Wednesday, November 11th
ORGANIZED BY
IIDA (International Interior Design Association)
INTENDED AUDIENCE
Designers of all backgrounds
REGISTER
This event has ended