Exploring Context to Inform Design: An Austin Tour
NOVEMBER 10, 2020, 10:00AM -11:00AM
Re-engage with your city and surroundings in new ways in this virtual cycling tour and discussion exploring the historical, geographical, and architectural factors that have shaped the city's built environment and how they shape current buildings and the work of Matt Fajkus Architecture.
Virtual Event / Self-Guided Tour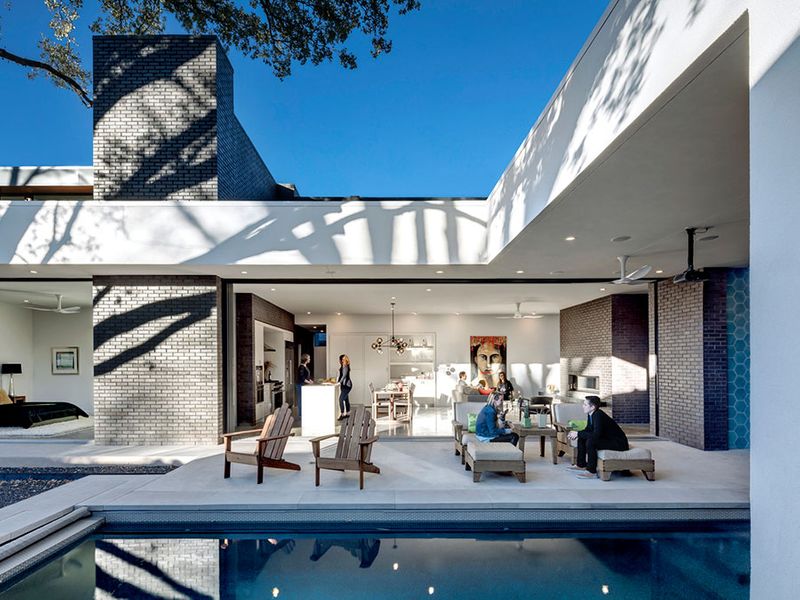 Exploring Context to Inform Design: An Austin Tour
Matt Fajkus will lead a virtual cycling tour and presentation through the city starting at the University of Texas and ending at the State Capital, stopping at both monumental and more subtle locations that define the experience of Austin to explore the historical, geographical, and architectural factors that have shaped the city's built environment.
Join us for a presentation and tour recap providing an opportunity for participants to learn about the urban form of the city as well as how these factors and themes have inspired the work of the Matt Fajkus Architecture team as they design for our current context. You'll have the opportunity to ask questions following the presentation with Matt Fajkus and Sarah Johnson, MF Architecture's Principal Architects. You will also receive a map of a self-guided cycle tour to do yourself and safely experience and engage in Austin's built environment.
SPEAKERS
Matt Fajkus, AIA, LEED AP, Founder & Principal Architect, MF
Matt Fajkus is a unique hybrid of practicing architect, academic researcher, and university instructor; and he has won national awards in each respective category.
Fajkus holds a Master of Architecture from the Harvard University Graduate School of Design, and he is currently a Tenured Associate Professor at the University of Texas at Austin School of Architecture. He is also Principal Architect of Matt Fajkus Architecture in Austin, which has received extensive recognition, including the 2019 AIA National Healthcare Design Award, and inclusion in the AIA National Emerging Professionals Exhibit at the AIA Headquarters in Washington, D.C. His designs, research and writings have been published extensively, including but not limited to National Public Radio, Texas Architect, Dwell Magazine, The Wall Street Journal, and he recently co-authored a book titled Architectural Science and the Sun, which has been published in 2018 via Routledge Publishers.Architecture
SPEAKER
Sarah Johnson, AIA, RID, Principal Architect, MF Architecture
Sarah Johnson is a Principal Architect of award-winning architecture and interior design practice MF Architecture, where she leads residential and commercial design projects throughout Austin and Texas. Having been part of the MF Architecture team since its inception in 2011, Sarah is an integral part of the collaborative environment of the studio which provides a fertile ground for testing ideas and methods of design. Sarah believes that architecture is most powerful when it directly and simply responds to the needs of the client and the site. Each project presents a unique opportunity to answer a new set of questions and requirements. For her, the exciting and fulfilling part of being a designer is in generating a concept that yields a broad, overall expression which also reveals that original thought in a variety of nuanced moments.
LOCATION
Virtual Event / Self-Guided Tour
DAY
Tuesday, November 10th
ORGANIZED BY
Matt Fajkus Architecture
INTENDED AUDIENCE
Anyone interested in architecture, urban form, city history and buildings.