Is This Event For Everyone?
NOVEMBER 13, 2020, 4:30PM - 5:30PM
In this talk, the organizers of Interfaces will talk candidly about the practical ways in which the group designs events using an IDEA (inclusion, diversity, accessibility, and equity)-conscious framework to include marginalized people from the community.
Virtual Event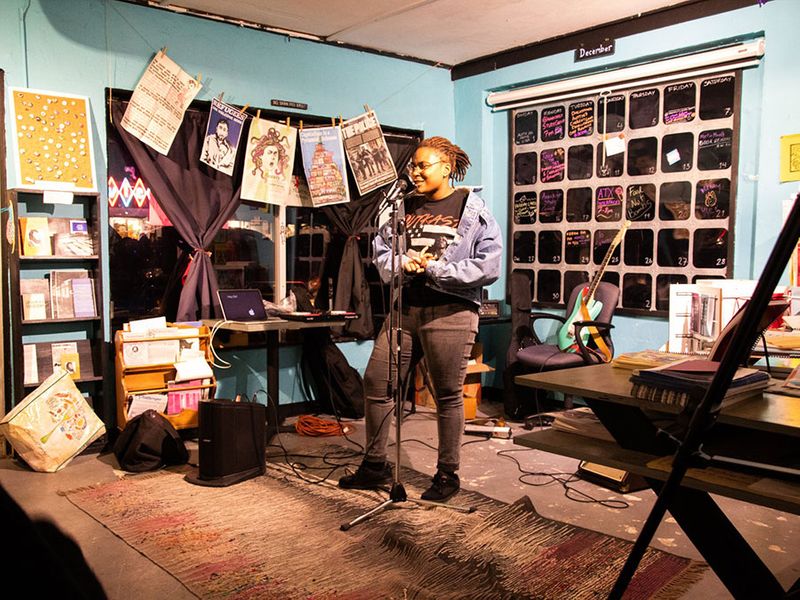 Is This Event For Everyone?
Interfaces is a Black-founded community initiative that works to nurture and amplify marginalized artists in Austin, Texas through IDEA-conscious arts programming.
Interfaces envisions a world where artists value difference, accountability, and evolution that both surpass capitalistic standards of worth and contribute positively to communities.
IDEA is a term coined by the Association of Fundraising Professionals, and it stands for inclusion, diversity, equity, and access.
To be IDEA-conscious means to intentionally champion the practice of designing events for everyone.
In this panel discussion, the organizers of Interfaces will talk about the politic that informs their mission, the practical tools in which to organize for all people, and explain why it matters more than ever for the futures of QTBIPOC.
SPEAKER
KB, Founder and Lead Organizer at Interfaces
KB is a Black queer genderless poet, educator, organizer, and student affairs professional. They have received numerous fellowship invitations and publications, most notably from the Vermont Studio Center, Lambda Literary, The Cincinnati Review, and Palette Poetry. When they're not on stage or in the page, they serve as Program Coordinator for the Gender and Sexuality Center at the University of Texas at Austin, Teaching Artist for the Austin Library Foundation, Founder/Lead Organizer of Interfaces, and Co-Founder of Embrace. Catch them where the free things are in Austin, TX or talking sweetness and other (non) human things online @earthtokb
SPEAKER
Jasmine Bell, Accessibility Director at Interfaces
Jasmine is a poet, artist, and Disability Justice activist in Austin, Texas. Jasmine has been involved with Spitshine Poetry, where they have both competed and coached in national and regional poetry slams. They were a 2017 Write Bloody Contest finalist and have been published in Button Poetry, Write About Now, Muzzzle Magazine, The Dialogoist, Nat. Brut, and elsewhere. Jasmine's art has been featured on the cover of Rattle magazine's "Tribute to Poets with Mental illness", on the covers of multiple issues of Crab Fat Magazine, and in Persephone's Daughters. They have designed merchandise, book covers, and taken part in collaborations with prominent poets such as Ebony Stewart, Ariana Brown, KB Brookins, and George Abraham. Jasmine is currently pursuing their Masters Degree in Social Work, where they are invested in uncovering the ableism and oppressive structures inherent in the field. Their organizing seeks to be led by the 10 Principles of Disability Justice as well as the Crip Wisdom of other multiply marginalized Disability Justice activists, organizers, educators, and community members.
SPEAKER
Illyana Bocanegra, Creative Director at Interfaces
Illyana Bocanegra (they/them) is a queer, nonbinary documentary filmmaker and ux designer. They're the owner of Simpática, a skill-sharing facilitator with Hive Arts, a documentary and digital filmmaking Instructor at Austin School of Film, and a creative director at Interfaces. Illyana is a hands-on creative collaborator living and working in Austin, Texas. Find them online learning new skills or out at an event supporting the community in education and arts programming.
SPEAKER
Sam Slupski, Creative Director at Interfaces
Sam Slupski (she/they) is a writer and performer living in Austin, Texas. They were a finalist for the 2019 Button Poetry Chapbook Contest, a semi-finalist at Texas Grand Slam 2018, headlined the Melbourne, Australia Spoken Word Poetry Festival in 2018, and has toured the US and Canada. Sam was selected to attend Winter Tangerine's NYC Workshop, is a The Heart of It Retreat fellow, was an artist-in-residence at CENTER in 2019, and will be attending the Open Mouth Poetry Retreat in 2021. Their work has been published in Pass/Fail, Thimble Lit Magazine, What Are Birds Journal, and more. Their writing centers around how a body survives trauma and aims to illuminate stories about mental health. Sam is currently a Creative Director for Interfaces, a community initiative that nurtures and amplifies marginalized artists, is a teaching artist at Austin Bat Cave, and wants to know what your favorite soup is. To find out more about Sam, follow their Instagram at @samfromkc.
INTENDED AUDIENCE
Mission-driven Audiences, White CEOS/founders/leaders who need the education, queer/disabled POC looking for confidants and collaborators in Austin, event and experience designers interested in how to be more IDEA-concious.