P A R K S P A C E: Reimagining Our Parks for Physical Distancing and Access for All
NOVEMBER 9 - NOVEMBER 13, 2020, 8:00AM-5:00PM
Join the Austin Foundation for Architecture and community partners to learn about P A R K S P A C E, a social distancing intervention for Austin-area parks.
Virtual Event / Various Locations Around Austin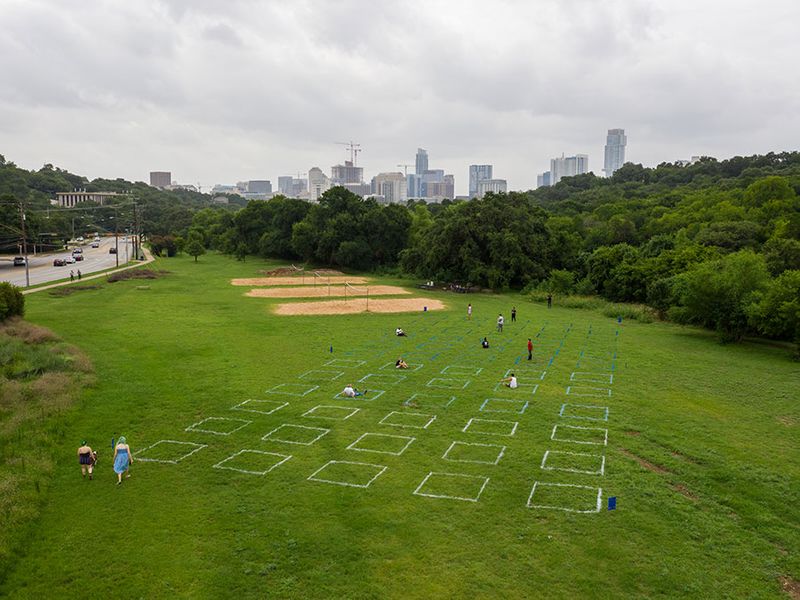 P A R K S P A C E: Reimagining Our Parks for Physical Distancing and Access for All
Join the Austin Foundation for Architecture and community partners for a panel discussion about the planning and implementation of P A R K S P A C E, a physical distancing intervention for Austin-area parks in response to COVID. Inspired by Texas wildflowers and a quote from Lady Bird Johnson, "Where flowers bloom, so does hope," the brightly colored squares provide a safe way for Austinites to enjoy the outdoors, together but apart.
The panelists will discuss the role of design in green spaces and how their collaboration has unearthed timely opportunities for addressing issues of access, equity and resources in our communities.
The P A R K S P A C E panel discussion will be available to view during the entirety of Austin Design Week. Please consider visiting an installation and watching the discussion while at the park.
Locations:
Republic Square, 422 Guadalupe St., 78701
The Long Center Lawn, 701 W. Riverside Dr., 78704
Bat Observation Area (Congress Ave. Bridge), 305 S. Congress Ave., 78704
Speakers:

Gerardo Gandy, Architect and Brand Designer, Gensler
With a well-cultured background in architecture, interior design, and brand strategy, Gerardo Gandy creates seamless user experiences and unified brand expressions. His broad skill set, multi-disciplinary perspective, and rigorous analytical process enables him to create a clear concept narrative to guide the user experience, resulting in dynamic spaces and meaningful brand engagements. Gerardo works with some of Austin's largest developers visualizing feasibility concepts for inventors and prospective tenants.
As a member of the Firmwide Steering Committee for Gensler's Community Impact program, Gerardo helps steer the firm's vision for community impact by focusing efforts and resources on initiatives ranging from non-profit collaborations, mentorship programs, and community engagement events. He also serves as the chair for the AIA Austin's Exhibit Committee, leading the chapter's exhibit development and programming.
Ingrid Spencer, Executive Director, AIA Austin and the Austin Foundation for Architecture
Ingrid Spencer is the executive director of AIA Austin and the Austin Foundation for Architecture. She has also served as artistic director for Creek Show, Waterloo Greenway's installation series, since its inception in 2013. A native of California, her path to the design world started in New York City, where she was managing editor of Contract magazine and Architectural Record.
Heath Riddles-Sanchez, CEO, Pease Park Conservancy
Heath Riddles-Sanchez has more than 20 years of experience in senior executive leadership, fund and strategic development, public relations and communications in business sectors such as urban parks development, advocacy, the arts, entertainment and non-profit. He has helped raise millions of dollars over the course of his career at organizations like Equality Texas, Texas Advocacy Project, the Long Center for Performing Arts, and The Hispanic Alliance.
He has worked as a director at Elizabeth Christian Public Relations and served on the boards of the Austin Gay and Lesbian International Film Festival, The Hispanic Alliance and Waterloo Counseling Center. He was appointed by Mayor Will Wynn to serve on the Austin Area HIV Planning Council. He is also Austin City Councilmember Jimmy Flannigan's appointee to the Austin Special Events Task Force. Heath holds a degree in journalism from the University of Oklahoma. He also studied French and literature at the University of Blaise Pascal in Clermont-Ferrand, France.
Christine Chute Canul, Development Administrator, Parks and Recreation Department at the City of Austin
Christine Chute Canul joined the Parks and Recreation department this past October as the Department's Development Administrator. As the Development Administrator, her duties include managing the PARD Community PARKnerships program and the Community Activated Park Project program. Prior to joining the PARD Planning Division at PARD, Christine was employed for ten years at Keep Texas Beautiful, a statewide nonprofit. In her role as Senior Program Director, she oversaw and implemented statewide programming, trainings, partnership development, and contract management. Christine is from the Oak Cliff neighborhood in Dallas and received her bachelor's degree from UT Austin in Government. Immediately following her graduation from UT, she moved to NYC and worked at several community development nonprofits while working towards her Master's degree in Urban Affairs and Planning at Hunter College.
LOCATION
Virtual Event / Various Locations Around Austin
DAY
Monday, November 9, 2020 - Friday, November 11, 2020
ORGANIZED BY
Austin Foundation for Architecture
INTENDED AUDIENCE
Anyone interested in public art and collaboration with various community and city groups.