People Helping People: Design's Role in Elevating and Understanding Human Needs in Crisis Response
NOVEMBER 11, 2020, 8:30AM - 9:30AM
Join the Dell Medical School's Design Institute for Health team in a talk exploring three COVID-19 response initiatives where human-centered design has illuminated opportunities for service, systems and space design to support health and well-being.
Virtual Event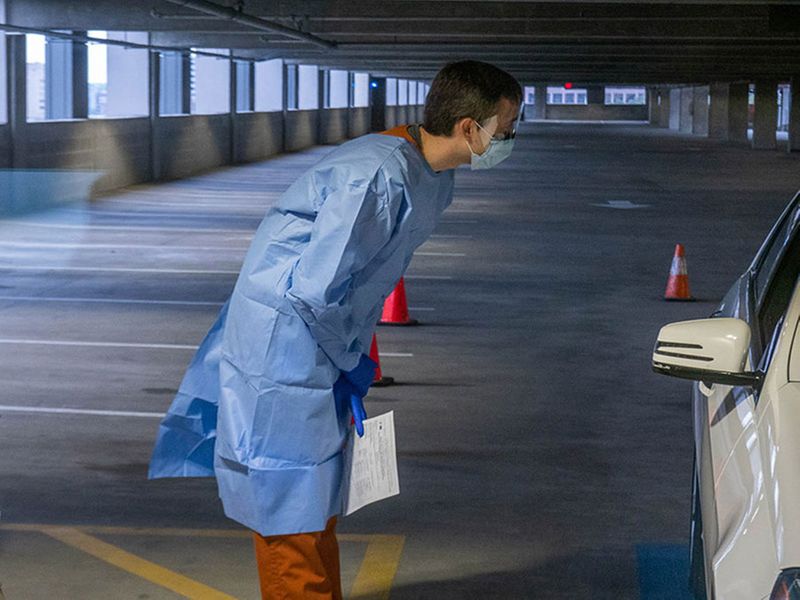 People Helping People: Design's Role in Elevating and Understanding Human Needs in Crisis Response
COVID-19 has brought myriad opportunities to delve into the human needs that form the foundation of remaining healthy and well during a deadly global pandemic. Exploring broader system and community needs begins with understanding the people that comprise them. We are inspired to embrace the role of human-centered design in supporting people through a public health crisis.
Join Dell Medical School's Design Institute for Health team in a talk exploring COVID-19 response initiatives where human-centered design illuminated bright spots for meeting community needs and improving workflows for care providers and supporting the needs of those seeking care.
This talk will feature three projects where Institute teams supported or continue to support Austin-area COVID-19 response efforts while also producing resources to share widely with other communities:
Developing a service design workflow for drive-thru testing sites
Exploring design and workflow opportunities in nursing homes and assisted living facilities
Assessing community needs and responding with design-led service offerings for residents in a low-income housing site
Each project offers unique perspectives on how design plays an essential role in supporting individual and community health. We'll explore concepts including identifying collisions and tensions for people providing and receiving care; understanding and inspiring behavioral change; role of trust and relationships in designing with historically under-invested communities.
The talk will begin with an interactive opportunity for participants to explore the core tenet of design, empathy, in a short activity (10 minutes) that illustrates design in the health space. Each project team will then share relevant insights and reporting from designing on the frontlines through 20-minute presentations, followed by 20 minutes of facilitated Q & A at the conclusion of the presentations.
SPEAKER
Ryann Grindstaff, Service Coordinator, ThinkEAST
Ryann Grindstaff is a licensed social worker who serves as the service coordinator at the studios at thinkEAST. In this role, she works directly with residents at an affordable housing community to identify and facilitate needed services. These services are determined by resident request or need. She works closely with the apartment complex management staff, community resources and the Design Institute of Health to develop sustainable support systems for the residents of this community .Ryann has been working with children and families since 2007 after she graduated from the University of Michigan with a Bachelors' Degree in Psychology. In 2014, she graduated from the University of Texas, School of Social Work with a Masters' Degree in Social Work and obtained her LMSW shortly afterward.
SPEAKER
Stacey Chang, Founder and Executive Director, The Design Institute for Health
Stacey Chang is a designer, an unintentional academic, and an unapologetic ringleader for novel solutions to age-old dilemmas in health. He serves as founder and executive director of the Design Institute for Health, a radical collaboration between Dell Medical School and the College of Fine Arts at The University of Texas at Austin. This first-of-its-kind institution provokes systemic change in health through design. The Design Institute's expertise is integrated into Dell Med's revolutionary medical education and training program, as well as applied in launching the first master of arts degree focused on design in health in the nation in the fall of 2020. Through design-led approaches, the Institute's work engages unlikely cross-sector collaborators to better coordinate systems of health and create models that can be replicated across our community and beyond.
Until 2014, Stacey served as the managing director of the healthcare practice at IDEO, the global design and innovation firm. Clients included governments, research institutions, hospitals, pharma, insurance, medtech, and all the upstarts trying to rewrite the script, in both established and emerging markets. Stacey has served as a TEDMED Editorial Advisory Board member, and a Thought Leader for NEJM Catalyst. He holds degrees in engineering from MIT and Stanford.
SPEAKER
Rose Lewis, Social Service Designer, Design Institute for Health
Rose Lewis is a social service designer at the Design Institute for Health. As a social work informed designer, Rose approaches her work through an empathic, compassionate and strengths-based lens. She seeks to identify and understand system failures and strengths at the micro, mezzo and macro levels. Rose believes in the power of the social environment as a tool for better understanding human behavior. Prior to joining the Design Institute, Rose worked in various public sector and social service roles. She was a Teach for America Corps member and 5th grade teacher in Houston for three years, which led her to pursue a master's degree in social work. Rose received her Master of Science in Clinical Social Work from The University of Texas at Austin. Rose also holds a BA in Psychology and a BA in Anthropology from Bucknell University in Lewisburg, Pennsylvania.
SPEAKER
Arotin Hartounian, Systems Designer, Design Institute for Health
Arotin Hartounian is a systems designer at the Design Institute for Health. Arotin focuses on complex systems and organizational challenges through human-centered design, design research, systems mapping, visual storytelling and co-design facilitation. Prior to joining the Design Institute, Arotin served under Mayor Eric Garcetti through a fellowship with the Los Angeles Innovation Team where he used systems and civic design methodology to help bring systemic change to the workforce development ecosystem in Los Angeles. Abroad he worked as a systems designer for Dagens Næringsliv, Norway's largest business newspaper, helping develop a three-year engagement strategy for the organization as well as a research assistant for the Human-Systems Engineering Innovation Framework (H-SEIF) Project, a systems research project funded by The Research Council of Norway focused on increasing collaborative innovations between technology companies throughout the country. Arotin has also worked as a freelance illustrator and designer for the last 10 years, including projects like developing mobile homeless shelters for the Los Angeles-based non-profit EDAR. Arotin received a BS in Product Design from ArtCenter College of Design with a supplementary exchange semester at the Oslo School of Architecture and Design studying Systems Oriented Design. He is also a member of the Systemic Design Association.
SPEAKER
Natalie Campbell, Visual Designer, Design Institute for Health
Natalie Campbell is a visual designer at the Design Institute for Health. She focuses on creating visual design assets on projects to communicate information within digital or physical interactions that are critical components of the user journey. Her designs support and enhance an array of products, systems, campaigns, services, and environments. Natalie also plays a role as a service designer and second chair researcher, and has a keen interest in how human behavior and visual perception plays a role in each of the institute's projects. Natalie holds a BFA in Design from The University of Texas at Austin and is a self-taught artist and photographer and baker.
DAY
Wednesday, November 11th
ORGANIZED BY
Dell Medical School
INTENDED AUDIENCE
Austin Design Community; Dell Medical School; Community Organizations; Individuals who are health and wellness curious