Precise Poetry: A Cinematic Journey Through Italian-Brazilian Architect Lina Bo Bardi's Architecture
NOVEMBER 10, 2020, 6:30PM-7:30PM & 8PM-9PM
Amidst the urban architecture of downtown Austin, experience a drive-in screening of Precise Poetry, a film about one of the 20th century's most original and influential woman architects, Lina Bo Bardi, introduced by UT School of Architecture Professor, Dr. Fernando Lara.
Blue Starlite Mini Urban Drive-in - Downtown
300 San Antonio St
Austin, TX 78701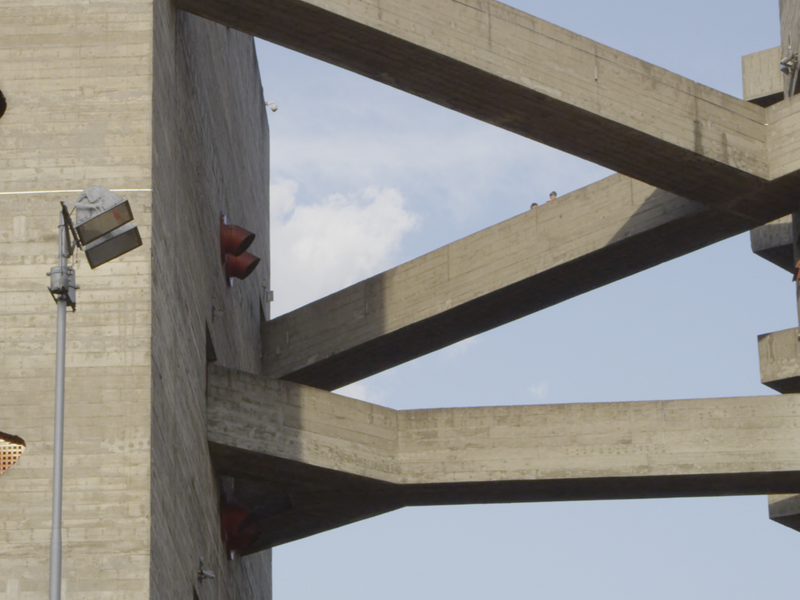 Precise Poetry: A Cinematic Journey Through Italian-Brazilian Architect Lina Bo Bardi's Architecture
Precise Poetry, by director Belinda Rukschcio, is a documentary "film about famous Italian-Brazilian architect Lina Bo Bardi, who created poetry through architectural precision. Told in a series of interviews in Portuguese with English subtitles on the eve of her 100th birthday, Bo Bardi's colleagues and friends recount the socio-political constraints and personal events that would lead to the timelessness of her work."
Attendees will have the opportunity to enjoy a socially-distance drive-in screening of the film, surrounded by the urban architecture of downtown Austin. Joining together apart reminds us of the power of film to bring community together and the importance of shared public space in urban design. The event will begin with a filmed introduction by University of Texas Professor and Director of the School of Architecture Graduate Program in Architectural History, Professor Fernando Lara, who will discuss the life, work, and place in history of Lina Bo Bardi.
There are two screenings of the film: 6:30-7:30pm and 8:00-9:00pm. Attendees should plan to arrive 30 minutes before the film begins, starting at 6:00pm for the first showing and 7:30pm for the second showing. Outside food and beverage are welcome. Pre-orders for food from Brazilian food truck Boteco and concessions from Blue Starlite will be available for purchase.
Please note: one general admission ticket reserves a parking spot for one car with two attendees.
SPEAKER
Prof. Fernando Lara, Director, Graduate Program in Architectural History, University of Texas School of Architecture
Fernando Luiz Lara works on theorizing spaces of the Americas with emphasis on the dissemination of architecture and planning ideas beyond the traditional disciplinary boundaries. In his written work, Prof. Lara has discussed the modern and the contemporary architecture of our continent, its meaning, context, and social-economic insertion. His latest publications include Excepcionalidad del Modernismo Brasileño (2019); Modern Architecture in Latin America (Hamilton Award runner up 2015); and Quid Novi (Anparq best book award 2016).
At the University of Texas at Austin Fernando Lara holds the Potter Rose Professorship and teaches seminars on 20th century Latin American architecture and urbanism, Theory of Architecture, and doctoral courses on decolonial methods for architectural history. From 2012 to 2015, Prof. Lara was Chair of the Brazil Center at the Lozano Long Institute of Latin American Studies. Since 2018, Prof. Lara serves as the Director of UTSoA PhD Program in Architecture.
Prof. Lara has written several articles about Lina Bo Bardi and has visited all of her major works. In 2014 and 2016, he led a delegation of UT students and alumni to MASP and Casa de Vidro in São Paulo. As a student, Fernando Lara also had the privilege to attend a lecture by Bo Bardi in 1993 and has vivid memories of her sharp words.
SPEAKER
Lina Bo Bardi, Brazilian modernist architect
Lina Bo Bardi (born December 5, 1914, Rome, Italy–died March 20, 1992, São Paulo, Brazil) was an Italian-born Brazilian architect, furniture designer, set designer, and journalist whose work combines a Modernist sensitivity with a profound commitment to the preservation of the vernacular and a design process guided by social responsibility.
Today, Bo Bardi is considered one of the most prominent and consequential Modernist architects, and her prolific oeuvre is appreciated for its simplicity, adherence to Modernism, and deep contemplation as to the ways in which architecture can also reflect the common, the vernacular, and the artisanal as an intrinsic part of a contemporary culture.
LOCATION
Blue Starlite Mini Urban Drive-in - Downtown
300 San Antonio St
Austin, TX 78701
DAY
Tuesday, November 10th
TIME
6:30PM-7:30PM & 8:00PM-9:00PM
ORGANIZED BY
AIA Women in Architecture Committee
INTENDED AUDIENCE
Architects, designers, students and all lovers of design
REGISTER
This event has ended.