Ready, Set, Animate! DIY Animation Workshop For All
NOVEMBER 11, 2020, 4:00PM - 5:30PM
Learn simple techniques for creating simple, but impactful hand drawn animations using our Gonzo Viz process and ubiquitous or DYI design tools. Great for folks of all skill levels and backgrounds
Virtual Event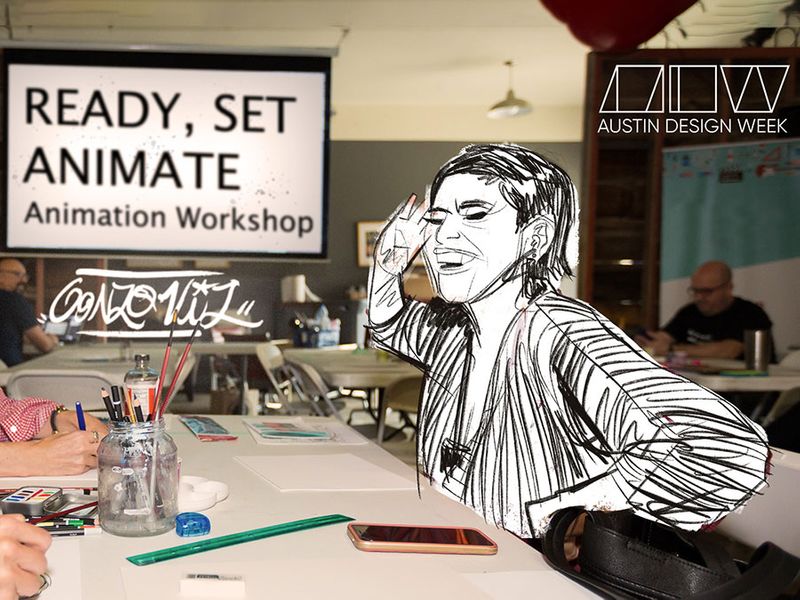 Ready, Set, Animate! DIY Animation Workshop For All
Anyone can animate! I have recently adapted my Ready, Set, Animate! DIY animation workshop for the new remote reality in which we are living. This workshop will focus on simple techniques for bringing your ideas and observations to life with hand-drawn animation. You will learn how to make simple, but impactful animations using my Gonzo Viz process, a free mobile app and materials that you have lying around the house. It's a great activity no matter your artistic skill level and background!
In my Gonzo Viz workshops, tailored for both creative and non-creative professionals, adults and kids, I work with the group to help break down barriers to creativity through quick and fearless creation. One of the biggest obstacles to a creative and productive environment is fear—fear of mistakes, fear of the outcome. Putting pen and paint to paper we learn to embrace "mistakes" and to even draw inspiration from them. We learn to embrace the pleasure and power of the process of creating, instead of being solely focused on final product. Finally we will learn skills that participants can continue to use post workshop, as a creative outlet, a new skill to incorporate into professional practice, or the beginning of a further exploration of a creative endeavor.
SPEAKER
Amitai Plasse
Amitai (ahh-mee-tie) Plasse, aka Ami is a visual & motion artist from NYC who landed in ATX in 2011. Always the prolific sketcher, his creative influences have drawn heavily from his surroundings & he is rarely sans sketchbook or tablet—chronicling characters, scenes & impressions as he navigates his world. A lover of motion & interactivity, he is always pursuing alternate ways to bring his work to life.
In New York, he spent years drawing what he encountered on his daily subway commute. In Austin, he has found inspiration from the energy of the music scene, capturing the artists & fans he encounters at clubs & festivals through his own unique lens. Ami's background as a creative in the marketing field has given him experience crafting social & digital campaigns & working on producing engaging events. Coupling this with his artistic skills has given him a strong POV on creating content for & from events.
Over the past couple of years Ami has translated some of the core skills he uses in his professional work into simple workshops for people of all artistic skill levels who are interested in learning new ways to express their ideas creatively.
DAY
Wednesday, November 11th
ORGANIZED BY
Amitai Plasse
INTENDED AUDIENCE
Anyone interested in learning how to express themselves through motion. For people of ALL artistic skill levels. No previous animation skills necessary.