Stake Out: What's on the table for BIPOC designers in this era?
NOVEMBER 12, 2020, 2:30PM - 3:30PM
Join us as we host a roundtable discussion with emerging Austin BIPOC design creatives. This conversation will be centered around the challenges and opportunities encountered by designers of color.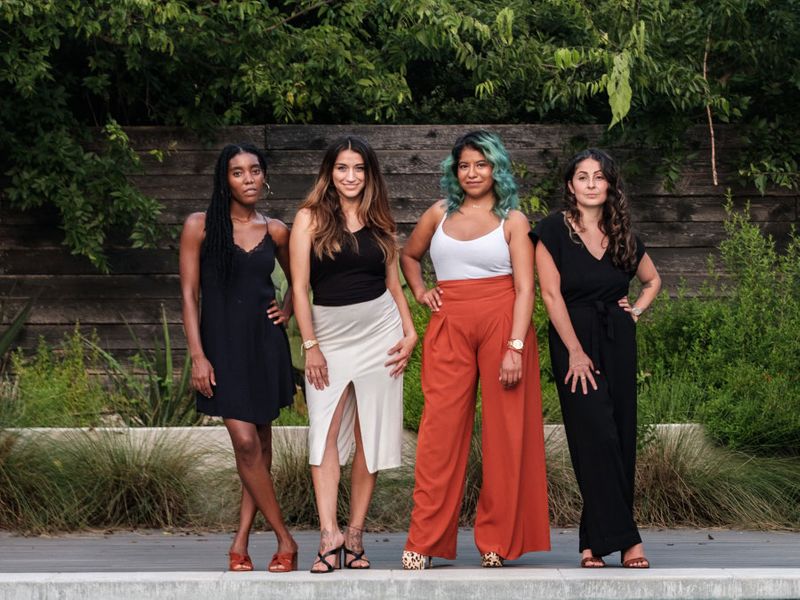 Stake Out: What's on the table for BIPOC designers in this era?
So often design is thought of in one singular model, the most popular being web or product design. Too often to conversations about equity, public space, diversity and inclusion are left out of this conversation, when in fact this is the prominent application of design that all humans interact with on a daily basis. In our country's current climate it's obvious we must look at systems and practices that shape equity. Design plays a large role and yet conversations around it are held by only a few. Austin is one of the fastest growing cities in the U.S with the largest amount of segregation, this conversation will speak to how design can play a role in rewriting that narrative.
BRWN Collective Studio is an Austin, Texas and San Miguel de Allende, Mexico based design firm created by five women-of-color who saw that a different story needed to be told in their industry - one that celebrates communities and the cultural heritages that enrich them. BRWN is a collaborative design effort to build lasting client relationships that foster meaningful community engagement. Through our transparent approach to design, we create spaces that reflect diverse communities for the world at-large to experience.
MODERATOR
Brittney Williams - Co-founder - BRWN Collective Studio - Interior Design Firm
A bit more about your moderator tonight and co-founder of BRWN: Brittney Williams returned home to Austin, TX to deepen her professional experience as an interior designer for McGuire Moorman Hospitality and McCray&Co. following her tenure in NYC at BDDW Design Studio.
SPEAKER
Denise D. Hernadez - Lawyer - Hustle for The Cause
Denise Hernandez is a lawyer and social impact entrepreneur. Denise planted her roots in Austin after graduating from Texas Tech Law School. Starting from humble beginnings in Houston, Texas, she is the first person in her family to obtain a higher education. This fueled her passion for community activism. After moving to Austin, Denise began working on social impact projects and was later nationally recognized for her community service efforts. As she continued to work on social initiatives, Denise recognized a need for event and content production that reflected underrepresented communities. This led Denise and her fiancé, Krista Cottingim, to start Hustle for the Cause.
SPEAKER
Moyo Oyelo - Mixed Media Creative - Open Chair ATX
Moyo is a multimedia artist existing at the intersection of art and technology to further conversations around community and culture. Open Chair recognizes the importance of creating spaces that lead to a sense of community and mutual discovery. We present a perspective of a rapidly changing city through intimate portraits that illustrate the love, humor, and resoluteness of Black Austin. Through our homage to past and present Austin, we hope to foster a space for minority Austinites to continue the audacity of visibility.
SPEAKER
Irela Cassanova - Project Manager - Jamie Chioco Design
Irela received a Bachelor of Architecture from the University of Texas in 2015 and joined Chioco Design in 2018. Originally from Monterrey, Mexico, Irela's design sense is inspired by her travels around the world and her professional tenure working at FIARK Architects in San Sebastian, Spain. Additionally, she designed her own line of ethical women's wear clothing. Her approach to architecture seeks to integrate those elements learned abroad through her native lens of Mexican expression and artistry. Irela is especially drawn to projects that allow for social areas, from offices to parks, creating space for interactions is always a beautiful challenge
SPEAKER
Ayesha Erkin - Architect - Lake Flato Architects
Growing up in three different continents & coming from a multi-cultural hybrid family, I've been fortunate enough to be exposed to varied aspects of the built environment from a young age. With that & working in architecture, I've been able to fine tune my creative perspective to be sensitive in regards to space, time, people & place. I can be found working in all mediums of design but champion for inclusivity, purpose & connection in my work. When not designing, I'm involved with community building (I co-founded Brown Girls Food Club), mentoring minority youth & giving into my compulsive hobbyist tendencies. ​My current long term obsession has been researching the links between food heritage, identity & immigration.
LOCATION
Virtual Roundtable
DAY
Thursday, November 12th
ORGANIZED BY

BRWN Collective Studio
INTENDED AUDIENCE

Those who are interested in the intersectionality of interior design, food history and visibility for BIPOC creatives.