Within 6 Feet: How a re-imagined student mentorship program allows those suffering from Alzheimer's to have a space for connection
NOVEMBER 10, 2020, 12:00PM - 1:00PM
Listen to a panel from Alzheimer's Texas on the needs of our elder community members during Covid-19. Come learn how local area students, paired with architecture and build firms were able to design Visitation Booths for connection, relief and comfort to some of our most vulnerable populations.
Virtual Event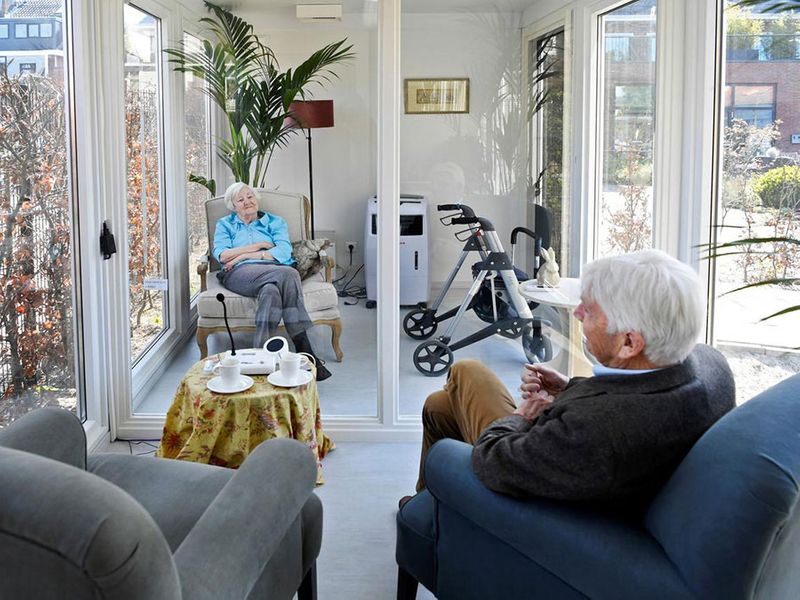 Within 6 Feet: How a re-imagined student mentorship program allows those suffering from Alzheimer's to have a space for connection
Elder populations are one of the most impacted by Covid-19 and to remain out of risk areas have been stringently on isolation. Alzheimer's Texas wanted to provide a space for those people to feel connected and be able to safely interact with their loved ones. By pairing up with AIA Design Voice, the organizations were able to reach out to local area students, architects and builders to design and build "Connection Booths". Learn about the design process from the students and architects and how they were able to provide a safe space for connectivity.
SPEAKER
Viviana Trevino, Assoc. AIA, Designer at Page, Chair of AIA Austin Design Voice Committee
Viviana Trevino, Assoc. AIA is Co-Chair of AIA Austin Design Voice and is a designer at Page. She has a Bachelor of Science in Architecture from Texas Tech University. Much of the community-involvement work that she does deals with students by either mentoring or providing opportunities for students to experience architecture, engineering and construction fields.
She leads the DV3x2 program every summer which allows high school students to intern at three design firms during the span of one week. She also raises money through grants throughout the year so that the students have the opportunity to apply for scholarships. The goal of the program is to provide as much exposure of these careers to as many students as possible, with an emphasis on underrepresented minorities. Viviana has collaborated with Austin's Breakthrough program to reach first-generation students, and is working with Latinitas to reach young Hispanic girls.
SPEAKER
Chet Morgan, AIA, Project Architect at Perkins and Will, Chair-Elect of AIA Austin Design Voice Committee
For Chet, being an architect always felt right. From a young age, he has been drawn to the vernacular that people inhabit and its history. Now, his design philosophy centers around a thoughtfully put together building that is relatively minimal and a little uncommon. He grounds his projects in context; meaning, the people, activities and surroundings that bring life to the community should be celebrated through the built form.
Chet is a natural born leader and has dedicated himself to serving the community through design and mentoring future architects. He is passionate about sustainability and formed a Green Team to instill environmentally friendly habits Studio-wide.
SPEAKER
Ron Morelli, Director of Constituent Relations at Alzheimer's Texas
Ron Morelli is the Director of Constituent Relations at Alzheimer's Texas where he helps connect individuals to the various educational and emotional support programs the organization offers. Prior to Alzheimer's Texas he served as the Director of Member Intelligence at the Greater Austin Chamber of Commerce helping to increase donor satisfaction and retention rates. He has a Master of Arts in Organizational Development from St. Edward's University, and a Bachelor of Arts in English from Wayne State University in Detroit, MI.
SPEAKER
Catherine Campbell, Executive Director at Alzheimer's Texas
Catherine Campbell joined Alzheimer's Texas in March 2020 to lead the organization as executive director and serve as chief development officer.
Campbell previously served as development officer for the Hildebrand Department of Petroleum and Geosystems Engineering department at UT Austin. Other positions at the University of Texas included assistant director of donor relations and events for The Longhorn Foundation, development assistant for the T-Association, marketing & sales representative at The Erwin Center and assistant director of marketing at Indiana University.
In addition to higher education career, she was recruited by writer Angelo Pizzo ("Hoosiers" and "Rudy") to be the director of football operations for the movie "My All-American" based on the incredible life of Freddie Steinmark and legendary football coach Darrell K. Royal who had Alzheimer's. During this experience, she discovered the pivotal role individuals and caregivers have in taking care of a loved one.
As a native Houstonian, she has always been a dreamer with a Texas-sized heart. She dreamed of getting a Division I basketball scholarship in the third grade and accomplished that by accepting an offer to play at SMU where she received her corporate communications & public affairs degree in 2010. She traded her basketball shoes for immobile shoes attached to a boat where she rowed and received her masters at Indiana University.
She is accustomed to leading teams, overcoming obstacles and achieving goals: "The only constant in life is change. I'm a firm believer that if you're not constantly evolving, improving or changing you risk stagnancy. I plan on leveraging this mentality and support the innovative ways experts in technology and healthcare are improving the way Alzheimer's patients, their families and caregivers operate in the world."
DAY
Tuesday, November 10th
ORGANIZED BY
AIA Austin Design Voice
INTENDED AUDIENCE
All are welcome