LIFE. CULTURE. DIVERSITY. An installation promoting self-reflection
November 4, 2019 8:30am - November 8, 2019 12pm
Join us in the creation of an art installation that promotes personal engagement. The community is encouraged to share messages expressing how they built with intention and cultivate spaces that promote equity.
The Hub, Trinity Hall
311 E 5th St.
Austin, TX 78701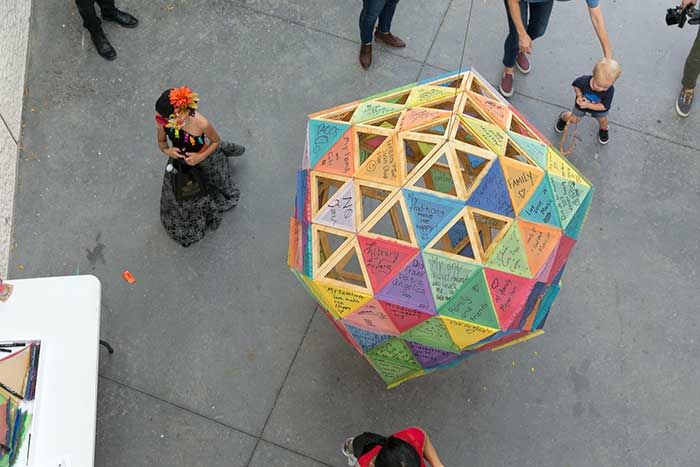 LIFE. CULTURE. DIVERSITY. An installation promoting self-reflection
The Idea: Making Space comes in many different forms. To us, the community's mentality is a critical component to achieving holistic design. This installation targets community engagement and encourages people to reflect on how they stay true to building with intention, and cultivate spaces that promote equity.
The Logistics: A monumental "piñata" comes to life through interactive participation. Triangular papers are placed on the rigid structure, clad with hand written messages, notating how we choose to Make Space and how Life, Culture + Diversity play a role in that process. Once the form is completely full, the rough frame is softened by the application of the messages, giving the feel of a traditional piñata. It is through this personal engagement of people from different backgrounds that the piñata becomes a documented dialogue of self-reflection. Tell us: How do you Make Space?
The Takeaway: The end result symbolizes the strength we have as a community, when we all come together and remove barriers - when we design for ALL. The piñata becomes a celebration of how and why we Make Space.
Take your picture | Post to social | Add this #adwmakespacepiñata | Tag us! @runaworkshop | We can't wait to see what you create!
Speakers/Facilitators
Jean Pierre Trou AIA, IIDA is a Peruvian - American Architect, Founding Principal of Runa Workshop and a Lecturer at The University of Texas at Austin. Trou began his career in his native Lima, Peru after attending Universidad Peruana de Ciencias Aplicadas and obtaining a Bachelor of Architecture. He received his Master of Architecture from The University of Texas at Austin and is a registered architect in Texas and Arizona.
As Founding Principal of Runa Workshop and the head of its design department, his determination and passion for design is at the core of everything he pursues. Trou leads with integrity and champions a culture of continuous improvement. He hopes to continue impacting the community through his participation in architectural organizations, professional practice and mentorship; making critical contributions that will aid in the positive growth of the local built environment, building with intention and cultivating spaces that promote equity.
LOCATION
The Hub, Trinity Hall, 311 E 5th St, Austin, TX 78701
DAY
Monday, November 4th - Friday, November 8th
ORGANIZED BY
Runa Workshop
INTENDED AUDIENCE
The intended audience is really anyone who wants to share a message! It is all-inclusive.
311 E 5th St
Austin, TX 78701