Showcasing Art and Tech: Today's New Medium
November 6, 2019 12pm - November 6, 2019 1pm
Explore how designers, artists, festivals and cities, are engaging with works at the intersection of art and technology.
The Hub, Trinity Hall
311 E 5th St
Austin, TX 78701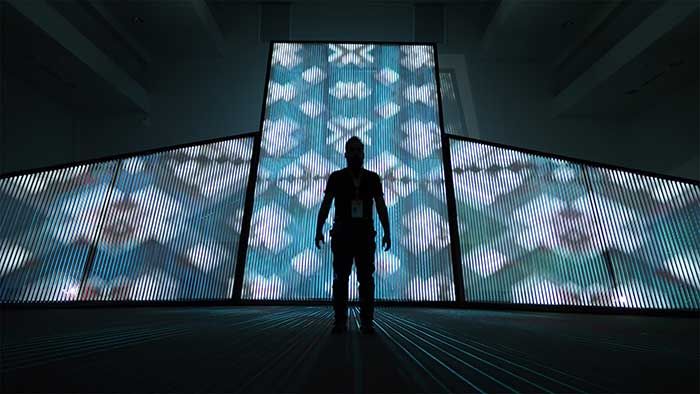 Showcasing Art and Tech: Today's New Medium
What are the opportunities for technology in the arts – and how is it impacting Austin? This session will explore how designers, artists, festivals, and cities, are engaging with works at the intersection of technology and art. Each speaker will bring a different perspective to the table of how this cross-section is evolving and impacting the city of Austin for the better. Learn not only about current projects that are being curated but also get a pulse on where this future medium is headed. Come hear from Lizzie Whitington, SXSW Art Program Curator and Hope Campaign Executive Director; Hannah Sager, SXSW Conference Programmer and Place by Design Director; Laura Odegaard, Economic Development Department, Cultural Arts Division at City of Austin; and Lisa Woods, Principal of Lisa Woods Studio and a designer lecturer at the University of Texas, as they discuss how technology and art are coexisting and influencing our daily lives.
Speakers/Facilitators
Hannah Sager | SXSW | Conference Programmer - Startups + Place by Design Coordinator
Hannah Sager currently works at SXSW as a Conference Programmer for the Startups Track. In addition to her role she is also the Place by Design Coordinator, a pitch competition aimed at showcasing innovative and invigorating design in the public sphere. These projects highlight the best and the brightest architectural designs in the world, shining a light on how designers can solve social issues. Previously Hannah worked at AMD and PepsiCo, where she came up with sales marketing strategies to help humanize large brands while increasing their ROI. In her spare time, you can find her snapping photos, dancing at concerts or cheering way to loudly at your local bar for her Chicago Cubs.
Lizzie Whitington | SXSW | SXSW Art Program Curator | HOPE | Campaign Executive Producer
Drawn to the creative cultural of Austin she found her place with other passionate people helping creative people at HOPE and SXSW in 2011. She first came to know HOPE through the HOPE Outdoor Gallery, the gallery helped to inspire to her to start a mural project,The Impossible Wall Project, during SXSW which goal was to showcase both international artists and local artists. Three years after starting the mural project, she created and produced the first SXSW Art Program, hosting 6 installations from around the world in 2017. She is currently the head of the SXSW Art program along with her new role as Executive Producer for HOPE Events.
Lisa B Woods | Lisa Woods Studio
Lisa B. Woods is a designer, artist, and organizer. Currently, she is the principal of Lisa Woods Studio and a lecturer at the University of Texas. As an artist, Lisa works with code, interactive experiences, and digital tools. This nebulous "intersection of art and technology" which Lisa inhabits, is home to a small but growing number in Austin. As an organizer, Lisa's focus has been to address the challenges in and opportunities at this intersection in Austin—educational, financial, social, and beyond. To address an educational gap, Lisa co-founded dadageek—a creative coding school that teaches short courses in tech art. Since 2016, dadageek has offered over 50 classes and taught over 600 students. In 2018, she helped launch Hopscotch—a blockbuster immersive art venue that brings interactive artwork to a broad audience. Hopscotch will be opening a brick-and-mortar location in San Antonio this winter. And this October, Lisa will help launch dadalab—a new niche co-working space for creative technologists, media artists, and tech entrepreneurs.
Laura Odegaard | City of Austin's Cultural Arts Division
Laura Odegaard is an international arts manager with Master's degrees from Carnegie Mellon University (Arts Management/Public Policy) and the Università di Bologna (Cultural Economics and Innovation). Laura has worked with artists, curators, museums, and governments in the U.S., Europe, and the Caucasus Region developing exhibitions, innovative community engagement, and sustainable business strategies. As part of her current role with the City of Austin's Cultural Arts Division, Laura manages special projects, including Austin's UNESCO Creative City of Media Arts designation, the Faces of Austin Film Program, and the Playable City Austin initiative.
LOCATION
311 E 5th St, Austin, TX 78701
DAY
Wednesday, November 6th
ORGANIZED BY
Hannah Sager and Lizzie Whitington
INTENDED AUDIENCE
We believe our panel is open to anyone but can be intended specifically for urbanists, artists, architects, and designers
311 E. 5th St.
Austin, TX 78701